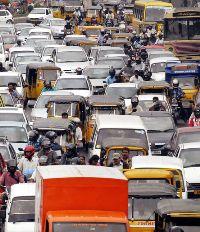 With the Reserve Bank of India raising key interest rates by 25 basis points, automobile industry captains feel the move will further dampen demand in the auto sector of the country.

"No doubt, it (RBI's move) will have a negative impact on the automobile industry. It was expected. . . Now we would like to see how much banks pass the burden (on to customers)," Mahindra & Mahindra president, Auto & Farm Equipment sector, Pawan Goenka told PTI in Mumbai.

Goenka is also the president of the Society of Indian Automobile Manufacturers.

The RBI raised key interest rates by 25 basis points on Thursday, the 10th time since March, 2010.

The RBI has raised the short-term lending (repo) rate by 25 basis points to 7.50 per cent and the short-term borrowing (reverse repo) rate by a similar margin to 6.5 per cent.

"The market has already slowed down. . . This latest hike will further dampen the auto sector. . . It is a matter of concern," General Motors India vice-president (corporate affairs) A Balendran said.

"The sector (automobile)
is already reeling under pressure due to high input costs and rising fuel prices and the steady hike in interest rates will affect sales," he said.
Auto major Fiat India also sees a significant impact on the sector.
"Going forward, the RBI's initiative will hurt the auto industry by hitting sales. The industry is (already) under pressure and this fresh step will further aggravate the situation," Fiat India president and chief executive officer Rajeev Kapoor said.
Rajkot-based three wheeler-maker Atul Auto also feels the rate hike will further affect demand.
"Definitely, it will have an impact on the automobile industry. However, I am confident the industry will face this challenge boldly," director Vijay Kedia said.
"Things like high inflation, rate hikes and the fuel price increases point out to a tightening in the situation," he said.
According to the Society of Indian Automobile Manufacturers, total sales of vehicles across categories registered a growth of 13.40 per cent to 13,70,786 units in May, as against 12,08,820 units in the same month last year.