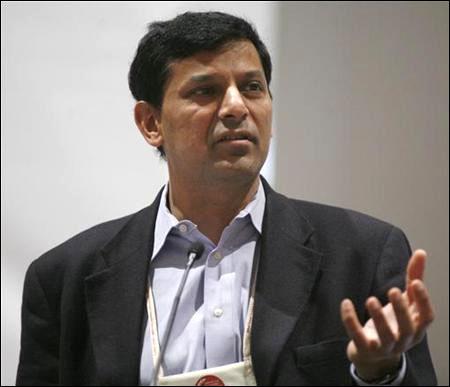 Severely critical of banks not passing interest rate cut to borrowers, RBI Governor Raghuram Rajan on Tuesday said it was "nonsense" to assume that cost of funds has not fallen and nudged them to reduce rates.
He further said that sooner the banks cut rate the better it would be for the economy.
"We are not looking for a specific number (on the bank rate cuts) and saying unless this happens, nothing more will happen. But we want to facilitate the process of transmission.
"I do not see an environment where credit growth is tepid, banks are sitting on money and their marginal cost of funding (has) fallen, the notion that it hasn't fallen is nonsense, it has fallen," Rajan said.
He was referring to the reluctance of banks to pass on the benefit of 0.50 per cent rate cut announced by the central bank since January. The RBI lends to banks at 7.5 per cent.
"Given that there has been very little transmission from rate cut so far... we are waiting to see transmission take place... I have no doubt that this will happen. If it happens sooner it is better for the economy," he said after the announcement of first bi-monthly monetary policy.
In the first bi-monthly policy statement for 2015-16, Rajan maintained status quo but expressed hope that competitive pressure and comfortable liquidity position would encourage the banks to cut lending rates.
"Comfortable liquidity conditions should enable banks to transmit the recent reductions in the policy rate into their lending rates, thereby improving financing conditions for the productive sectors of the economy," it added.
The RBI said that it would maintain accommodative stance of monetary policy going forward.
"The Reserve Bank will await the transmission by banks of its front-loaded rate reductions... into their lending rates," the policy said.
© Copyright 2022 PTI. All rights reserved. Republication or redistribution of PTI content, including by framing or similar means, is expressly prohibited without the prior written consent.