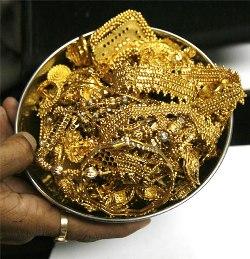 After the surprise removal of the 80:20 scheme, the Reserve Bank of India might introduce a gold quota system for individual importers for distribution among jewellers.

"There chaos in the market for distribution of the imported gold that has been kept in customs bonded warehouses.
"After the 80:20 scheme notification was withdrawn, the customs department awaits clarification from RBI for releasing gold holdings.
"We estimated a quota system will be introduced to curb import into India," said Haresh Soni, chairman, All India Gems & Jewellery Trade Federation.

Under the 80:20 scheme, at least 20 per cent of imported gold should mandatorily be supplied to jewellery exporters.
The scheme was introduced by the Reserve Bank of India in August 2013, following a sharp increase in gold imports in April and May the same year.
Gold import was recorded at 142.5 tonnes in April and 162 tonnes in May, pushing India's current account deficit alarmingly high at 4.7 per cent of FY14.
During the first quarter ended June, however, the government reported CAD at 1.7 per cent, well below the comfortable level of two per cent, which prompted RBI to abolish the supply restriction.

While the World Gold Council maintained India's gold demand at 850-950 tonnes in the current calendar year, a marginal decline from the previous year, bullion dealers fear a sudden spurt in demand ahead of the wedding and festive seasons due to continuous falling prices.
As a consequence, the RBI might put some restrictions that could be in the form of "importer specific quota" in the coming days.

"We do not rule out the imposition of an overall quota on gold imports in case the recent spurt sustains," said Abneesh Roy, analyst with Edelweiss Securities.

Gold import falls

Import in the first nine months of the current calendar year fell 20 per cent to 525 tonnes from 658 tonnes in the year-ago period.
However, India's gold import has witnessed a steady increase in the past four months.
After falling to a mere 52 tonnes in July this year, the country's gold import rose to 57 tonnes, 95 tonnes and 120 tonnes in August, September and October, respectively.

"RBI is unlikely to allow free import of gold," said Mehul Choksi, managing director of Gitanjali Gems.

Scrapping of the rule will improve supply and lower the premium on gold (could fall to $3-4 from earlier $10-15).

This comes as a big relief for the jewellery sector as it reduces bureaucratic hassles, delays and uncertainty. Anticipated curbs on gold import have led to further surge in November.

Meanwhile, the government cut gold import tariff value to $388 for 10 grams for December from $401 for 10 grams in November. Silver import tariff was also revised downwards to $540 a kg from $575 a kg in November.