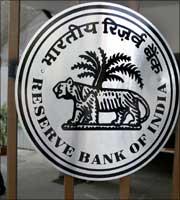 With the government announcing a huge borrowing programme for 2009-10 at Rs 4.51 lakh crore, (Rs 4.51 trillion) the Reserve Bank of India today said debt managers need to ensure transparency in order to ensure investors were not taken by surprise which might help lower cost of borrowing.
"Clarity in communication and adherence to the indicative borrowing programme would add credibility and, thereby, cushion volatility in market yields, which ultimately help in contributing to lower borrowing costs," RBI said in its Annual Report for 2008-09 (July-June).
The central bank's comments come at a time when the finance ministry is working on a Bill to set up a separate debt management office (DMO), independent of RBI.
The central bank, which manages the government's borrowing programme, is not in favour of a separate debt management office as it may give rise to a conflict of interest between the government's role as debt manager and the owner of significant portion of banking sector.
While highlighting the fact that Iceland recently shifted the debt management function from its DMO to the central bank, RBI said for a smooth conduct of large government borrowing programme, a closer co-ordination between the government and the central bank was required so that the impact on financial markets could be minimised.
RBI said co-ordination between the central bank and the government assumed greater significance in countries such as the US, Canada and India.
"Deterioration in the fiscal position and increased government borrowings have raised the level of rollover risk even for advanced economies. It is imperative for the debt management authorities to set an acceptable level of rollover risk," RBI said.
The global financial crisis which has affected fiscal balances in the short run would also impact the government debt ratios over the medium-term, RBI said.
"The deterioration in fiscal outlook raises issues of fiscal solvency and has the potential to trigger adverse market reactions. In turn, higher interest rates could further add to government debts, which in some cases result in snowballing of debt dynamics," RBI cautioned.
The regulator also felt that debt managers should not only reckon contingent liabilities arising out of government support to weak financial organisation but also estimate the probability of devolvement and consequent addition to public debt.