The Reserve Bank of India (RBI) has increased its gold purchases, as part of its foreign exchange (forex) reserves.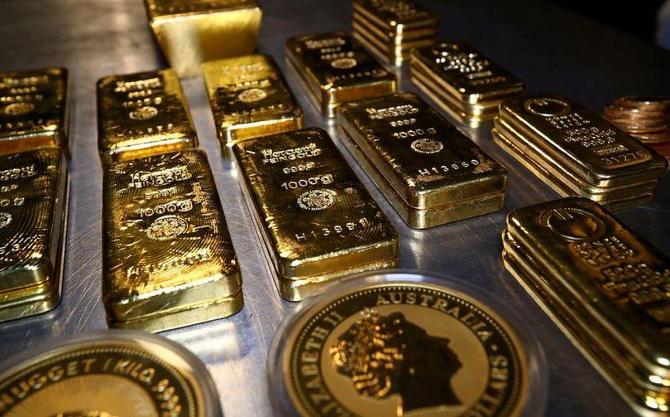 In the first half (H1) of calendar year 2021 (CY21), the addition of gold to India's forex reserves has been the highest — on a half-yearly basis —at 29 tonnes.
Now, the RBI's gold holding — as a proportion of its forex reserves — has for the first time crossed 700 tonnes.
The central bank's gold reserves stood at 705.6 tonnes as on June 30.
The gold reserves were at 558.1 tonnes in the beginning of 2018.
The share of gold in the RBI's forex reserves was 7 per cent at the end of the March 2021 quarter, which, however, is down to 6.5 per cent in the June quarter.
In June 2021, the latest available data with the World Gold Council (WGC) revealed that global central banks had purchased 32 tonnes of gold, of which India alone had purchased 30 per cent, or 9.4 tonnes.
In March 2018, the RBI added 2.2 tonnes of gold to its forex reserves, which was its first purchase after November 2009, when it had bought 200 tonnes from the IMF for adding to its reserves.
A senior banking economist said, "Since the past few years, the RBI has started (after almost a decade) buying gold for forex reserves as a modest portfolio diversification, in line with many other central banks.
"India's forex reserves still have the largest share of US dollars, while the share of gold has increased in the past two years from a little over 5 per cent to 6.5 per cent."
Since March 2018, around 26.5 per cent, or 147 tonnes, of gold has been added to the country's forex reserves. In H1CY21, around 29 tonnes has been added, compared to an annual average of 39.5 tonnes of gold-buying in the previous three calendar years.
This is the RBI's highest half-yearly addition.
Apart from portfolio diversification, gold — as a part of forex reserves — also helps in protecting sovereign creditworthiness.
The India Gold Policy Centre at IIM-Ahmedabad carried out a research to examine whether the central bank gold reserves reduce the sovereign credit default swap (CDS) spreads during crises.
"Specifically, we examined the effect of central gold holdings on a country's risk during episodes of high global volatility, as well as country-specific debt crises, inflation crises, and currency crises episodes.
"Sovereign CDS quanto spreads indicate the financial markets' view of the interaction between a country's likelihood of default and associated currency devaluations.
"We show that increased central bank gold holdings not only help reduce a country's credit risk during normal times, but also mitigate the effect of global and domestic crisis on sovereign creditworthiness," said the report released on Wednesday.
With over 705 tonnes, India ranks 10th among central banks holding gold as part of their forex reserves.
This rising trend of central banks adding more gold to their reserves is expected to continue.
WGC said in its latest report, "Central banks are likely to continue buying gold on a net basis in 2021 at a similar or higher rate than in 2020, driven by a continued focus on diversification and risk management."
The results of our fourth annual central bank survey support this view, with one-fifth of the participating central banks expecting to increase their reserves over the next 12 months.
Photograph: Michael Dalder/Reuters