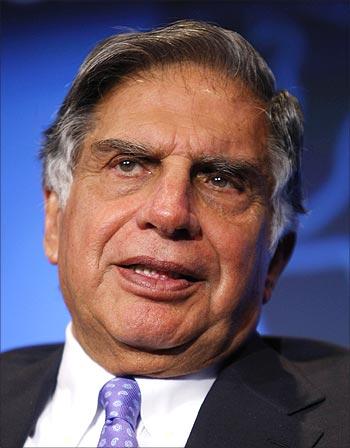 His rare outburst on Twitter against older airlines opposing any changes to the 5/20 rule has drawn the attention of friends and foes alike
It is not every day that Ratan Tata engages in a verbal duel with his rivals.
The last time he had differences with his peers was in 2002 when the GSM lobby of telecom operators went up in arms against the government's decision to allow fixed-line operators to offer mobile services -- his stand was that nobody should build a case against a technology (CDMA in this case), provided there was a level playing field for all.
So it came as a surprise when Tata, the 78-year-old chairman emeritus of Tata Sons, vented his ire on Twitter last month.
"The lobbying for discriminating policies between old and new airlines is reminiscent of the protectionist and monopolistic pressures by vested interests' entities who seem to fear competition, as in a variety of other sectors over the years," his post of February 20 said.
"These protectionist moves have held back progress in India, compared to open economies that have thrived on competition overseas."
Tata is not a frequent tweeter: since joining the micro-blogging site in April 2011, he has let out all of 117 tweets. This one was therefore bound to draw notice — from friends and foes alike.
The reason for his ire is the much debated 5/20 rule in civil aviation: it forbids new airlines to fly overseas unless they have completed five years on domestic routes and have a fleet size of 20 aircraft.
A new airline has to, therefore, wait for at least five years before it can fly on lucrative overseas sectors.
Vijay Mallya, the beleaguered promoter of Kingfisher Airlines, acquired Air Deccan from Captain GR Gopinath, an older airline, in order to speed up his overseas sojourn.
The results were disastrous: the purchase of the low-cost airline was one of the reasons for the downfall of Kingfisher Airlines.
Many commentators and experts have called the rule archaic and asked the government to repeal it.
Union Civil Aviation Minister Ashok Gajapathi Raju has spoken out against the policy and has questioned its rationale.
Earlier this month, minister of state for civil aviation, Mahesh Sharma, said the government is considering a partial abolition of the rule.
The government expects to finalise the civil aviation policy by month end.
The rule had come into effect to protect Air India, but it has ended up benefiting older private airlines, which all fly overseas and do not want the rule to be relaxed. Their logic is that the rules of the game cannot be changed midway.
This is what seems to have drawn Tata into the debate.
Raju and his ministry need to be applauded for "considering the removal of the controversial 5/20 rule," he said in his tweet, and added that the liberal policy was in line with the "visionary policies promised by" Prime Minister Narendra Modi.
Taking on Tata
The Federation of Indian Airlines, representing the older airlines such as IndiGo and Jet Airways, hit back at Tata and accused his two carriers, AirAsia India and Vistara, of violating rules related to ownership and alleged the carriers were being controlled by their foreign partners -- AirAsia India and Vistara are co-owned by the AirAsia group and Singapore Airlines respectively.
The charge, which has been doing the rounds for a while, was rebutted by Tata in his tweet when he said the new airlines have been 'formed in full compliance with the prevailing government policy.'
Since then, FIA has stepped up the pressure; on March 9, Rahul Bhatia of IndiGo, Naresh Goyal of Jet Airways, and Ajay Singh of SpiceJet made a beeline for the civil aviation ministry in New Delhi and urged the government not to amend the 5/20 rule and ensure a level playing field for all airlines.
Meanwhile, FIA has also threatened to drag the government to court in case it abolishes the rule and said the new airlines should serve India first before they are allowed to fly abroad. Ministry officials assured the delegation no decision had been taken on the fate of the regulation.
FIA argues that the proposed change in policy is only aimed to benefit the two Tata group airlines which have made no secret of their intentions to fly overseas quickly.
Experts want the skies to be fully liberalised.
"The 5/20 rule is a bad law that should have never been there in the first place.
"And just like any other bad law, now that certain entities have got used to it, its abolition has become a larger than life issue.
"The acrimony so created has delayed the release of the civil aviation policy," says Amber Dubey, partner and head of aerospace and defence, KPMG.
The government is toying with the idea of doing away with the five-year norm but continuing with the 20-aircraft restriction. "This is a sub-optimal compromise but is still better than having a perpetual logjam," Dubey adds.
Uneven playing field
Critics of the policy point out that no other country, except Russia which has imposed a two-year restriction, imposes similar restrictions on its airlines.
Moreover, the government does not bar foreign airlines with less than five years of operations to start service to India.
As such, 17 less-than-five-year-old foreign airlines, including Air Arabia, Air Asia X and Etihad, have been flying to India and account for 20 per cent of the capacity deployed by foreign carriers, according to a joint report, Maximising the contribution of aviation to the Indian economy, submitted by the Centre for Asia Pacific Aviation and Vistara in October.
Critics also point out that enabling new airlines to fly abroad will increase the market share of Indian carriers on foreign routes (currently 37 per cent), increase traffic at Indian airports which have been losing out to hubs in West Asia, and help the airlines improve fleet utilisation and earn foreign exchange.
While Indian carriers flew over 80 million passengers within the country last year, local airlines carried only 18 million overseas of the over 48 million that flew out from India.
The arguments and counter arguments have clearly put the government in the dock. If it does not remove the 5/20 rule, its pro-reform image will get sullied; and if it does, it will attract the charge of favouring two new airlines at the cost of domestic connectivity.
The government is keeping its options open and the aviation industry is keeping its fingers crossed.
THE CASE FOR AND AGAINST 5/20
Domestic airlines can fly overseas only once they have been in operation for five years and have at least 20 aircraft in their fleets
The rule was adopted a decade ago to protect Air India and Jet Airways from new competitors.
IndiGo and SpiceJet say abolishing the 5/20 rule will give domestic carriers with a foreign partner an undue advantage
Vistara and AirAsia want the 5/20 rule to be abolished so they can start feeding Indian passengers to their foreign parents' international networks
Nearly 70 per cent of India's international traffic is carried by foreign-owned airlines
About 60 per cent of India's foreign traffic rights are unused
Image: Ratan Tata. Photograph: Reuters