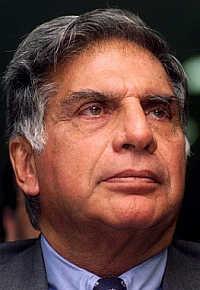 Government's inaction is driving investment away from the country and forcing groups like his own to seek growth abroad, says Ratan Tata in an interview to the
Financial Times
.
Tata, who retires later this month after more than 20 years in charge of one of world's most influential global businesses, says the group plans to look to other emerging economies for expansion as it seeks to increase sales to $500 billion in the next decade, according to the paper.
Taking a critical view of Prime Minister Manmohan Singh, he told the
FT
: "You may have the prime minister's office saying one thing and maybe one of the ministers having a different view. That doesn't happen in most countries.
"You wouldn't have a seven- or eight-year wait to get clearance for a steel plant. Different agencies in the government have almost contradictory interpretations of the law, or interpretations of what should be done."
He told the
Financial Times
: "These are things which by and large would drive investors away in most other countries and in some of those countries they are practised and they don't see investments."
His blistering attack on the government comes at a time India is projected to grow by a little more than 5 per cent in 2012, its slowest rate in a decade, and the government is facing policy paralysis, investment projects are stalled and corruption scandals are hitting the headlines everyday.
Ratan told the paper that the government's inability to make decisions made it difficult to grow their largest domestic businesses, which include Tata Steel and Tata Power.
It also hindered expansion in new sectors such as defence, which has recently been thrown open to private investment.
"The
defence sector could be the new, new growth sector of India, but it probably won't be," he said in the interview.
"So, in that sense, you start looking for geographies where you can make a difference. I've always been very bullish about India's potential and I still am," he said.
But a trip to open a Jaguar Land Rover factory in China last month had driven home the problems that have dented India's once-admired growth story.
"There's a great, marked difference [in] government support" he told the paper. "If we had the same kind of encouragement to industry… I think India could compete definitely with China," he told the paper.
The group has spent more than $20 billion in takeovers of European companies, such as Corus, the Anglo-Dutch steelmaker, and UK-based automaker Jaguar Land Rover, but he told the
Financial Times
that the company was unlikely to make further major acquisitions in "high cost" markets such as Britain.
Ratan Tata said Cyrus Mistry, the groups 44-year-old deputy chairman who takes the reins in late December, was likely to shift focus to emerging markets in southern Africa and elsewhere in Asia, including neighbouring Bangladesh and Myanmar.
However, he said that the group, which already earns more than 60 per cent of its revenues outside India and is Britain's largest manufacturing employer, was unlikely to repeat deals like its $13.1 billion Corus investment in 2009, which has since struggled in the face of a slump in global steel demand, according to the
Financial Times
.
"There are no known bold acquisitions on the horizon," he said. "What I have been telling everyone is that because of the economic downturn, we need to really digest and get our debt at a more manageable level," he said in the interview.