The Quorum in Mumbai aims to introduce and extend its blend of hospitality and philosophy of being community-led, content-driven, design-focused and experiential.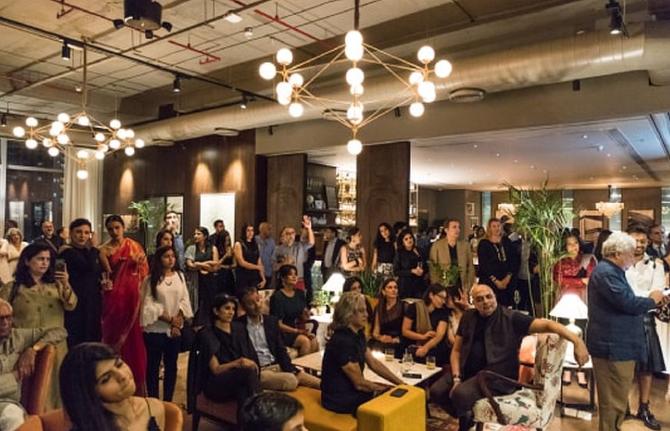 Almost a year after the country went into lockdown, the A, a membership-only business club funded by now-jailed Yes Bank promoter, Rana Kapoor, and run by the trust his daughters operated, has changed hands.
The 56,000-sq-ft facility located in the Indiabulls office complex in Parel, Mumbai and owned by Nucleus Office Space, a subsidiary of private equity giant Blackstone Group, will now be managed and run by promoters of the Gurugram-based club, The Quorum.
The Three Sisters institutional office, which was operated by Kapoor's daughters, owned and ran the club.
Vivek Narain, founding partner of The Quorum, says while there have been numerous "Covid casualties" in the hospitality and restaurant space, he sees the demand growing for private clubs with large spaces and controlled standards of operation.
"Business at The Quorum in Gurugram is almost at 60 per cent of pre-Covid levels" and people are more amenable to closed private environments when they want to step out of their homes, Narain says.
"We're a homegrown version of the new vernacular of member clubs that have proliferated in major cities around the world in the past decade."
The Quorum in Mumbai aims to introduce and extend its blend of hospitality and philosophy of being community-led, content-driven, design-focused and experiential.
Standard membership rates at the club start at Rs 2.5 lakh as the joining fee and Rs 1 lakh as annual fee.
This is for both the primary member and their spouse.
Besides this, there are corporate, under-35, under-30 and expat memberships.
Sonya Jehan, co-founder and creative director at The Quorum, says the venue was "conceptualised as a home away from home with a food and beverage philosophy and service culture that is personalised, approachable and non-pretentious."
Other clubs with similar concepts include Soho House, a members' club located across Europe, North America and Asia, that has dining, gym and office and residential facilities.
Mumbai has seen a flurry of new restaurants and entertainment hot spots mushrooming across the city.
For instance, The Indus Club, an uber luxury private members' business club for the country's ultra-high net worth individuals, also opened at One BKC, a commercial tower in the heart of Mumbai's bustling business district in Bandra Kurla Complex.
It will relocate to the Vibgyor Tower in the near future, its founder Harish Thawani says.
"We will also be launching in Bengaluru later in the year," he says, adding that New Delhi is another destination that's on the cards.
The Quorum, Mumbai, will officially open in April.
It currently has around 200 members, which include entrepreneurs, tech executives and those from the banking and financial sector.
The Quorum in Gurugram, which opened in 2018 and is spread across 20,000 sq ft, shares reciprocal facilities with dozens of other clubs that include The Battery in San Francisco, the 1880 in Singapore and The Groucho in London.
Other ventures owned by The Three Sisters trust include about a dozen firms that at one time employed as many as 2,000 people.
These small and medium-sized businesses include design schools, schools, villas for hire in Goa, a country club in Gurugram, a sports franchise, a French luxury accessories brand, a chain of dry-cleaning stores, and co-working office spaces.
Photograph: Kind courtesy, The Quorum