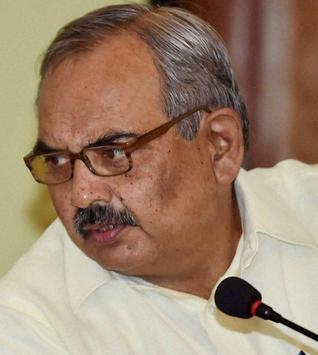 All eyes on North Block — who leads the Budget-making team for FY 2016-17?
With Finance Secretary Rajiv Mehrishi expected to retire in August this year, civil servants in New Delhi and elsewhere, are keenly watching signs on how the Modi government would fill the post for a bureaucrat who would lead the Budget-making team for financial year 2016-17, and help shape the government's economic agenda.
Mehrishi leads the economic affairs department of the finance ministry.
He is the seniormost among the secretaries heading the five departments of the ministry which also makes him finance secretary.
The other departments are revenue, expenditure, financial services, and disinvestment.
There are a few possibilities as to what happens when Mehrishi, a 1978 batch Indian Administrative Service (IAS) officer from the Rajasthan cadre, turns 60 in August.
He might get an extension, bureaucratic circles deem that unlikely.
If Mehrishi retires, there are a number of senior officials expected to replace him to the posts of secretary of finance and economic affairs.
It is very unlikely that it will be the same person filling the two posts. One name doing the rounds is of Coal Secretary Anil Swarup.
A 1981 batch officer from the Uttar Pradesh cadre, Swarup was the head of Project Management Group, tasked with reviving stalled infrastructure projects, under the UPA-II.
A media-savvy bureaucrat, also active on Twitter, Swarup has drawn praise for ensuring smooth conduct of the coal mine auctions earlier this year.
Officials say if Swarup does move to North Block, it would be more likely as economic affairs in-charge.
The post of finance secretary might go to one of the two seniormost secretaries in the finance ministry, Expenditure Secretary Ratan Watal and Revenue Secretary Shaktikanta Das.
Watal is known as a model Modi bureaucrat, who keeps away from the media and is known to do his job diligently.
He is said to be one of the officials who convinced Finance Minister Arun Jaitley to delay the financial consolidation roadmap.
Jaitley targeted the financial deficit for 2015-16 at 3.9 per cent of gross domestic product, instead of 3.6 per cent as envisaged earlier.
However, Watal is due for retirement in February, just before the 2016-17 Budget is presented, and officials said for the sake of continuity, Modi and Jaitley might choose someone younger.
Shaktikanta Das, a 1980 batch officer of Tamil Nadu cadre, still has 18 months of service left, and is tipped a strong candidate.
Two officials who might have an outside chanceare Disinvestment Secretary Aradhana Johri and Financial Services Secretary Hasmukh Adhia.
Johri is the same batch as Das, but older by a year and five months.
Last year, she led the drive to garner the largest ever disinvestment proceeds for the central government in a single financial year.
Bureaucrats heading disinvestment and financial services usually don't get appointed as finance secretary.
The reason may have to do more with practicality than with individual capabilities.
Whereas economic affairs, revenue and expenditure departments are housed in North Block, the other two departments are based in other parts of central Delhi. Adhia is a 1981 batch officer of the Gujarat cadre, who has worked with Modi when the latter was the chief minister of the western state.
Adhia has been tasked with helping revitalise a banking sector burdened with a high percentage of non-performing assets (NPAs) on its books.
He also has the responsibility of implementing some of the biggest schemes of the government, including Pradhan Mantri Jan Dhan Yojana (PMJDY), Pradhan Mantri Suraksha Bima Yojana (PMSBY), and the Atal Pension Yojana (APY), among others.
The likely contenders
Anil Swarup Coal secretary
Ratan Watal Expenditure secretary
Shaktikanta Das Revenue secretary
Aradhana Johri Disinvestment secretary
Hasmukh Adhia Financial services secretary
Image: Outgoing finance secretary Rajiv Mehrishi
Photograph: PTI