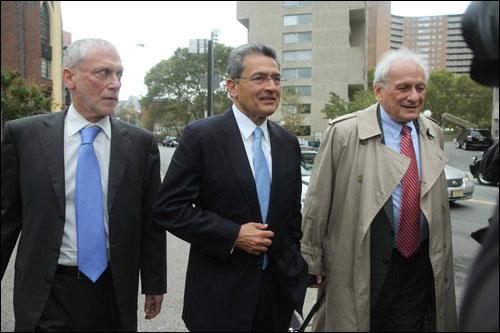 Less than three months before his prison term is slated to end, India-born former Goldman Sachs director Rajat Gupta has lost yet another bid to overturn his conviction on insider trading charges, with an appeals court rejecting his latest challenge.
The US Second Circuit Court of Appeals yesterday dismissed Gupta's appeal in which he argued that there was insufficient evidence at trial to prove he had received personal benefits from now-jailed hedge fund founder Raj Rajaratnam in exchange for confidential board room information about Goldman Sachs.
Gupta, 67, had moved the appeals court seeking a 'certificate of appealability' but in the ruling the court 'denied' the motion and 'dismissed' his appeal.
"Appellant has not shown that 'jurists of reason would find it debatable whether the district court was correct in its procedural ruling' . . . as to whether Appellant's claim was procedurally defaulted," Circuit Judges Susan Carney and Christopher Droney said in their ruling.
Gupta's two-year prison term is set to end in March 2016.
Ever since his conviction in June 2012, he has filed several appeals, including to the US Supreme Court, to overturn his conviction and prison term but the courts have rejected his arguments and affirmed his sentence.
The former McKinsey chief is currently serving his prison term in a federal prison in Ayer, Massachusetts.
Gupta had last filed an appeal in August in the US Court of Appeals against the July ruling by District Judge Jed Rakoff who had rejected Gupta's appeal saying his argument that the evidence of personal benefit presented at trial was insufficient to sustain his conviction is 'both too late and too little.'
In his appeals, Gupta cited a recent landmark decision by the appeals court that had said that for an insider-trading conviction prosecutors must show that a defendant received a personal benefit for passing illegal tips.
Gupta sought to vacate his sentence and the judgment against him on the basis of an argument that the trial court's instruction to the jury concerning the 'personal benefit' element of an insider trading violation was 'erroneous' and there was insufficient evidence of such benefit.
Rakoff had also denied Gupta's bid to seek a 'certificate of appealability' that would have given the IIT and Harvard alumnus another legal recourse to challenge his conviction.
Rakoff, who had presided over Gupta's trial and sentenced him to the two years' imprisonment, had said that even though Gupta is a 'man of many laudable qualities,' the 'hard fact remains' that he committed a serious crime.
Image: Rajat Gupta (centre) arrives for his date in court. Photograph: Paresh Gandhi/Rediff.com
© Copyright 2023 PTI. All rights reserved. Republication or redistribution of PTI content, including by framing or similar means, is expressly prohibited without the prior written consent.