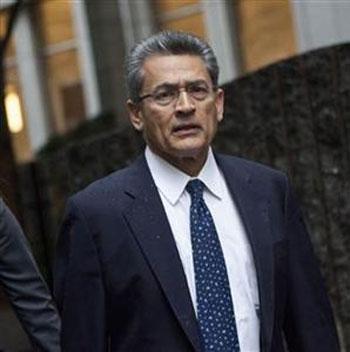 India-born former Goldman Sachs director Rajat Gupta - currently serving a two-year jail term on insider trading charges - has filed a fresh plea in a US court seeking his conviction overturned as prosecutors failed to show he received personal benefits for passing information.
The Indian Institute of Technology and Harvard-educated 66-year-old former McKinsey head has asked the Manhattan federal court here for an order "vacating his sentence, setting aside the judgment against
him, and discharging him from prison".
In the plea, Gupta has argued that the government did not provide evidence to prove he received personal benefits in exchange for passing confidential Goldman Sachs information to hedge fund founder and billionaire friend Raj Rajaratnam.
Convicted in 2012, Gupta began serving a two-year prison term on insider trading charges in June, 2014.
His petition in the criminal case is pending before the Supreme Court.
In the 21-page memorandum, Gupta's lawyer Gary Naftalis said the trial jury was not properly instructed regarding insider trading tips and the benefit accrued to Gupta.
The "erroneous jury instructions" permitted the jury to convict Gupta "without finding that his tips were part of an agreed upon exchange of tips for consequential benefits, resulting in his conviction for conduct that is not a crime", Naftalis said on Thursday.
The government has time till April to file its response to the defence motion.
Naftalis said the proposition that Gupta gained nothing in exchange for the alleged tips provided critical support for the argument that he was utterly without motive to participate willfully in an insider trading scheme.
"Following a long and successful professional career of the utmost probity, at the pinnacle of the business world, with no shortage of lucrative post-McKinsey business opportunities and in the absence of anything resembling financial need, Gupta lacked any such motivation," he said.
Naftalis said there was total absence of an agreement to pay cash for tips, to share trading profits or to trade tips for other tips.
"Indeed, there was no direct evidence of any quid pro quo at all. Nor was there any evidence showing that Gupta even knew what Goldman Sachs trades Rajaratnam directed, the size or dollar amount of those trades, or how much money Rajaratnam made," the memorandum said.
Naftalis argued that the government offered evidence of Gupta's past participation in business ventures in which Rajaratnam was also involved but this evidence was not offered in support of a theory linking tips to benefits pursuant to a quid pro quo arrangement.
Due to this, the jury convicted Gupta upon a mere finding that his tips coincided with his personal relationship with Rajaratnam, and without finding any agreement to exchange tips for objective, consequential benefits, Naftalis said.
"Thus, the government successfully aligned its relationship theory of benefit with a jury charge that communicated the government's slender burden... resulting in Gupta's conviction based on what we now know to be inadequate proof of benefit and on conduct that is not criminal," the defence motion said.
Further the instructions given to the jury also implied that it could convict without finding that Gupta received something "objective" or "consequential" in return for the tips.
"The jury was permitted to rationally reject the notion that Gupta tipped in order to benefit financially, and yet convict him based on finding the existence of a merely amicable relationship between him and Rajaratnam," Naftalis said.