The aim of his visit was to explore how financial institutions can be co-opted in reviving the local economy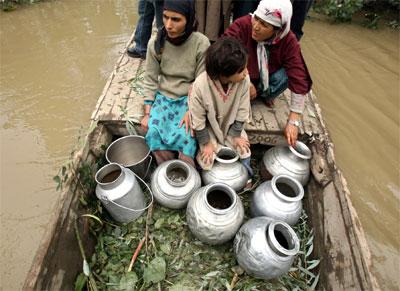 In a first, Reserve Bank of India Governor Raghuram Rajan on Thursday paid a visit to this south Kashmir town and assured people affected by last year's massive floods all help in reviving their livelihood.
Accompanied by the state's Finance Minister Haseeb Drabu, Rajan became the first RBI governor to visit the town which is 32 km from summer capital Srinagar, an official spokesman said.
"Supporting flood-affected people of Jammu and Kashmir and reviving their livelihood will be at the forefront of any relief and rehabilitation effort in the state," he told local representatives of trade.
The aim of his visit was to explore how financial institutions can be co-opted in reviving the local economy and reaching out to the flood-affected people.
Rajan, who also interacted with flood-affected people of Pampore, Rajpora, Awantipora, Littar, Kakapora and other areas of Pulwama district, said empowering these "people with means to sustaining their livelihood is crucial aspect of rehabilitation".
Issues raised by the delegations with the RBI Governor included poor credit support from formal banking sector to agriculture and horticulture sectors, ensuring more proactive role of the financial institutions in the rehabilitation of the flood-affected, increasing credit-deposit ratio by banks, opening more bank branches in unbanked rural areas and reviving the cooperative banks.
Rajan assured the delegations that the issues like streamlining and easing of the lending procedures by the banks and involvement of the banking sector in rehabilitation of the flood-affected would be addressed at the earliest in consultation with the state government.
He said he was impressed by the dedication of local artists who despite suffering heavy losses due to floods and having not been able to sell their finished products are still willing to keep the traditional handicrafts alive and going and promised to help them market their products outside the state.
He also interacted with the representatives of trade and industry bodies and travel and tour operators of the valley in Srinagar.
They demanded interest waiver, restructuring of existing loans, sanctioning of fresh loans for resumption of normal business, keeping in view the total liability of the borrower arising out of the old loan where the assets financed have been damaged or lost on account of floods as well as the new loan for repair of such assets.
Rajan said his organisation has no problem in supporting interest free financing and assured the representatives that their concerns would be communicated to the Centre.