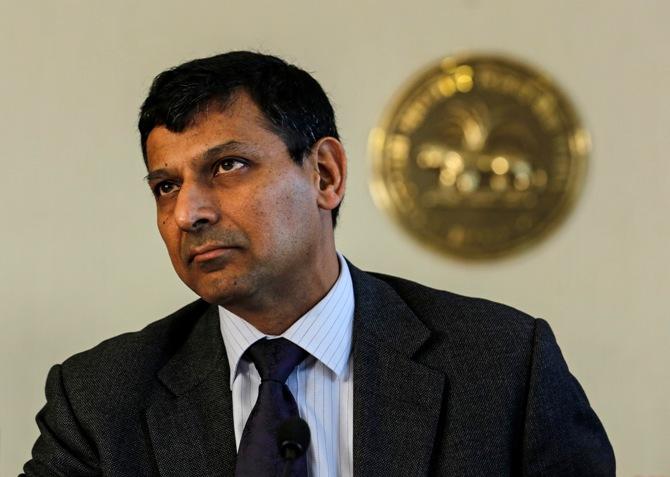 Rajan has repeatedly called for policy co-ordination at global forums
Reserve Bank of India Governor Raghuram Rajan has said macroeconomic fundamentals of the country have improved over the past two years and emerging market economies like India are better placed to face any eventuality.
In the same breath, he cautioned against more volatility, given conflicting action by the developed world.
After the 'taper tantrums' starting mid-May 2013, when the Fed hinted at reversing its easy money policy, 'a combination of global factors and concerted domestic policy decisions' have helped the country, Rajan said in the foreword to the Financial Stability Report 2015 released by RBI on Thursday.
"The macro-economic fundamentals have improved and we have also been able to build buffers to fight any future uncertainty," he said, stressing that 'we need to be vigilant'.
"With back-to-back quantitative easing by other major central banks, alongside the possible tightening by the Fed, what we have seen might be only one of a series of such 'tantrums' that the global markets are likely to witness."
Rajan has repeatedly called for policy co-ordination at global forums, saying policies in the developed world driven by domestic needs can adversely impact other developing countries in an inter-connected world.
Reiterating the need for a consensus here, Rajan said: "There is a need to be vigilant about the spillovers (of the Fed ending the near-zero interest rate regime). . . For India, what matters is reducing inefficiencies as also improvements in non-price competitiveness."
He also underscored the need for promoting 'healthy innovation while ensuring financial stability'.
The vision for the overall regulatory framework envisages a 'balanced, predictable, institution-neutral, ownership-neutral and technology-neutral' regime, he said.
FSR is published by a sub-committee of the Financial Stability & Development Council headed by the RBI Governor.
The sub-committee has representation from the heads of other regulators like Securities and Exchange Board of India, Insurance Regulatory Development Authority, Forward Markets Commission and Pension Fund Regulatory and Development Authority, apart from the Chief Economic Advisor and the Finance Secretary, among others.
Image: Reserve Bank of India Governor Raghuram Rajan. Photograph: Danish Siddiqui/Reuters