Railway hospitals will offer postgraduate courses for medical students.
Shine Jacob reports.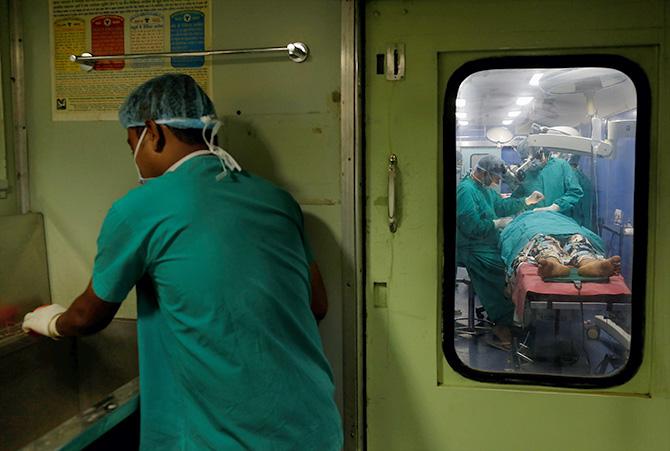 The Indian Railways has sought the permission of the Medical Council of India and the Union health ministry to develop 10 of its 125 hospitals across zones into medical colleges.
According to sources close to the development, zonal central hospitals under the Northern Railways, Eastern Railways, South Eastern Railways, North East Frontier Railways, Southern Railways, South Central Railways, Western Railways, Central Railways, North Eastern Railways, and the divisional hospital at Kharagpur will be converted into medical colleges.
"These hospitals will offer postgraduate courses for medical students. For this, the railways will sign a memorandum of understanding with local universities and colleges," said an official.
The railways runs around 125 hospitals and 586 dispensaries across the country to provide free treatment to 6.7 million people, including its 1.3 employees, their families, and pensioners.
These hospitals have around 14,000 beds. These hospitals have 40,000 staff, including 2,500 doctors.
The plan to covert hospitals into medical colleges was mooted by then railway minister Mamata Banerjee.
Earlier this month, Indu Bhushan, chief executive officer, Pradhan Mantri Jan Arogya Yojana, had said railway hospitals would now treat Ayushman Bharat beneficiaries, too.
The announcement had come after Railways Minister Piyush Goyal directed the officials to tie up with railway hospitals. An MoU is expected to be signed soon, and a proposal is set to be taken up by the Railway Board in 15 days.
The Centre's flagship Ayushman Bharat scheme targets 500 million people.
"With the inclusion of railway hospitals into the scheme, it will open up for BPL families, coming out of exclusivity for railway employees and their families," said another official.
Annually, the railways spends around Rs 31 billion to maintain its hospitals and Rs 18.6 billion to pay salaries.
Around 20 million people report to the outpatient department at these hospitals and over 500,000 people get admitted.
"We are also improving the services to passengers at major stations and the accident relief mechanism, too. Every station will be have an ambulance facility," he said, adding more advance treatment facilities, including cardiac and oncology, would be available at all its hospitals.