Suresh Prabhu is trapped in the 'rhetoric of his own government'.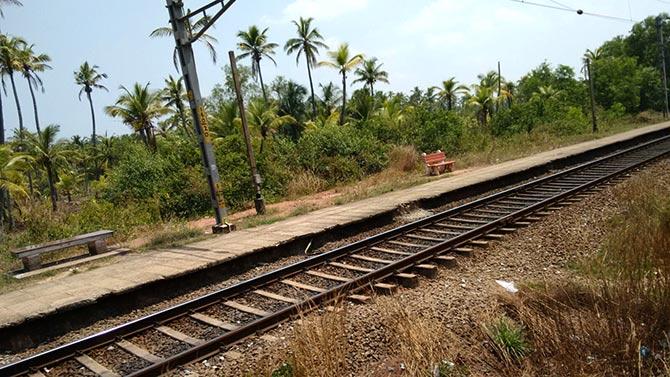 The otherwise technocratic Suresh Prabhu had to seek refuge in words more than numbers while presenting his second Railway Budget.
Alliterations, acronyms and poetry marked his speech as he comfortably skipped finer details.
Fancy epithets are a signature feature of almost all schemes and announcements of the National Democratic Alliance government and the Railway Budget 2016-17 was no exception.
Prabhu announced a slew of consumer-oriented schemes and targets. He made sure all of them had ornate titles - all in Hindi.
So while there was 'Navarambh' (a new beginning) for the structural changes suggested for the railways, he also laid down three pillars for its functioning, Nav Arjan (new revenues), Nav Manak (new norms) and Nav Sanrachna (new structures).
A man of few words, and even fewer numbers this time, Prabhu indicated the financial plans through these pillars: Less budgetary allocation and more innovative extra-budgetary financing.
Members of Opposition parties voiced dissent over the minister not spelling out the detailed financial status of the Railways in his speech.
The speech lasted exactly an hour, but Member of Parliament from the Communist Party of India (Marxist) in the Lok Sabha Md Salim said it was one of the longest, and most boring speeches in recent years.
"It seems Prabhu, who is a well-meaning person and has lots of new ideas about improving the railways found himself trapped in the rhetoric of his own government to deliver such a lacklustre speech," he said.
Weighed down by declining freight earnings and the fear of losing passengers to low-cost airlines, Prabhu quoted from Amitabh Bachchan to the Buddha.
Battling negative economic indicators, decline in core sector growth and pressure from the award of the Seventh Pay Commission, he derived reassurance from a poem written by former prime minister Atal Bihari Vajpayee.
"Vipdayen aati hain toh aayen, hum na rukenge, hum na rukenge. Aaghaton ki kya chinta hai? Hum na jhukenge, hum na jhukenge" (Sorrows would come, we won't stop. We are not worried about any attack, we won't give up.)
For the Railway Board, Prabhu laid down seven missions calling it Avataran. He also spelt out six structural changes: Navinikaran, Sashaktikaran, Aekikaran, Shodh aur vikas, Vishleshan and Navrachna. This, the minister said could be achieved through "Cooperation, Collaboration, Creativity and Communication."
Among other notable announcements were, Janani Sewa for mothers and child services in trains, porters to be called 'sahayaks' and not coolies, Rail Mitra Seva to assist senior citizens.
Prabhu cited Bachhan once and Vajpayee twice. While dissenting voices started to surface in Parliament, Prabhu quickly wrapped up his speech with Gautam Buddha's words.
"Even as our journey continues, I am reminded of Gautama Buddha who said that whenever one contemplates a journey, there are two mistakes one can make: Not starting, and not going all the way. We have already started the journey and I intend to go all the way and we will not rest till we take Bhartiya Rail to a destination called samridhi or success," he said.
Prabhu announced special trains with special names such as Antyodaya Express, Humsafar, Tejas and UDAY. By the way, UDAY stands for Utkrisht Double-Decker Air-conditioned Yatri' and not the NDA's power reforms scheme of the same name.
As lack of headline announcements left the viewers, parliamentarians and journalists high and dry, Prabhu would have to revisit his words. Maybe next year he would need numbers to justify the words.