Railway Minister Suresh Prabhu said the common people have always been the focus of all initiatives by the Indian Railways.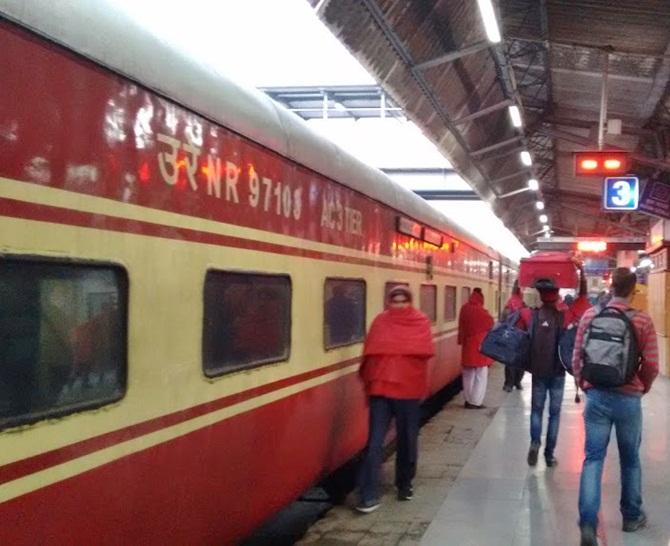 Presenting the Railway Budget 2016-17 in Parliament on Thursday, Prabhu said, it has been an unprecedented year for customer oriented measures.
Take a look at 10 ways train travel will become a pleasant experience…
No fare hike: Once again, the Railways spared passengers from a fare hike, making train travel affordable for millions.
New trains: The Railways will introduce 3 new super-fast trains - Humsafar Express, Tejas, Uday. They will launch a super-fast unreserved train Antyodaya Express. Deen Dayalu unreserved coaches with water, mobile charging points will be introduced. A new train between Varanasi and Delhi, 'Mahamana Express' with modern refurbished coaches.
Wi-Fi at stations: Wi-Fi will be introduced at 100 stations this year. 400 more stations will get Wi-Fi in the next 2 years in association with Google.
Rail Mitra Seva: Railways has introduced Sarathi Seva in Konkan Railway to help the old and disabled passengers requiring assistance at stations. Accessible India Campaign will ensure that all stations under redevelopment are made disabled friendly. There will be a one-time registration for the persons with disabilities for availing concessions while booking tickets online. Online booking of wheelchairs and Braille enabled new coaches will be introduced. He also announced increasing of quota of lower berths for senior citizens and women, middle bays reserved in coaches for women.
Ticketing gets better: The ticketing capacity has been raised to 7,200/min. The sale of tickets will be possible through hand held terminals soon. Optional travel insurance will be introduced for rail passengers. A mobile app will deal with ticketing issues, complaints. Ticketing facility to foreign debit/credit cards for foreign tourists and NRIs will be launched in the next 3 months. He announced that e-booking of tickets on the concessional passes for journalists.
Smart coaches: Information boards in trains, GPS based digital display inside coaches. Smart coaches with automatic doors, bio vacuum toilets and improved aesthetics. CCTV surveillance will be introduced in all major stations. Disposable bed rolls are now available at select stations to all classes of passengers. Cleaning of coach on demand soon. Bar-coded tickets, scanners will be introduced on pilot basis.
Food: IRCTC will offer e-catering services to all 408 'A-1' and 'A' class stations. Local cuisine will be made available to passengers in some trains. Availability of children's menu items on trains. Baby foods, hot milk and hot water would be made available on stations and changing boards for babies would be provided in train toilets.
Cleanliness: Indian Railways will provide 17,000 bio-toilets in trains and additional toilets at 475 stations before the close of this financial year.
Mumbai suburban trains: Two new corridors for Mumbai suburban trains- Churchgate- Virar and CSTM – Panvel have been planned. The two elevated corridors will help in reducing the congestion in suburban trains. The CSTM – Panvel corridor will be integrated with metro lines for connecting ChhatrapatiShivajiInternationalAirport and proposed Navi Mumbai International Airport.
Entertainment: FM Radio stations will provide train-borne entertainment.