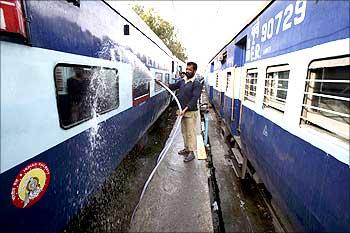 The All India Railwaymen's Federation will march to Parliament during the monsoon session to expedite filling up of 200,000 vacancies, AIRF general secretary Shiv Gopal Misra said on Monday.

There is a 'need' to fill up more than 200,000 posts in the Railways, he said while addressing a Press meet on sidelines of the zonal convention of the employees of the Commercial Department of the South Central Railways.

He said though the Railway Minister had promised to fill up 100,000 posts in her last year's Budget speech, the administration has failed to implement it.

"Filling up of vacancies should be decentralized and be taken up from time-to-time,
otherwise, at the Central level, the process of filling up of posts is a Herculean task", said the AIRF general secretary.
Union Railway Minister Mamata Banerjee had said last year that her ministry would clear the backlog of 200,000 countrywide vacancies in six months.
The AIRF wants the government to scrap its policy of outsourcing of important services, where safety and security aspects are excluded, of the Railways.
"Outsourcing of services like booking tickets and parcels leads to deterioration of service to the passengers", he said.