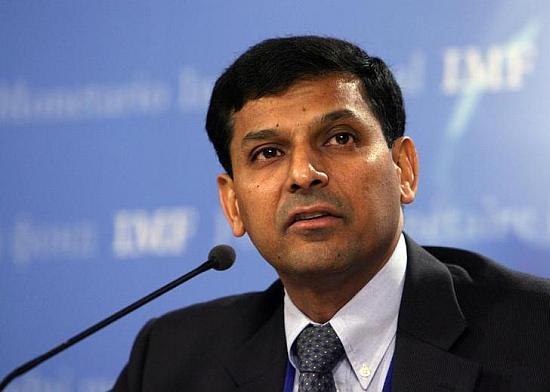 Reserve Bank of India Governor Raghuram Rajan took charge of India's central bank when the rupee seemed to be in a tailspin while the country was facing runaway inflation.
He stabilised the rupee and put up a more credible fight against inflation. These actions have landed him on the fourth annual Bloomberg Markets 50 Most Influential list, which will appear in the magazine's October special issue.

He, however, isn't the only Indian banker on the list. The list also features State Bank of India Chairman Arundhati Bhattacharya.

A selection of the 50 on the list:
THE 50 MOST INFLUENTIAL POLICY MAKERS
Preet Bharara, 45 US Attorney, Justice Department
Mario Draghi, 67 President, European Central Bank
George Osborne, 43 Chancellor of the Exchequer, UK
Raghuram Rajan, 51 Governor, Reserve Bank of India
Janet Yellen, 68 Chair, US Federal Reserve
Zhou Xiaochuan, 66 Governor, People's Bank of China
BANKERS
Arundhati Bhattacharya, 58 Chairman, State Bank of India
Lloyd Blankfein, 59 CEO, Goldman Sachs Group Inc
Ana Patricia Botin, 53 CEO, SantanderUK Plc
MONEY MANAGERS
Leon Cooperman, 71 Founder, Omega Advisors Inc
Mary Callahan Erdoes, 47 CEO, JPMorgan Asset Management
Larry Fink, 61 Co-founder, BlackRock Inc
Carl Icahn, 78 Chairman, Icahn Enterprises LP
Paul Singer, 70 CEO, Elliott Management Corp.
Jeffrey Ubben, 53 CEO, ValueAct Capital Management LP
THINKERS
Lael Brainard, 52 Governor, U.S. Federal Reserve
Satyajit Das, 57 Author, Traders, Guns and Money
Paul Graham, 49 Partner, Y Combinator
Kathy Matsui, 49 Chief Japan Equity Strategist, Goldman Sachs Group Inc
Thomas Piketty, 43 Professor, ParisSchool of Economics
CORPORATE POWER BROKERS
Mary Barra, 52 CEO, General Motors Co
Warren Buffett, 84 CEO, Berkshire Hathaway Inc
Tim Cook, 53 CEO, Apple Inc
Jeffrey Immelt, 58 CEO, General Electric Co.
Jack Ma, 49 Founder, Alibaba Group Holding Ltd.
Elon Musk, 43 Founder, Tesla Motors Inc
Igor Sechin, 54 CEO, OAO Rosneft