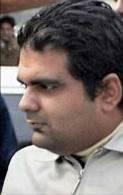 Shivraj Puri, the main accused in the estimated Rs 400 crore (Rs 4 billion) fraud at Citibank's Gurgaon branch, was remanded in 14 days' judicial custody by a local court on Friday.
Chief Judicial Magistrate D N Bhardwaj ordered Puri to be taken into judicial remand for 14 days till January 28 at a hearing today.
Puri has been in police custody for the past 14 days in connection with the fraud. Puri, who was formerly a Relationship Manager at Citibank's Gurgaon branch, was initially taken into 7 days' police custody on December 30, 2010, after the Rs 400 crore scam was detected.
Later, police remand of Puri was extended for six days on January 6 and then, subsequently, for two days on January 12.
He is accused of luring high net-worth individuals to invest in a bogus investment scheme on the pretext of high returns, while diverting the funds to the stock market.
Meanwhile, the police investigation into the fraud has now been expanded to take into account the charges made in a first information report filed by high net-worth individual Sanjeev Aggarwal, with the initial probe into the scam done on the basis of an FIR lodged by Citibank NA, Gurgaon Police Commissioner S S Deswal said.
This could lead to another production warrant being served on Puri by the police in the next few days. "In this FIR as well, Puri seems to be main accused, so we may seek his production warrant in the next few days," Deswal said.
Puri invested most of the ill-gotten funds in Nifty options, a derivative product with the NSE benchmark index Nifty as the underlying asset, where the investor has no obligation to take delivery and needs to pay only margin money.
In these derivatives instruments, investors bet on the upward or downward movement of the Nifty and returns depend on the accuracy of such bets.
Victims of the Citibank fraud include the promoters of Hero Group (Rs 250 crore) and Helion Advisors Managing Director Sanjeev Aggarwal (Rs 33 crore).
Other entities whose funds were allegedly diverted by Puri to the stock market include OKS Span Tech (Rs 2 crore), Satyam Auto (Rs 25 crore), Mayar Infratech (Rs 24 crore), Spaid (Rs 62 crore), Karopat Pad (Rs 8 crore), Aero Infratec (Rs 25 crore) and Munab Braej (Rs 71 crore).
Puri is accused of luring about 40 high net-worth individuals and corporate entities to invest in the 'ponzi' scheme on the false promise of sky-high returns.
A senior official of Hero Corporate Services, Sanjay Gupta, who allegedly conspired with Puri to arrange for his company's funds to be "invested" in the scheme, is also in police custody.
It is alleged that Gupta was given a Rs 20 crore commission by Puri to arrange the investments. Meanwhile, an anticipatory bail plea filed by Shivraj Puri's father, Raghuraj Puri, who is accused of being part of the scam, was rejected by the court on Thursday.
© Copyright 2021 PTI. All rights reserved. Republication or redistribution of PTI content, including by framing or similar means, is expressly prohibited without the prior written consent.