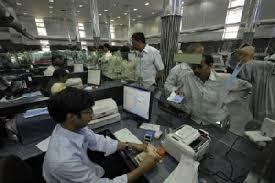 The government is likely to infuse additional capital of up to Rs 8,000 crore (Rs 80 billion) in public sector banks in the current fiscal to expand their capital base.

"Rs 11,200 crore (Rs 112 billion), that is the provision we have made (in interim budget), although there was higher requirement and the balance which can be Rs 6,000-8000 crore (Rs 60-80 billion)," said Financial Services Secretary G S Sandhu after a meeting of Finance Minister P Chidambaram with the heads of public sector banks.

"I am told that we can provide Rs 6-8,000 crore (Rs 60-80 billion) additional capital to PSU banks," he added.

The decision in this regard, however, is expected to be taken by the new government.

The government infused Rs 14,000 crore (Rs 140 billion) in public sector banks during the financial year ending March 31, 2014.

Of this, the State Bank of India got Rs 2,000 crore (Rs 20 billion), while Indian Overseas Bank received Rs 1,200 crore (Rs 12 billion).

In view of the Basel III, or global prudential banking norms, all banks have been planning to shore up their Tier 1 capital.

According to the Reserve Bank, Indian lenders will require additional capital of Rs 5 lakh crore (Rs 5 trillion) to meet the new global banking norms, Basel III.

That apart, Sandhu said bad loans or NPAs in the public sector banks are a cause for concern for all stakeholders.

However, due to vigorous recovery efforts of the banks' NPA situation has improved in the final quarter of the last fiscal, as compared to the October-December period of 2013-2014.

"In the last quarter, there is an improvement in the NPA front.

"We do hope this trend will continue because this has happened due to vigorous recovery effort by various banks and by various other measures like cost cutting on account cheaper funds and cheaper deposits," Sandhu said.

He informed that the gross non-performing assets in January-March quarter in 2013-14 improved to 4.44 per cent from 5.07
per cent in the previous quarter.
Issuing stern warning wilful defaulters, the secretary said that banks may go in for change in management of the defaulting party if it fails to clear dues.
He said: "(There will be) tough action against wilful defaulters, which can include even the change of management because so much money is stuck.
"Banks have to provide huge amount in terms of provisioning, about Rs 90,000 crore (Rs 900 billion) going into provisioning.
"So we want to recover that. If original borrower does not come up with some option of repayment, then we will call some other person, if he is able to provide that then assets could be handed over to the other person."
Sandhu said infrastructure, textiles, iron & steel, mining and aviation are five sectors that account for almost 23-25 per cent of the advances of PSU as well as other banks.
PSU banks are the major stakeholders and almost 85-90 per cent lending is to these sectors.
The stress accounts are 55 per cent in these five sectors, he said, adding that these include NPAs and restructured accounts.
Expressing satisfaction over moderation of NPAs in individual housing loans, he said bad loans in the sector have come down drastically from 2.2 per cent to 1.47 per cent in 2013-14.
Sandhu said the Finance Minister in the meeting with bankers also reviewed the progress of stalled projects.
"Banks have started lending to these stalled projects. . . These projects are now moving.
"That is a very good development which has happened over the last few months and hopefully these projects see light of the day," he said.
Sandhu informed that banks have opened about 10,000 branches of which public sector banks have opened 7,814 branches in 2013-14.
At the same time, 40,872 ATMs have been installed during the last fiscal.
© Copyright 2021 PTI. All rights reserved. Republication or redistribution of PTI content, including by framing or similar means, is expressly prohibited without the prior written consent.