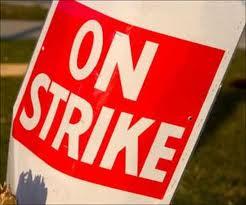 Normal banking operations like cheque clearances, withdrawing and depositing of money at branches were hit across the country as employees of public sector banks went on a one-day strike on Tuesday to press for wage revision and other demands.

All the members affiliated to nine bank employees and officers unions have gone on strike, United Forum of Bank Unions convener C H Venkatachalam said.

Banks, including country's largest lender State Bank of India, have informed the customers well in advance about the likely inconvenience due to strike.

General Secretary of National Organisation of Bank Workers Ashwini Rana said Indian Banks' Association held discussions with UFBU on December 14
on wage revision.
After a lot of deliberations, IBA stated they would be able to offer an increase of 5 per cent over the wage expenses.
Since their offer was too low and not acceptable to the unions, it has been decided to go ahead with strike, Rana said.
The wage revision of bank employees was due from November 2012.
UFBU is an umbrella organisation of nine bank employees and officers unions.
There are 27 public sector banks in the country with employees strength of about 800.
There are about 50,000 branches of these banks across the country.