The talk of governance reforms at public-sector banks seems to remain on paper, as a majority of them continue to be working with just a handful board members.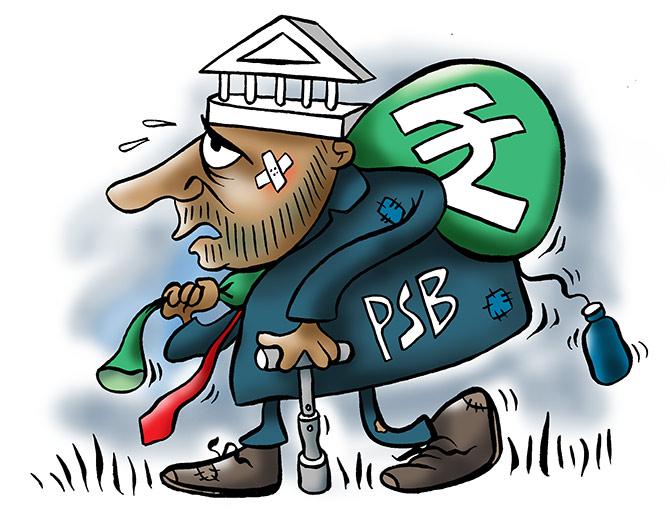 Half of the board seat at these banks have been vacant.
Ten of the 12 public-sector banks, even large ones like Punjab National Bank, Canara Bank and Union Bank of India – all except State Bank of India (SBI) and Bank of Baroda – don't even have a chairman.
In 2014, while splitting the post of chairman & managing director (CMD), the government had decided to appoint non-executive chairmen at these banks. SBI, which has an executive chairman and four managing directors, was an exception.
"The idea behind splitting the CMD post was to ensure the chief executive did not become all too powerful.
"The non-executive chairman ensures that the MD does not run the show on his own," said a senior bank official of a public-sector bank.
Many board seats vacant
At present, the board at these banks constitute managing directors and executive directors, a government of India nominee director, a Reserve Bank of India (RBI) nominee director and a shareholder director.
The shareholder director at some banks is an official associated with Life Insurance Corporation (LIC) of India. The number of EDs at banks can be up to four, depending on the business size of the bank.
Most non-official director posts remain vacant. Typically, the seat of non-official directors used to be filled by professionals from the fields of agriculture, rural economy, finance, law, etc.
The objective was to have sector specialists from different fields bringing useful practical experience to run a bank's business better.
No public-sector bank at present has workmen employee or officer employee representatives on its board.
Besides, hardly any public-sector banks has a chartered accountant on its board.
Most private banks have chartered accountants heading the audit committee of their boards; earlier this was common at public-sector banks, too.
A large bank can have four executive directors, six non-official directors (of whom up to three could be shareholder directors), a workman director, and an employee director, in addition to a nominee each of government and the RBI, the non-executive chairman, and the MD & CEO.
"Despite provisions, employee directors, directors representing agriculture, depositors, etc, have not been nominated.
"Shareholder directors are mainly former executives from Life Insurance Corporation or banks, or academics," said Devidas Tuljapurkar, general secretary, Maharashtra State Bank Employees Federation.
"Thus, the purpose to have the representation of various sections of the society, and different segments of the economy, stands defeated."
Quorum not met
Since their boards are truncated, banks are sometimes finding it difficult to meet the quorum of their board sub-committee meetings.
A bank's board typically has a number of committees, such as audit committee, risk-management committee, customer service committee, capital-raising committee, wilful defaulter committee, high-value fraud committee, nomination and remuneration committee, and most importantly, the management committee (MC), which takes decisions on high-value loan sanctions and haircuts.
According to norms, to avoid a conflict of interest, the person heading the audit committee cannot be a member of the management committee.
The government nominee director, too, cannot be part of the management committee.
"At times, we face a lot of difficulties in meeting the quorum requirements at sub-committees.
"There are so many such committees of the board. Such is the situation that meeting the quorum becomes difficult if even one member is not present," said the chief executive of a public-sector bank.
However, despite their boards being way short of their full strength in the past few years, public-sector banks have taken a host of important decisions.
Thirteen state-run banks were merged into five in the past two years.
Branches were rationalised, fraud transactions were reported, wilful defaulters were identified, and rising bad loans forced changes to banks' business models. All these critical decisions were taken with a fully functioning board.
After the Narendra Modi government came to power in 2014, it decided to split the post of chairman and managing director of public sector banks – as recommended by the P J Nayak committee – giving hope that such a move would be the start of long-pending reforms at public-sector banks.
But, after seven years of the Modi government, it turns out that governance reforms at these banks remain far from reality.