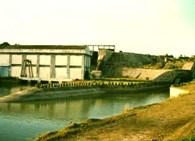 With the 330-Mw Alaknanda hydel project being built by infrastructure major GVK coming under the scanner, members of the high-powered committee set up by the Uttarakhand government last month, have launched a probe into the same.
They visited the dam site to make on-the-spot investigations related to various issues that had led to resentment among a section of local people in Srinagar town of the Garhwal region.


The government had partially suspended the construction of the project, being built by GVK at an investment of Rs 2,769 crore (Rs 27.69 billion).

The committee would shortly meet again in Dehra Dun to finalize its report, said M C Upreti, additional secretary, Power. Upreti is also a member of the committee.


With BJP leaders, led by former state minister Mohan Singh Gaonwasi leading an agitation against the project over the submergence of Dhari Devi temple, the state government had set up the committee under the chairmanship of the Garhwal Commissioner.

It was supposed to look into the various issues related to the project and submit its report within 15 days. The committee will now take some more time to prepare its final report.


The BJP government's decision has been strongly resented by GVK, which had earlier agreed to elevate the Dhari Devi temple. The construction major had decided to elevate the height of the temple to 19 meters and build the necessary infrastructure.

The company is spending Rs 182 crore (Rs 1.82 billion) on R&R work, which includes the elevation of the temple. "We have done nothing wrong as far as the dam is concerned," said a GVK official.


The controversies surrounding the project are being seen as a fallout of the internal politics of the ruling BJP, which emerged after Chief Minister Ramesh Pokhriyal Nishank decided to contest the next assembly elections from the Srinagar constituency.


Another issue related to the project is its height. The local leaders are alleging the height of the dam was increased due to which the submergence area of the reservoir also got enlarged. On the other hand, GVK claimed the height was never increased from 66 meters, only the foundation was dug deeper.


"We are investigating all the issues in detail and will prepare the final report shortly," said Upreti.