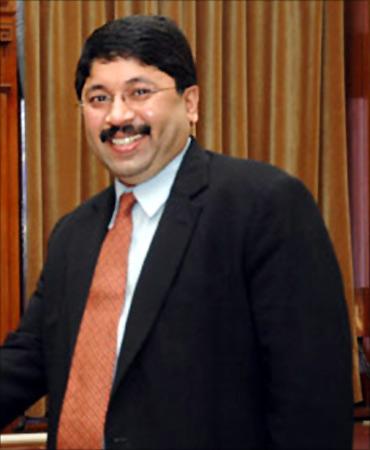 The CBI has completed its probe against former telecom minister Dayanidhi Maran and others in 2G scam and will approach the Centre for taking sanction for prosecution, the agency told the Supreme Court.
The agency submitted that it is not getting cooperation from Malaysian authority in its probe in Aircel-Maxis deal involving DMK leader Maran but said that it will go ahead in the case on the basis of material and evidence available to it.
A bench of justices G S Singhvi and K S Radhakrishnan then directed the agency to make reference to the Centre within seven days for taking sanction. It also directed the Centre to take a decision on sanction within two weeks.
The bench said that already more than a year has passed after registering the case and the agency must bring the case to logical conclusion. "This matter must be brought to an end to a logical conclusion," the bench said while posting the case for hearing on August 1.
Maran has been accused of forcing Chennai-based telecom promoter C Sivasankaran to sell the stake in Aircel in 2006 to a Malaysian firm Maxis Group owned by Kuala Lumpur-based business tycoon T Ananda Krishnan.
The agency in July 2011 had placed a status report in the court stating that during 2004-07 when Maran was telecom Minister, Sivasankaran was coerced to sell the stake in Aircel to Maxis Group.
The CBI status report, part of which was read, had said that the Malaysian firm was favoured by Maran and was granted licence within six months after taking over Aircel in December 2006. Maran was the Telecom Minister between February 2004 and May, 2007.
"The gentleman (promoter of Aircel) had been knocking at various doors but was left with no choice but to sell his shares to a Malaysian form," the CBI had said. The NGO, Centre for Public Interest Litigation, had earlier placed documents before the apex court on the alleged role of Maran in favouring Maxis group which had bought Aircel, owned by Siva Group, when he was Telecom Minister.
The CPIL had alleged that Maran during his tenure as Telecom Minister granted 14 licences to Aircel which invested Rs 599.01 crore (Rs 5.99 billion) in his family-owned business.
Later, he allegedly delayed the award of UAS licenses to Aircel which had been applying with the DoT since 2004 by raising irrelevant issues from time to time ignoring the request of its owner C Sivasankaran to resolve them, following which he sold the company to Maxis group.
Sivasankaran had appeared before the CBI and had recorded his statement. The NGO claimed that after Aircel was taken over by the Maxis, Maran's family-owned business, Sun TV, received substantial investment from Maxis Group (Aircel) by taking 20 per cent equity in Sun Direct.