Private equity players and venture capitalists are cautiously optimistic about the prospects of their businesses, yet are hopeful of clinching more deals in the New Year, say industry experts.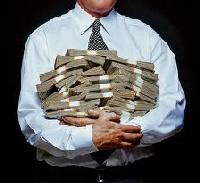 "We are cautiously optimistic about 2012 as global uncertainty still looms large. However, the number of deals is likely to be higher as valuation looks attractive," IDG Ventures vice-president Ranjith Menon said.

He also said global PE players may invest less in 2012 due to the risk aversion of foreign investors to emerging markets.

In 2011, there was an increase in private equity investments as companies found rise in cost of borrowing due to repeated rate hikes by the Reserve Bank. Even some sectors found debt flow drying up from commercial banks as financial institutions deliberately cut exposure to certain sectors fearing rising delinquency.

According to a KPMG India report on PE investments, it is estimated that PE deals marginally rose and touched USD 8.6 billion in 2011 up from USD 8.2 billion in 2010.

Similarly, according to a Grant Thorton report, the top sectors for PE investments in 2011 were realty, infrastructure, automotive, power and energy, banking and financial services and information technology, contributing to around 67
percent of the total investment during the year.
While about 22 per cent of the total private equity investments were in the real state and infrastructure sectors, 13 per cent was in the automotive, and 12 percent in the power and energy sector during 2011, the report added.
"In 2012, total investment will be similar or higher than 2011 by PE players as a number of players are likely to take pre-IPO exposure in companies, which was nearly absent last year," Fire Capital chief executive Om Chaudhry said.
As domestic economy does better, there is a line up of good IPOs that are expected to hit the market and they will provide good investment opportunities for PEs, he added. Even industry experts said that the number of PIPE (private investment in public equities) are also likely to be higher in the new year.
"Promoters are more realistic about valuations these days after the bad performance of equity market. So, there should be higher deals in the form of PIPE in 2012," he said.
Referring to sectors, Chaudhry said real estate, financial services, education, and private sector healthcare would see higher PE fund inflows during 2012.
© Copyright 2021 PTI. All rights reserved. Republication or redistribution of PTI content, including by framing or similar means, is expressly prohibited without the prior written consent.