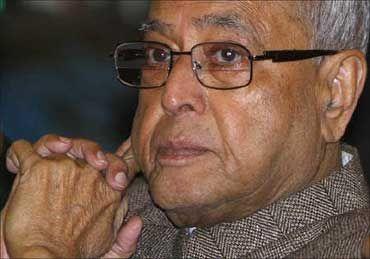 President Pranab Mukherjee has extended an invitation to public and private companies from Oman to invest in the 'Make in India' programme which offers good returns.
This was conveyed by the President when the Commerce and Industry Minister of the Sultanate of Oman, Dr Ali Bin Masoud Al Sunaidy, called on him yesterday, a Rashtrapati Bhavan spokesperson said on Tuesday.
During his meeting, Mukherjee referred to the 'Make in India' campaign and invited Omani companies "to come and invest in Indian infrastructure and other sectors which offer good returns".
The President told Al Sunaidy that India's ties with Oman are built on the strong foundation of historical and civilisational linkages and India appreciates and values the strategic partnership, which is reflected in the remarkable overall growth in the bilateral relationship in recent times.
"Bilateral trade between India and Oman has increased from USD 4.6 billion in 2012-13 to USD 5.77 billion in 2013-14.
However, trade remains much below its potential and both sides need to bring it to a higher level commensurate with the depth of the bilateral relationship," remarked the President.
He expressed hope that the forthcoming Seventh Joint Commission Meeting between the two countries would be productive and help to further strengthen the economic and trade relations between India and Oman.
He also thanked Oman for its support in anti-piracy operations.
The Oman minister told Mukherjee that friends like India have fuelled his country's economy and helped its growth.
He paid tribute to the Indian community in Oman and to the Indian professionals who are contributing to its economy and said there was a need for the two countries to re-connect keeping in mind the interests of the youth.
"They should do things differently so that relations can multiply rapidly on the terms of the youth and taking into account changes sweeping the world," Sunaidy was quoted as having said by the spokesperson.
The 'Make in India' programme is a major national initiative launched by the Narendra Modi government which aims at transforming India into a global manufacturing hub.