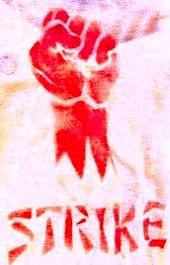 Television viewers watching Doordarshan might see their screen go blank for a second time next month, when employees of the country's largest broadcaster, government-run Prasar Bharati, intend to go on a nationwide agitation to press for repeal of the Prasar Bharati Act.
The bulk of the 40,000 employees of Prasar Bharati, radio and television, went on a two-day 'duty boycott' on Tuesday.
The unions said the strike was near-total and more than 1,700 of the 1,800 stations (1,464 television stations and 336 radio) remained inoperational on Wednesday.

DD National ran old films and dramas, supported by temporary staff and with police protection.

Officials at Doordarshan, however, maintained that services were unaffected, excepting disruptions at Bhubaneswar and Kolkata.

Anil Kumar S, chairman, National Federation of Akashvani and Doordarshan Employees said, "We have decided to go on a three-day duty boycott from December 13. If a resolution is not arrived at, we may commence an indefinite strike next month."

The strike call comes at a time when allegations of financial irregularities are flying on the award of the contract to telecast last month's Commernwealth Games in high-definition to UK-based SIS Live by B S Lali, the controversial CEO of Prasar Bharti.

Why repeal

The repeal of the Act is being pressed because, say the unions, it has only meant operational autonomy in day to day matters -- leading to a host of irregularities -- without financial viability.

They wish to revert to the earlier era, where they were a legal arm of the government and also did not have to worry about resources.  

"There is no money to upgrade infrastructure at Prasar Bharati. Our office buildings are in shambles. Prasar Bharati is not financially viable. We want to function as independent media units but under the government," said Kumar.

Prasar Bharati was constituted as an autonomous unit under the Prasar Bharati Act in November 1997.

While the body was to seek direction for policy initiatives from the government, it was given powers to take decisions in operational and tactical matters.

Data available with TAM , a television viewership monitoring agency for the week ended November 20, show DD-1's market share today is a meagre 1.2 per cent, as compared to 25.7 per cent for STAR Plus and 21.1 per cent for Colors.

Senior officials at Prasar Bharati informed it has been decided to forward the matter for discussion to Parliament, as the organisation itself does not have any authority to amend or repeal the Act. Also on the table for negotiation are issues related to the production and telecast of high-definition feeds in India.

HD controversy

Malik informed, "We had forwarded a proposal in February last year to procure equipment to produce content in high-definition format in India. Instead, the project to telecast the Commonwealth Games in HD was outsourced to SIS Live, and now that the Games are over, the equipments have been shipped off. There is no infrastructure to produce content in HD at present."

Aruna Sharma, director general, Doordarshan, however, denied the allegation, saying the decision to outsource the project was taken by the government in 2008.

"We do not have the infrastructure in our studios or the required manpower to work on such equipment. It was decided to outsource the contract so that equipment enabled with the latest technology can be purchased once the infrastructure is put in place."

Doordarshan has put in place a Rs 145-crore (Rs 1.45-billion) programme under which existing studios are being upgraded to produce content in HD format by the end of 2012.

Employees at Prasar Bharati, however, claim that DD has not delivered on the HD revolution it had promised to initiate in the country with the telecast of the Commonwealth Games.