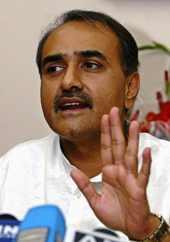 Heavy Industries and Public Enterprises Minister Praful Patel will meet on Wednesday the heads of Maharatna and few Navratna public sector units to discuss issues faced by them in meeting annual targets.

"The minister will meet tomorrow the heads of all Maharatnas and few Navratnas, including NALCO, PFC and GAIL, to discuss some problems which they are facing in meeting their annual targets set in the memorandum of understanding," an official in the know said.

The MoUs are signed between the Central Public Sector Enterprises and the administrative ministries/departments.

It is facilitated by the Department of Public Enterprises.

Last week, Patel had said these companies are facing some problems.

There are some logical reasons for their inability to meet the targets which could be reconsidered.

They have the full support of the government.

At present, there are five Maharatna companies -- Oil and Natural Gas Corporation, NTPC, Indian Oil Corporation, Steel Authority of India Limited and Coal India Limited and 16 Navratna companies, including BHEL and GAIL.
Image: Praful Patel