Its economy dependent on tourist arrivals, the hill state is looking at a summer of discontent. Not that the rest of the year promises to be any different.
Ashwani Sharma reports from Shimla.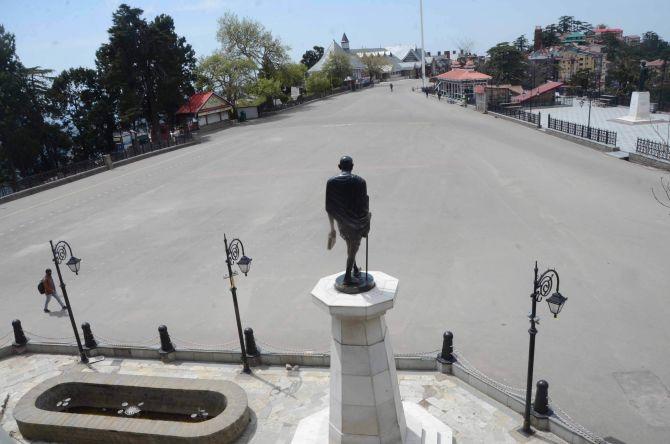 The novel coronavirus pandemic, which has shaken the world like never before, has wrought havoc on the economy of Himachal Pradesh, with tourism, one of its key sectors of growth and livelihood, in complete shutdown for more than a month. What's more, there's no chance of revival on the horizon, either in the peak summer season or later in the year.
The crisis hit the state's hospitality sector after the Himachal Pradesh government closed down its borders on March 20, and flushed out all tourists – both domestic and foreign, -- staying in hotels and hundreds of homestays. Restaurants, health resorts, yoga and meditation centres and religious shrines have all been totally closed.
Most tourist destinations and towns -- which would attract thousands of tourists and holiday makers this time of the year -- are deserted, or rather have turned into ghost towns. The picture looks more depressing when one looks at multi-crore hotels and resorts, many of which came up just three to five years back.
As per the lockdown rules social, religious, sports, adventure, cultural and family gatherings, even weddings, are not permitted in public places. This has had a direct effect on the hotel and hospitality sector.
Tourism is India's largest service industry, accounting for 6.23% of the national GDP and 8.78% of the total employment. Himachal Pradesh, a state known for its world famous hill destinations, gets more than 7% of the state's GDP from tourism. At least 30 percent of the state's population earns its livelihood directly or indirectly from tourism.
The hoteliers are out of business and a massive workforce, including hospitality professionals, are either out of jobs or sitting idle. Many have gone back home while the few stuck at different places like Shimla, Kullu-Manali, Dharamshala, McLeodganj, Dalhousie etc, have run out of subsistence.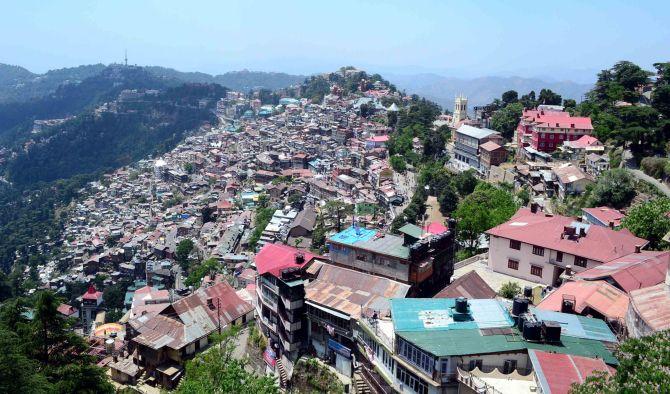 "How long will the hoteliers pay or feed us without business? They too have liabilities towards banks for loans, taxes to the government, electricity bills and other charges. Coronavirus has dealt a severe blow to a flourishing industry and livelihoods. We foresee lockouts and permanent closure of hundreds of hotel units," predicts Gian Chand, head waiter at a leading Shimla hotel.
The crisis has hit the state at a time when the tourism sector was gearing up for a packed summer season. Furthermore, the industry was expecting a minimal growth of four to five percent in tourist arrivals this year for which a massive branding of Himachal Pradesh's potential had been done over the past six months.
Admits Mohit Sharma, a Shimla-based tours and travel operator, "My agency, Himalayan Travels, had invested several lakhs. The coronavirus outbreak has hit Himachal Pradesh with a triple whammy. My 100 percent bookings got cancelled, forcing me to refund the money paid in advance. There is no hope for revival, at least for two years. Even if the lockdown ends, coronavirus will scare away foreign travellers as they don't trust the medical facilities here."
Because of the lockdown and social distancing guidelines to curb the spread of coronavirus, tourism industry stake-holders are not very optimistic of business as usual anymore. New protocols on social distancing, set out by the government, will make things very tough in the coming days, they feel.
"There will be no foreign travellers coming to India, or Himachal Pradesh, for two to three years. Post lockdown, we may see a few weekend tourists venturing to Shimla or Dharamshala from Punjab, Haryana or Delhi by October-November to chill out in the hills. But the chances of hotels opening up or tourist arrivals for the summer is out of the question," says Ajit Butail, a tourism sector veteran and hotelier.
He sees a grim picture where tourism sector investors will have to seek a bailout to pay their loans and taxes in the absence of any business. Tourism, without support from the government, will become a sick industry, Butail says.
The hoteliers are putting pressure on the government for a relief in property taxes, and other pending dues like demand charges for electricity (during the shutdown period) and deferment of some recoveries like water bills.
The Tourism Industry Stakeholders Association, in a letter submitted to Chief Minister Jai Ram Thakur, has demanded a special package to sustain during the Covid-19 lockdown period.
Association president Mohinder Seth said, "It might take at least 12 to18 months to bring Himachal tourism industry back on the rails even after normalisation. This is because the main contributing states, including Maharashtra, Gujarat, Rajasthan, Madhya Pradesh, Delhi, and parts of south India are badly affected by the coronavirus crisis."
The hoteliers also want working capital to kickstart the business as they don't have any backup money to pay salaries or meet recurring costs.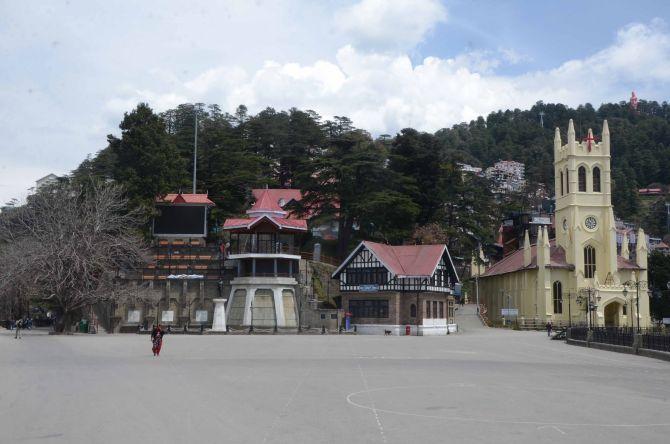 The association has demanded that the relief package should cover water, electricity, sewerage cess and garbage collection fees, besides property tax and demand charges by the state power board.
Apart from this, the body has asked the government to consider liberal working capital limits, term loans and enhancement of existing limits with a nominal rate of interest.
There are 3200 registered hotels in the state and 1300 homestays. Manali alone has nearly 2000 hotels, both registered and unregistered. Thus, the number of hotel units and homestays is very high in the state. More than 95% of the tourism units are small and medium enterprises. These units hardly have any cash reserves to ensure payment of staff salaries, electricity and water bills, taxes, loan interest, rent, insurances and repair and maintenance costs.
Manali Hoteliers Association president Anup Thakur is particularly worried about the world famous destination facing a shutdown.
"Tourists will visit Manali or other places like Shimla, Dharamshala if they have surplus money and want to spend lavishly. Foreign tourists are so scared they won't step out of their country. Every single country is in crisis. Thus, it's safe to assume that tourism has gone for a toss in Himachal Pradesh for now."
He too looks up to the government for working out some revival package to entice domestic tourists at least. "I have submitted an 11-point memorandum to the chief minister for consideration but haven't got any response so far," Thakur says.
Himachal Pradesh, which initially reported only two Covid-19 positive cases -- one, a 63-year-old woman returning from Singapore and the other a 32-year old man returning from Dubai. Both recovered and were discharged. One Tibetan, 69, who returned from USA during the same time (March 24) died due to coronavirus.
But after the Tablighi Jamaat returnees from Nizamuddin in Delhi started spreading out to different places like Chamba,Una, Solan and Kangra districts, the number suddenly went up to 39, with 23 of these belonging to the Jamaat. Currently there are 23 persons admitted in state hospitals.
Chief Minister Jai Ram Thakur admits that the tourism sector is likely to bear the brunt of coronavirus pandemic in Himachal Pradesh. Even as the government proposes to gradually unlock some activities, there is no immediate hope for arrival of tourists, maybe not for another three or four months. Meaning that the summer tourist season has no chance to revive.
"We have set up a committee under the additional chief secretary (power) to suggest a roadmap for revival of activities and opening up of some activities in the green and orange zones. The committee will work on an exit policy, and is also looking into the issues of the tourism sector to suggest measures," he assures.
Yet, the chief minister maintains that the immediate task on hand is to stop the spread of Covid-19 in the state and undertake extensive testing of the state's population to secure the people against any community transfer.
The state, so far, has been able to enforce the lockdown and curfew very strictly. This has helped the agencies to a great extent, even if the tourism industry has virtually folded up.
Photographs: Pradeep Kumar.