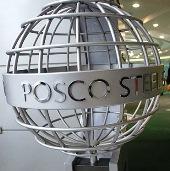 Rejecting the ruling Biju Janata Dal's allegation of discrimination against Orissa, Union Environment Minister Jairam Ramesh said on Friday the matter relating to Posco steel project was in the 'state government's court.'

"I have sought clarification from the state government on certain matters relating to the Posco project. The ball is not in my court, but in the state government's court," Ramesh, who arrived here for a two-day visit to the state, told PTI.

Ruling out visiting the proposed Posco plant site where people opposing the project staged a dharna, demanding cancellation of the environmental clearance to the mega steel project, Ramesh said, "My tour is only for Bhitarkanika and review of Integrated Coastal Zone Management Project."

The villagers who support the Posco project had also invited Ramesh to visit the proposed plant site to assess the truth behind their rivals' claim about the Rs 52,000 crore (Rs 520 billion) mega steel plant.

Dismissing allegations of discrimination made by the ruling BJD government headed by Naveen Patnaik, Ramesh said it was not true that his ministry adopted different yeardsticks
for projects in Orissa and Polavaram in Andhra Pradesh.
"Polavaram project is also issued stop work order. Same yardstick is used for Orissa and other states, same for the BJD and for the Congress," Ramesh said.
Accusing Ramesh of supporting the Polavaram project, the ruling BJD has been holding 'Save Orissa Campaign' for the last six months after the Ministry of Environment and Forests rejected a proposed bauxite mining project at Niyamgiri for Vedanta's alumina refinery at Lanjigarh in Kalahandi  district of the state.
On the controversy over his meeting with the chief minister, the union minister said he was scheduled to meet Patnaik on Friday evening after returning from Bhitarkanika in Kendrapara district.

Ramesh, who proceeded straight to Bhitarkania after arriving in the state, had cancelled his proposed Friday visit to Similipal in Mayurbhanj district.