Peeved by the appointment of "activists" in the forest panel for clearing Rs 54,000 crore (Rs 540 billion) steel project of Posco, Steel Minsiter Virbhadra Singh on Wednesday advised Environment Minister Jairam Ramesh to be "pragmatic."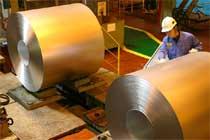 "The approach has to be pragmatic and not dogmatic... When there is an issue of development some sort of compromises have to be made," Singh told PTI, when asked as to what his advise would be for Jairam Ramesh in the face of green delays in the projects that are crucial to the economy.

Responding to queries over the holding back of the project by the Environment Ministry, in the face of majority opinion against the project of the fact finding committee, he said that unfortunately known activists were being appointed in such committees and "what else could be expected".

He was referring to the four member panel comprising three activists-- Uma Pingle, Devendra Pandey and V Suresh who have opposed the Rs 54,000 crore Korean steel giant Posco's project, proposed in Jagatsinghpur in Orissa. The project is billed as the largest FDI in India.

"ArcelorMittal and Posco (entailing greenfield steel projects for 36 million tonnes) are important projects and their (Environment Ministry's) approach should be pragmatic", he said.

Asked if he would seek Prime Minister Manmohan Singh's intervention for clearances, the senior minister said "he (PM) knows about it... he is keen that Posco project takes off ... Jairam Ramesh Knows it.

"I am very much concerned at the delay (in getting clearance to Posco and other projects)...Where ever the land acquisition and environment clearance is concerned the projects are piling up," he said, attributing the delays to the opposition by activists-led environment ministry panel.

"What I feel is that the ministry has constituted several panels comprising of activists who have their own agenda.

"In the matter of Posco this is what has happened. I feel they are going beyond their mandate as members and their views are being coloured by the activism," he said.
Singh said that "there should be the people who should have broader perspective. Activists have a very limited view and they impose their views on everybody. That is the main problem."

For reviewing various projects, Ramesh is understood to have hand picked Suresh and Pingle who are said to be long-time campaigners on tribal rights.

"When there is an issue of development some sort of compromises have to be made," he said asserting that in important projects such as highways and mining compensatory measures such as afforestation can be taken up to minimise the ecological loss.

How the roads will be constructed and institutions will be built in the rural areas if no tree is allowed to be chopped, Singh added.

Posco project was important not only because of 12 million tonnes steel plant, but also because this would bring in new technology for steel making -- Finex, by which low grade iron ore and coking coal can be used for steelmaking at much lower cost.