Disappointed with the tardy progress of its  proposed venture in Orissa, South Korean steel giant Posco is looking for new opportunities and has now teamed up with state-owned SAIL to set up an about Rs 150-billion (Rs 15,000 crore) steel plant in Jharkhand.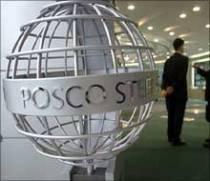 "SAIL and Posco have entered into an in-principle agreement to set up a half a million tonne plant in Bokaro. The steel mill using Posco's FINEX technology will initially attract an estimated investment of Rs 15,000 crore," an official in the know of the development said.
Posco is likely to hold 60 per cent stake in the joint venture while the rest could be with SAIL. The plant's capacity could be increased to 3-4 million tonnes at a later stage.
"There will be no cash transaction in buying the equity. SAIL will provide the land and Posco will put in the required investment and the technology for the plant to manufacture steel which will be further taken by SAIL for making special products like autograde steel," he said.
The Posco team, led by its CEO Chung Jun-Yang, attended a dinner with the top brass of SAIL and the steel ministry on Monday where the deal was formalised. Thereafter, the Posco team went for a recce at the plant site in Bokaro on Tuesday. Posco officials have visited Bokaro earlier too, the official said.
When contacted Posco-India GM External Relations Simanta Mohanty confirmed the development, but said details for the same are still awaited. "We expect our partnership with SAIL in Jharkhand to yield rich dividends for both companies and the community we serve.
While we wait to break ground in Orissa we are looking at business opportunities that are meaningful for a company of our size and standing. The government official added, "Posco is keen on JV plant with SAIL in Bokaro. The FINEX technology uses iron ore fines and low quality coal to produce high grade steel, which could be further processed by SAIL to make specialised steel."
When contacted Jharkhand Mines and Industries Secretary N N Sinha, however, said both SAIL and Posco officials have not contacted the state government in this regard as yet. Posco's Rs 540 billion (Rs 54,000 crore) plant in Orissa has failed to take off for the past over four years mainly due to problems in acquiring land.
Meanwhile, Posco had been looking for opportunities in states like Jharkhand, Karnataka and Maharashtra. Steel Minister Virbhadra Singh had in January said SAIL is keen on setting a new plant in Bokaro in a joint venture format with a global player. SAIL already runs a 4.5 million tonne per annum plant which it is expanding to 7.5 as part of its Rs 70,000 crore expansion programme. Posco and SAIL are already in pact for supply of technology and technical know-how.
© Copyright 2020 PTI. All rights reserved. Republication or redistribution of PTI content, including by framing or similar means, is expressly prohibited without the prior written consent.