After tasting success in real estate, liquor and sundry other sectors, business tycoon Ponty Chadha wanted to enter the hydropower sector in Uttarakhand in a big way, a dream which remained unfulfilled.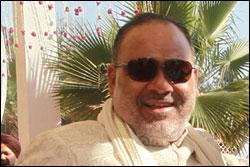 In 2010, the state government had allotted about a dozen hydel projects with capacity ranging between 5 Mw and 25 Mw to Chadha's liquor companies. But the self-identification scheme under which the projects were awarded came under attack the government was accused of going out of way to favour liquor companies owned by Chadha.
As the matter reached the high court, the government abruptly cancelled all the 56 hydel projects allotted under the self-identification scheme.
This was not acceptable to Chadha, who wanted to invest Rs 1,000 crore-2,000 crore (Rs 10-20 billion) in the hydropower sector alone in the hill state, where his rags to riches story began.
Chadha, who had the habit of monopolising a particular business, challenged the cancellation order in the high court, and later he moved the Supreme Court. "The case is still pending before the Supreme Court," said a government official.
The state government, which has now decided to invite fresh bids for small hydel projects with total capacity to generate 1,000-1,500 Mw of power, is treading a cautious path in view of the pending case before the Supreme Court.
The government has also asked the IIT Roorke to make a cumulative environmental impact assessment study on the hydropower sector in the hill state. The report is still awaited.
Instead of taking the controversial self-identification route, the government has decided to go for the state-identification route.
"We are strictly following the high court orders where we have been advised to conduct a cumulative impact assessment study in the state. Once we get the report from IIT Roorkee, we will take the next step," said a top official of Uttarakhand Jal Vidyut Nigam Ltd (UJVN), a state-run hydropower company.
Under the 2008 power policy, the former Bharatiya Janata Party (BJP) government had received 741 bids for setting up hydel projects up to 25 Mw through the self-identified route.
In the beginning of 2010, the government headed by the then chief minister Ramesh Pokhriyal Nishank quietly allotted 56 hydel projects, which were cancelled a few months later when corruption allegations emerged. The high court also upheld the state government's decision to cancel the allotment of the 56 hydel projects.