Modi's visit to dwell on water conservation, Israel's expertise in desalination may also be tapped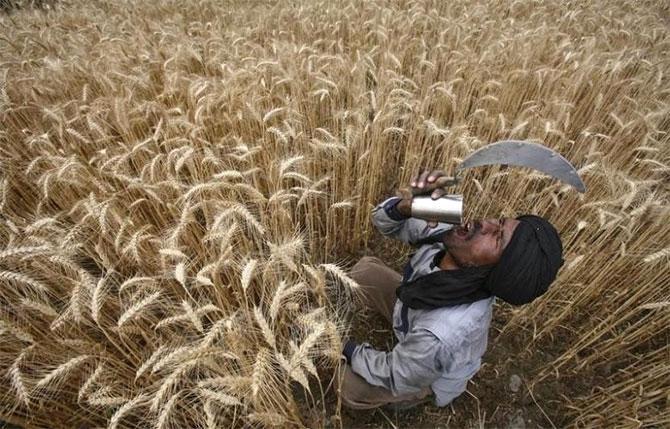 India and Israel have been engaged in setting up centres of excellence since 2008 as part of the India-Israel Agriculture Project (IIAP) - a collaboration between governments.
Of the proposed 26 centres, 15 have become fully operational and the others are expected to from early next year.
These centres are being set up in Bihar for lychee and mango, in Karnataka for mango, pomegranate and vegetables, in West Bengal for vegetables and so on.
The focus is on providing the best in technical know-how, seeds and farming practices.
The implementing agencies are the National Horticulture Mission under India's agriculture ministry and Mashav, the Israeli agency for international development cooperation, under its foreign ministry.
These ties in agriculture, with added emphasis on water conservation solutions, are expected to deepen during the first visit there of an Indian Prime Minister on July 4-5.
There are plans, say sources, to take this collaboration to the next stage, as the existing government-to-government model has worked.
Indian firms might be encouraged to set up such mega centres, too, in collaboration with Israeli firms.
During the visit, Prime Minister Narendra Modi will have detailed discussions with his Israeli counterpart Benjamin Netanyahu "on all matters of mutual interest," the Ministry of External Affairs (MEA) said on Wednesday. Modi will also call on the Israeli President Reuven "Ruvi" Rivlin.
"India established diplomatic relations with Israel in 1992 and since then, the relationship has evolved into a multi-dimensional partnership," the MEA said.
This year, both countries are commemorating 25 years of diplomatic ties.
"Any progress on expanding the IIAP can happen only after all the proposed 26 centres are completed and become fully operational," an official said.
The concept note also mentions plans for implementing an animal husbandry project and establishment of beekeeping centres, or apiaries, in Haryana, besides post-harvest centres for dates in Gujarat and Rajasthan.
There is also Israel's expertise in water management, including desalination of sea water. An Israeli firm was recently awarded a project to clean a part of the Yamuna.
Ayala Water & Ecology will focus on a stretch of eight kilometre of sewage which drains into the river, as an initial step towards a cleaner water and environment.
"In water conservation and management, we are looking at a more business-to-government or business-to-business model, wherein the government acts as an umbrella, while the actual activity on ground is carried on by private firms," sources said.
Photograph: Ajay Verma/Reuters