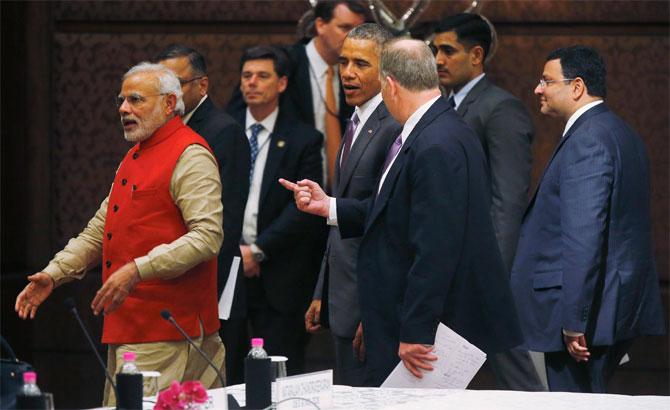 Pitching India growth story before global investors, Prime Minister Narendra Modi on Tuesday promised them a fair, predictable and consistent tax system and growth- focussed economic policies.
Interacting over dinner with representatives of 21 top global fund houses, which manage over $11 trillion worth investible assets and included sovereign wealth funds, Modi said the priority of his government is "growth and jobs" and to establish global benchmarks in areas such as governance, transparency and taxation.
There is rising interest in India and "we have to accept that responsibility," he told the global funds who had come to participate in the 'India Investor Summit', organised here by the world's largest asset manager BlackRock.
As per a PMO statement, Modi told the investors that "he believes in a fair, predictable and consistent tax system, and in economic policies that will drive growth".
Infrastructure development is one of the best routes to create jobs for the youth and India requires both expansion and upgradation of its infrastructure.
Railways could become a growth engine for the economy, he said adding the "government was focusing on skill development that would fulfil not just the Indian requirement, but also the global requirement".
He said he wanted India to have a skill development programme that focuses on both job-creators and job-seekers, while the goal of affordable housing for all by 2022 would in itself provide a huge boost to the economy.
During the summit, Finance Minister Arun Jaitley, along with other senior ministers, also pitched India growth story before these investors and invited them to invest here. J
aitley and other ministers are believed to have outlined the government's economic reform roadmap and investment opportunities available in the country before these investors during a day-long India Investor Summit, organised by the world's largest asset manager BlackRock.
They were also addressed earlier in the day by a number of union ministers including Piyush Goyal, Suresh Prabhu, Nitin Gadkari, Dharmendra Pradhan, Nirmala Sitharaman and Jayant Sinha.
RBI Governor Raghuram Rajan, Sebi Chairman U K Sinha, as also top government officials like DIPP Secretary Amitabh Kant, Chief Economic Advisor Arvind Subramanian and Finance Secretary Rajiv Mehrishi also addressed the investors.
© Copyright 2021 PTI. All rights reserved. Republication or redistribution of PTI content, including by framing or similar means, is expressly prohibited without the prior written consent.