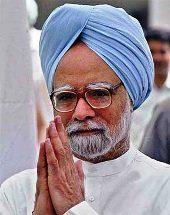 Prime Minister Manmohan Singh arrived in Berlin on a three-day visit seeking greater business ties with Germany as India takes steps to boost domestic investments and attract foreign capital.

Singh is accompanied by External Affairs Minister Salman Khurshid, Renewable Energy Minister Farooq Abdullah, Human Resource Development Minister M M Pallam Raju and Science and Technology Minister S Jaipal Reddy.

Commerce Minister Anand Sharma reached here earlier in the day from Geneva.

Prior to his departure, Singh had said in New Delhi that Germany is a key partner for India in areas like infrastructure, manufacturing, science and technology, higher education, vocational training and clean and renewable energy.

"We expect to sign a number of agreements and Memorandums of Understanding in these areas," he said, adding, "I intend to seek greater trade and investment ties with Germany".

Germany is India's largest economic partner in Europe and one of the key global partners for trade, investment and technology.

Indo-German bilateral trade had registered an increase of 18.4 per cent and reached Euro18.37 billion in 2011.

However, due to global economic slowdown, bilateral trade saw a dip of 5.5 per cent last year.

During his discussions, Singh will clarify to the German leadership the large number of steps and the reform process taken up by his government to improve the investment climate and make it a lucrative destination for investors.

"I will seek Chancellor (Angela) Merkel's support for an early conclusion of a balanced India-EU Broad-based Trade and Investment Agreement. I will also propose that Europe keep its doors open to Indian investors and professionals," Singh, who will co-chair the 2nd round of Inter-Governmental Consultations with Merkel, said.

Noting that Germany plays a key role in the global economy and, in particular, in stability and growth in the Euro Zone, which has an important bearing on the Indian economy, Singh said at a time of persisting global economic weakness and uncertainty, he looks forward to discussing these issues with Merkel.

"We will also discuss our shared interests in United Nations Security Council reforms and a broad range of global developments, including with respect to Afghanistan, West Asia and the Asia Pacific region," he said in his departure statement.

During the visit, Singh will also call on President of Germany Joachim Gauck and participate in the closing ceremony of the 'Days of India in Germany', which was organised to mark the 60th anniversary of the establishment of diplomatic relations between India and Germany.

The Prime Minister said India remains committed to a close, cooperative and mutually beneficial partnership with Germany.

This will be Singh's third bilateral visit to Germany and fifth bilateral Summit since his first visit to Germany in 2006.

The IGCs, first held in May 2011 in Delhi, provide a useful forum for discussions on the full spectrum of bilateral relationship and have helped advance Indo-German cooperation in a broad range of areas.

Besides holding comprehensive bilateral talks with Merkel, the Prime Minister will also discuss key international and regional issues including Afghanistan and counter- terrorism.

India is expecting a 'strong political thrust' from Germany, a key member of the 27-nation European bloc for early inking of the India-EU pact, according to Foreign Secretary Ranjan Mathai.

"We are of the view that early conclusion of India-EU agreement will open up new economic opportunities to both sides and certainly that applies to the way we approach our economic engagements with Germany.

"The negotiations have reached an advanced stage and in fact there will another round of negotiations on April 15 when it will be taken forward.

"We will certainly be discussing the matter with the German side. We expect a strong political thrust from Germany for an early conclusion of the agreement," the Foreign Secretary said.

Mathai said in addition to the Ministers accompanying the Prime Minister, National Security Advisor Shivshankar Menon, who is part of the delegation, will address security-related issues and hold a strategic dialogue during the visit.
Image: Prime Minister Manmohan Singh
© Copyright 2021 PTI. All rights reserved. Republication or redistribution of PTI content, including by framing or similar means, is expressly prohibited without the prior written consent.