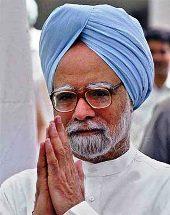 The Prime Minister's Office is drawing up a comprehensive strategy for giving an infrastructure push to the economy.

The strategy is aimed at putting critical economic policy initiatives in top gear immediately after the completion of Assembly polls in the five states in early March.

Prime Minister Manmohan Singh is overseeing the process. Formulation and management of the strategy in coordination with the ministries and departments concerned is being handled by his Principal Secretary Pulok Chatterjee.

The idea is that the steps on the drawing board would be speedily cleared at the top level and implemented in the next few months.

Coal supply, power distribution, fertiliser sector, the National Highways Development Project (NHDP) and sea ports are among the areas that would get a major push in the coming months, a senior government official told Business Standard.

Creation and management of cold-chain infrastructure is also set to get a boost under the plan. Clarity, consistency and transparency in environmental clearances for projects would be another focus area, to ensure time-bound clearances.

The official indicated the idea was to keep the measures ready and expedite them at the earliest.

With the announcement of the Assembly polls in Uttar Pradesh, Punjab, Uttarakhand, Goa and Manipur,
the feeling in the government is that political equations will change after these elections.
This should allow it to implement critical economic policies for driving investments, especially in the infrastructure sector.
An official said the Budget is also expected to reflect the intention of the government in this regard.
Top corporate leaders, at the meeting of the Prime Minister's Council for Trade and Industry last week, had also stressed the need to expedite infrastructure and other mega projects.
They were assured by the Prime Minster that a mechanism would be put in place for bottlenecks in implementing large projects.
The government official said the system created at the PMO for driving policy initiatives is also expected to address the needs and grievances of industry.
The PMO has devised a mechanism to monitor government and public sector programmes in specified areas on a monthly basis.
The mechanism includes uploading the report of the ministry concerned by the fifth of each month -- posting of status and comments by the ninth -- and a consolidated monthly report to the Prime Minister by the 12th.
The Prime Minister is keeping regular track of major policy initiatives through this mechanism, which is being managed by his principal secretary in co-ordination with the relevant ministries and departments.
Image: Prime Minister Manmohan Singh