Prime Minister Manmohan Singh on Friday addressed a group of CEOs in New York and insisted the government was committed to restoring the 8-9 per cent economic growth rate - "indeed", he added, "the Indian people would not tolerate anything less".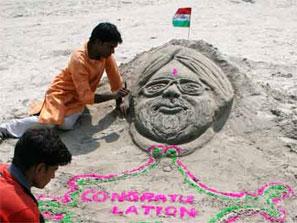 He also announced that some measures, designed for the purposes of national security, that restricted electronics imports, had been held in abeyance. The measures, born of concern that Chinese companies were building too much of India's electronic infrastructure backbone, however, lead to vociferous objections from Western telecommunications firms.

The PM addressed a series of recent worries publicly expressed by multinational companies. He insisted tax-related issues had been "addressed". He also said India respected intellectual property rights. Seeking to minimise the impact of the recent headline-grabbing moves, he said there had only been one instance of compulsory licensing, and one denial of a patent extension by the Supreme Court (the Novartis case) which he called "legitimate".

He also laid out the macroeconomic numbers, and said, while "to some extent" the slowdown was caused by external numbers, the fundamentals remained strong.

Singh had flown into New York from Washington DC, where the extent to which business opinion had turned against India would have been made clear to him. Previously, 170 US Congressmen and 40 (of 100) US Senators had written to the White House seeking an investigation of what they said were India's restrictive trade practices. Then, the US House and Senate launched an extensive, months-long investigation into Indian trade, which could lead to counter-measures. And finally, as President Obama was preparing to meet with Singh, 14 governors - both Republican and Democratic - wrote to him demanding he bring up India's "unfair trade practices" at the summit.

The impetus for this negative climate is coming from a pressure group known as the National Association of Manufacturers (NAM). The campaign has launched an extensive advertising campaign targeting India, with print ads in crucial politics-focused Washington DC news outlets, such as Politico and Roll Call, as well as in major financial dailies like The Financial Times and the Wall Street Journal.

It is learnt that economic issues, which were not discussed at the formal meeting in the Oval Office between Singh and Obama prior to the press briefing, were, however, discussed over lunch in the White House Cabinet Room later. Bilateral concerns were raised. It is not known whether Obama gave in to pressure and repeated the lobbyists' concerns to Singh. However, given Singh's point-by-point rebuttal of the NAM's claims, it is more than likely.