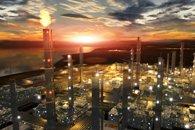 Prime Minister Manmohan Singh on Tuesday dedicated GAIL India Ltd's 1,000 km Dabhol-Bangalore natural gas pipeline to the nation.
While the pipeline was completed earlier this year, the Prime Minister dedicated it to the nation during the inauguration of the 8th Asia Gas Partnership Summit (AGPS) in Bangalore in the presence of Oil Minister M Veerappa Moily.
Singh said GAIL had witnessed rapid growth over the years to become a diversified conglomerate. "Today, GAIL is one of our best public sector enterprises and has been categorised as a Maharatna," Singh said.
The Dabhol–Bangalore pipeline connects South India to the national gas grid for the first time, GAIL Chairman and Managing Director B C Tripathi said. Constructed with an investment of Rs 4,500 crore, the pipeline can carry 16 million standard cubic meters per day of natural gas, which can be used to produce 3,000 MW of clean energy.
The pipeline starts at Dabhol in Maharashtra and passes through Belgaum, Dharwad, Gadag, Bellary, Devanagere, Chitradurga, Tumkur, Ramanagaram, Bangalore Rural and Bangalore Urban districts.
It traverses 18 National Highways, 382 roads, 20 railway tracks, 11 major rivers and 276 water bodies, including Asia's largest river crossing in the rocky terrain at Ghatprabha.
Construction operations, which continued round-the-clock for 19 months, involved pipeline laying in some of the world's steepest slopes of 60 to 70 degrees and sharp elevations of up to 700 metres in a 3.5 km stretch.
Moily said the country's 15,000 km network of gas pipelines will be doubled over the next decade to create a national gas grid supplying environment friendly fuel to all corners of the nation.
Speaking on the changing energy scenario in the world, the Prime Minister said the discovery of shale gas had brought about a "sea change" and India was hopeful of discovering shale gas reserves.
India needs to increase its energy supply by three to four times within the next two decades, Singh said. The country is the world's seventh-largest energy producer with a 2.5 per cent share of the world's total output, while it is the fourth-largest energy consumer.
With oil and gas constituting about 41 per cent of India's primary energy consumption, India is expected to become the third-largest energy consumer by 2020, the Prime Minister said.
"To bridge this gap between supply and demand, we are encouraging domestic and global companies to explore our onshore and offshore regions. I take this opportunity to assure investors of our government's commitment to providing a stable and enabling policy environment for exploration of new sources of energy," Singh said.
India is also progressively pursuing other options to achieve energy security, including the acquisition of assets in other countries. This will help to secure new supplies of energy and acquire the latest technological know-how, he said.
Moily said emerging markets in Asia, including India, were witnessing double-digit growth in the use of natural gas while in the developed markets, it was at about 5 per cent.