Home-grown taxi booking companies which have a business model similar to Uber's might have stricter security norms imposed on them.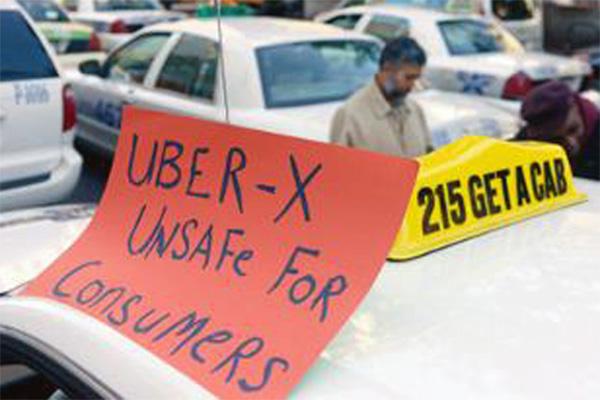 Image: Uber in big trouble. Photograph: Reuters
Taxi-hailing service Uber's ride here came to a grinding halt on Monday, with transport authorities banning the US-based firm from operating in the national capital with immediate effect.
The directive follows a taxi driver associated with Uber allegedly raping a 27-year-old woman on Friday night.
And the impact of the crime will not be felt just by Uber but by other app based taxi service companies as well.

In a late night release on Monday, the Delhi Transport Authority said that only six taxi companies – Easy Cab, Mega Cab, Meru Cab, Chanson Cab, Yo Cab and Air Cab are allowed to operate as they are licensed with the Transport Department for 'Radio Taxis' in the National Capital Region.

All other taxi service providers which include the likes of Ola Cabs and TaxiforSure among others are prohibited from operating in Delhi till they get license/permission from the Transport Department.
However, despite the ban, taxis enrolled with the Uber network were available for booking here late on Monday. A few taxi drivers Business Standard spoke to said they hadn't received any directive from the company to stop operations.
While the incident is bound to have an impact on Uber's operations in India, its second-largest market outside the US, other states Uber operates in such as Maharashtra have ruled out a ban.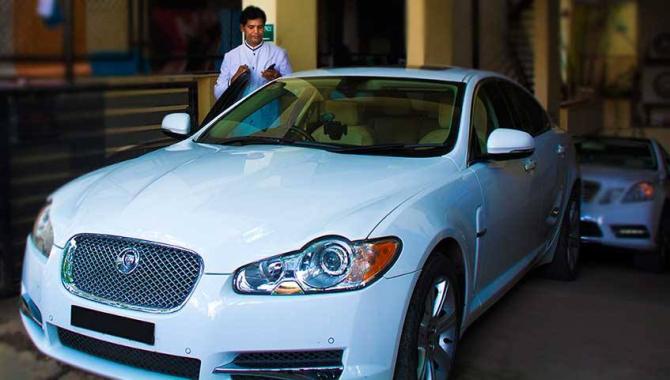 Photograph: Courtesy, Ola Cabs
But home-grown taxi booking companies, which have mushroomed of late and have a business model similar to Uber's, might have stricter security norms imposed on them.
The Centre is understood to be of the view that banning Uber won't help resolve the issue of the company flouting norms such as police verification of its drivers. In the absence of police verification, which takes months at times, the government is likely to propose Aadhaar as the basis for verification of drivers.

"Penalise the person for the act, not the entire company," said a government official, adding the employment-generating potential of companies such as Uber had to be kept in mind.
The Delhi government's directive has put those associated with the company in a quandary. In October, Lokhendra Singh, 27, quit his job as an executive at a back-end processing unit of a credit card company to start driving a taxi registered on the Uber network.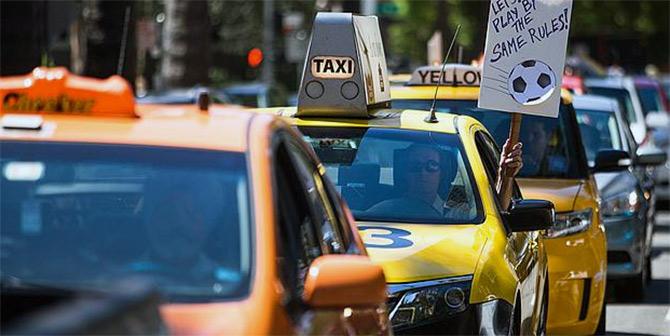 Singh has all the requisite permits from local authorities. On Uber being banned from carrying out operations here, he said: "Main sadak pe aa jaunga (I will lose my livelihood)." Enrolling with Uber's rivals wouldn't help, as all such companies followed the same operating model, he added.
The police alleged Uber didn't carry out adequate background checks on the accused, previously acquitted of raping a victim inside his taxi in Delhi, after seven months in judicial custody in 2011.
The driver has been remanded in police custody for three days, for interrogation.
"Uber's services were in contravention of the Motor Vehicles Act, 1988, and the rules framed under it," the government said in a statement. It added for a journey within Delhi, the company provided a taxi with an all-India tourist permit, through its web application, which wasn't allowed by law.
Amid the uproar across the country against Friday's incident, which included demonstrations by Aam Aadmi Party members in front of the residence of Home Minister Rajnath Singh, Uber chief executive Travis Kalanick said in a statement, "We will do everything, I repeat, everything to help bring this perpetrator to justice and to support the victim and her family in her recovery." He added currently, "clear background checks" were "absent" in India's commercial transportation licensing programmes. The comment was, however, seen as putting the blame for the crime on the authorities.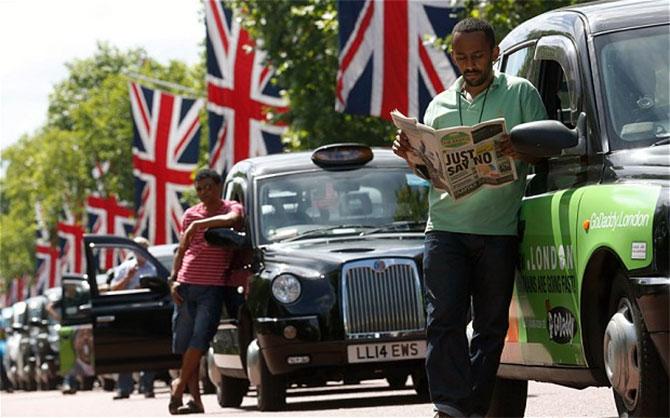 The incident is the latest in a set of troubles that Uber, recently valued at $40 billion, has seen globally.

While Thailand is set to ask the company to cease operations in that country because it uses private cars, which lack fare meters, among other issues, in Vietnam, a government official said Uber's operations were illegal, as the company wasn't authorised to operate as a taxi service, the Wall Street Journal reported.
However, Vietnam might consider ways to potentially legalise Uber's operations. In India, too, the case might be similar. On condition of anonymity, government officials said the matter was being discussed, adding Uber's unique operating model needed to be studied and novel solutions proposed.

"In the West, Uber affords people part-time employment opportunities," said a central government official, indicating the government didn't want to end such avenues of employment. "Banning is not the way to resolve the issue."
Sources said Urban Development Minister M Venkaiah Naidu was likely to hold a meeting with Delhi Lieutenant Governor Najeeb Jung on the circumstances that led the Delhi government to ban Uber's services.
The ministry is likely to issue an advisory to such transport operators. It is likely to suggest Aadhaar numbers be used for the verification of drivers.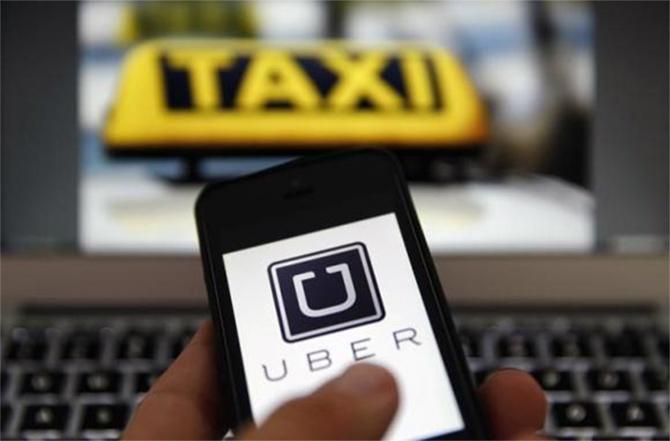 The Uber debacle
What has happened?
The Delhi transport department has banned and blacklisted Uber from providing any transport service in the national capital, with immediate effect
Why?
On Friday night, a taxi driver associated with Uber allegedly raped a 27-year-old woman passenger working for a finance company
Chequered past
The accused, Shiv Kumar Yadav, had earlier been acquitted of raping a woman in his taxi in Delhi, after spending seven months in judicial custody in 2011
What now?
A Delhi court has sent the driver to three days of police custody for interrogation
What is the police saying?
Uber did not conduct adequate background checks on the driver and the permits provided by it were in contravention of the Motor Vehicles Act, 1988, and the rules framed under it
What is Uber saying?
Currently, clear background checks are absent in its commercial transportation licensing programmes in India. It will work with the government to establish these and invest in technology to help make the capital a safer place for women
Industry implications
The incident is bound to impact Uber's operations in India, its second-largest market outside the US. Home-grown taxi booking companies with a similar business model might come under scrutiny, too

(Sanjay Jog from Mumbai contributed to this story)