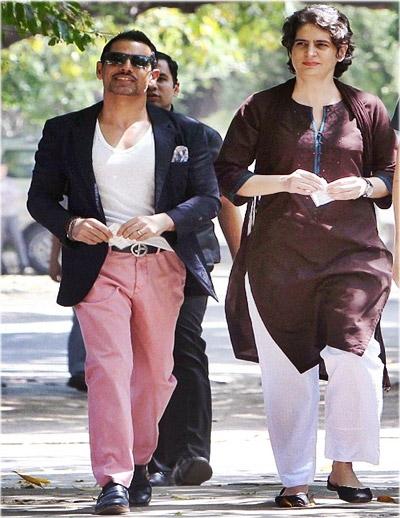 Image: Robert Vadra with Priyanka Gandhi. Photograph: Manvender Vashist/PTI
Robert Vadra launched Skylight Hospitality four months after the DLF shares got listed.
The shares of property developer DLF listed on the bourses in July 2007. Seven years and three months later, the Securities and Exchange Board of India (Sebi) barred the company and promoters for three years from the exchanges.
A closer look at the timeline shows how the case ran parallel to the rise of UPA chairperson Sonia Gandhi's son-in-law Robert Vadra's real estate interests.

Vadra launched Skylight Hospitality four months after the DLF shares got listed, amid complaints of inadequate disclosure from investor associations and former business partner Kimsuk Krishna Sinha.
Skylight's first deals were inked even as the Delhi high court was in the process of hearing Sinha's writ.
The case took a 'long and arduous' route, even as the association between the realtor and the son-in-law solidified in the form of joint ventures and luxury residential projects.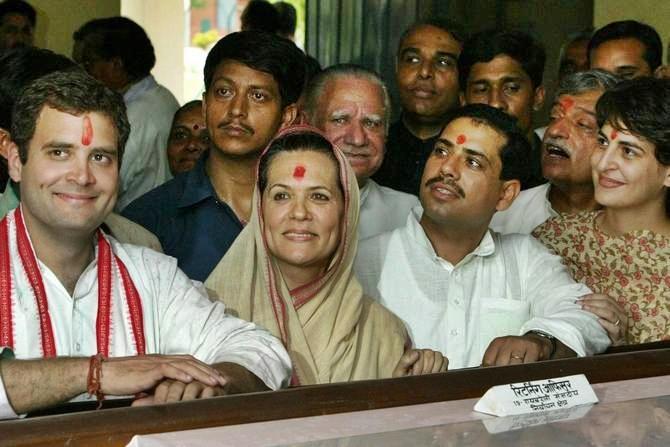 Image: Rahul Gandhi, Sonia Gandhi, Robert Vadra and Priyanka Gandhi. Photograph: Kamal Kishore/Reuters
When the mother-in-law's party was voted out of power, the son-in-law's 'friends' began facing the heat, with the killer blow coming on the eve of another crucial poll.
A list of some important dates from information in the public domain.
March 24, 2006: Sudipti Estates incorporated by DLF subsidiaries
May 12, '06: DLF files a draft red herring prospectus with Sebi. Sudipti figures as a group company
May–Aug '06: Complaints by investor associations and debenture holders to Sebi
Oct '06: Kimsuk Krishna Sinha claims payment of Rs 31.09 crore made to Sudipti as part of a tripartite deal
Nov '06: Ownership of Sudipti Estates changes
Jan '07: DLF files fresh prospectus; Sudipti does not figure in it
Jan 25 '07: Fresh complaint by Midas Touch Investor Association to Sebi on valuation of land reserves, related party transactions
April '07: Kimsuk Krishna Sinha files First Information Report with police against Sudipti Estates
May '07: DLF files red herring prospectus
June 4, '07: Kimsuk sent a complaint to Sebi about non-disclosure of litigation
June 11-14, '07: DLF IPO opens and raises over Rs 9,000 crore
June 15, '07: Date of receipt of Sinha's complaint, according to Sebi
June 25, '07: Sebi tells Sinha it sent on his complaint to merchant bankers
July 4, 2007: DLF shares listed on the bourses
July 12, 2007: Merchant bankers tell Sebi that as on date, Sudipti Estates was not related to DLF
July 19, 2007: Sinha writes again to Sebi, asking it to probe new owners; soon moves Delhi high court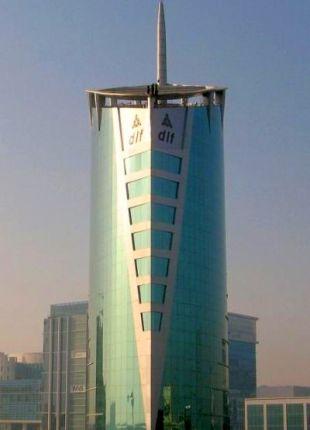 November 1, 2007: Robert Vadra, son-in-law of Sonia Gandhi, chairperson of ruling United Progressive Alliance, floats Skylight Hospitality with his mother
December 18, 2007: Additional affidavit filed by Sinha saying Sebi disclosure guidelines requires litigation against group firms to be disclosed
February 2008: Skylight Hospitality begins business by buying 3.5 acres in Shikopur village near Manesar from Onkareshwar Properties for Rs 7.5 crore
April 2008: Felicite Builders and Constructions, the new holding company of Sudipti Estates, files annual return and balance sheet with Union ministry of corporate affairs (MCA)
July 11, 2008: Sebi in a counter-affidavit questions locus standi of Sinha, as he was not an investor
September 19, 2008: Sinha, in an additional affidavit, tells court Sudipti's ownership was changed through sham transactions and wives of key managerial personnel of DLF were its ultimate owners. It cited filings with MCA
2008-09: DLF gives an advance of Rs 58.5 crore to Skylight for purchase of Shikhopur village land, paving way for a business partnership that included interests in hospitality joint ventures, luxury apartments and land banks.
April 9, 2010: Delhi HC orders Sebi to probe the allegations contained in Sinha's complaint.
March 2011: The Economic Times reports about Vadra entry into realty and the DLF connection
July 21, 2011: Delhi HC disposes appeals
October 20, 2011: Sebi orders investigation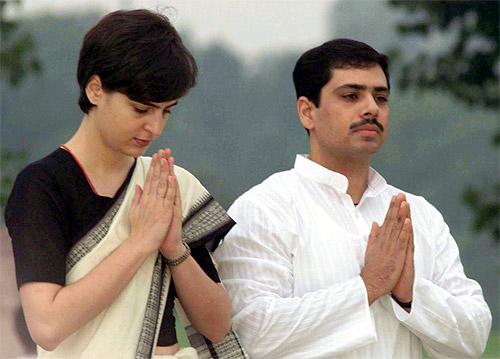 Image: Priyanka Gandhi and her husband Robert Vadra. Photograph: Reuters
October 2012 onwards: Vadra, DLF face the wrath of India Against Corruption, led by Arvind Kejriwal. DLF maintains deals were in normal course of business. Haryana's Congress government, led by Bhupinder Singh Hooda, alleged to have helped deals.
Business Standard reported the connection between Satyanand Yajee, promoter of Onkareshwar Properties that sold land to Skylight and Hooda. Bharatiya Janata Party leaders, including Narendra Modi, invoke Vadra's land deals in their campaigns. BJP also publishes detailed booklet on the son-in-law
May 2013: Investigation completed by Sebi; order issued for adjudication proceedings and action
May 2014: UPA defeated in the general election, gives way to Narendra Modi-led National Democratic Alliance government
October 10: DLF and its top executives, including Chairman K P Singh, barred from stock market by Sebi
October 13: Order made public through stock exchanges
October 15: Haryana votes in Assembly elections
October 19: Hooda govt voted out; BJP voted to power.