Smartphone makers, especially the likes of Xiaomi and Lenovo have arrived with Redmi 2 and A6000 respectively to attract consumer attention.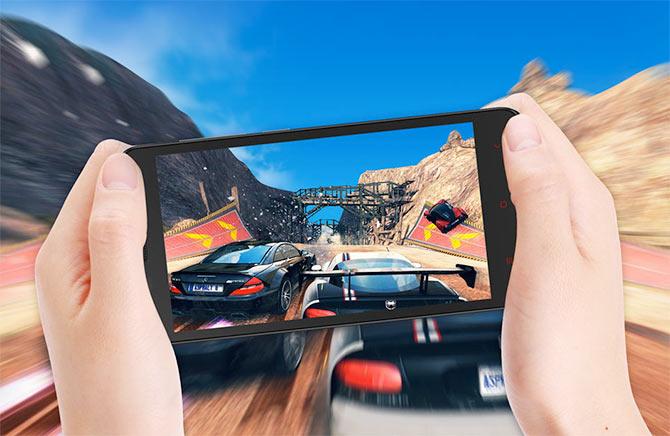 Image: Xiaomi Redmi 2. Photograph: Courtesy, Xiaomi
As the government conducted the spectrum auction, fourth-generation handsets garnered a lot of interest.
And, as we all have learnt by now, good offerings at affordable prices are 'the thing' for India.
Smartphone makers, especially the likes of Xiaomi, Lenovo and Micromax have understood this, and they have already arrived with Redmi 2, A6000 and Yureka respectively to attract the consumers' attention. Today, we scan Xiaomi's Redmi 2.
With its attractive design, pleasing user-interface and competitive pricing, the device has a lot going for it. Let's go into the details now.
Design:
The 4.7-inch Redmi 2 is ideal for single-hand usage.
We were glad to see that the rear shell was not one of those hard plastic ones.
Instead, it had soft texture which added value to the looks.
The minimalistic front of this gadget houses the capacitive buttons in red colour.
The power and volume buttons are placed on the right, while the 3.5mm headset socket sits at the top.
You will find the Micro-USB port at the bottom.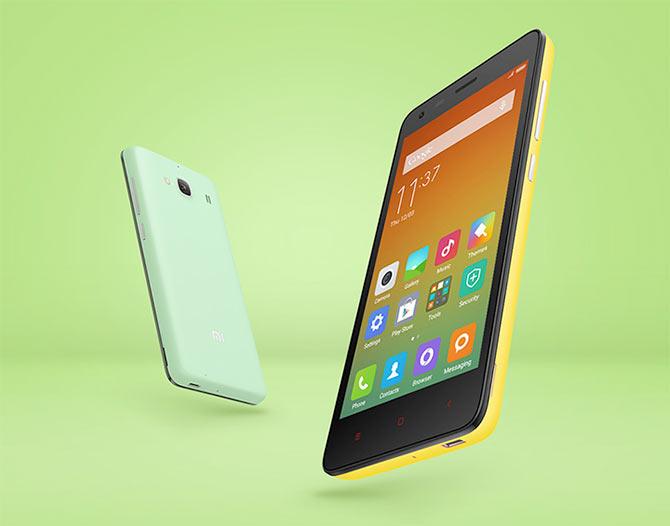 Image: Xiaomi Redmi 2 will compete with Lenovo A6000 in India. Photograph: Courtesy, Xiaomi

Software and performance
The 1.2GHz Qualcomm quad-core processor, aided by 1GB of RAM and 8GB storage space allows the Redmi 2 to function reasonably well.
We did not experience any lags in day-to-day usage.
However, it might take an extra second or two to close or open apps, if you download heavy games.
The 4.7-inch HD IPS display (720x1,280 pixels) is worth praising. Colours produced are vivid and sharp.
Xiaomi's custom MIUI 6 skin installed on top of Android 4.4.4 lends a fresh feel to the device.
With an 8-megapixel (MP) rear camera, Redmi 2 allows you to click pictures which are rich in detail.
The performance dips in poor light conditions.
The 2MP front-camera has nothing to write home about.
The 2,200mAh battery lasts for a good 10-12 hours on average usage. Both the sim cards on this device can support 4G.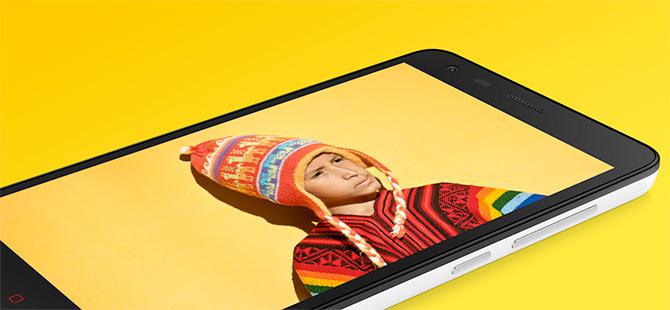 Image: Xiaomi Redmi 2 has crisp display that will easily draw the attention of buyers. Photograph: Courtesy, Xiaomi
Verdict
The Xiaomi Redmi 2 has an impressive specification sheet. Crisp display and good build are things that will easily draw the attention of most. Hence, at Rs 6,999, it's a thumbs up from us.
Specifications
Screen: 4.7 inches
Display: IPS LCD (720 x 1,280 pixels)
Weight: 133g
SIM: Dual-SIM (micro)
Processor: Qualcomm MSM8916 quad-core
RAM: 1GB
Storage: 8GB (expandable up to 32GB)
Camera (rear/front): 8MP (with LED flash)/2MP
Battery: 2,200mAh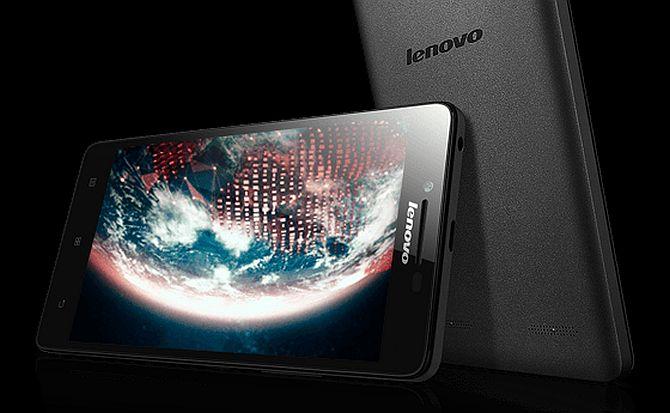 Image: Lenovo A6000 is powerful enough to compete with Xiaomi Redmi 2 and Micromax' Yureka. Photograph: Courtesy, Lenovo.
Lenovo's 4G bet
Another smartphone that won't leave you at sea when the government finally rolls out fourth-generation services is Lenovo A6000.
Brands such as Xiaomi and Micromax have already stepped up the game in the segment.
Is A6000 powerful enough to compete with the others, Redmi 2 and Yureka? Let's find out.
Design
At 128g, the five-inch Lenovo A6000 fits perfectly in your palm and smooth matte finish at the back ensures the device does not look cheap.
You will find the volume rocker and the power button on the right edge, while the top houses the micro-USB port and the 3.5mm audio jack.
The rear camera, flash, and microphone for video capture lie on the top right corner of the A6000.
Two speakers, with a Dolby logo between them, are also placed at the back.
Beneath the removable back cover, you will find the battery, two slots for Micro-SIM cards, and the microSD card slot.
Performance
The 5-inch IPS LCD (720x1,280 pixels) with 294 pixel an inch is vibrant and bright.
The Vibe UI that Lenovo offers adds value to the screen. Viewing angles are good and visibility outdoors is not an issue.
Powered by the 64-bit Snapdragon 410 system-on-chip and a 1.2GHz quad-core processor with integrated Adreno 306 GPU, Lenovo A6000 manages to run most of the applications without any lag.
A6000 (see left) comes with 1GB of RAM and 8GB (expandable up to 32GB) of internal storage space.
The 8-megapixel (MP) rear camera is capable of clicking satisfactory pictures, but the 2MP front camera might disappoint selfie-lovers.
The 2,300mAh battery lasted about eight hours with normal usage.
Verdict
At Rs 6,999, Lenovo A6000 is not a bad buy. But then, Xiaomi's Redmi 2 is available at the same price, with similar specifications and a better screen.
We suggest you check both these out before investing in one.
Specifications
Screen: 5 inches
Display: IPS (720 x 1280)
Weight: 128 g
SIM: Dual SIM (Micro)
Processor: Qualcomm MSM8916 Snapdragon 410
RAM: 1GB
Storage: 8GB (expandable up to 32 GB)
Camera: Rear - 8 MP with LED flash; rear - 2MP
Battery: 2,300 mAh