BlackBerry pitches its latest smartphone as a tool for power professionals, with an unusual design.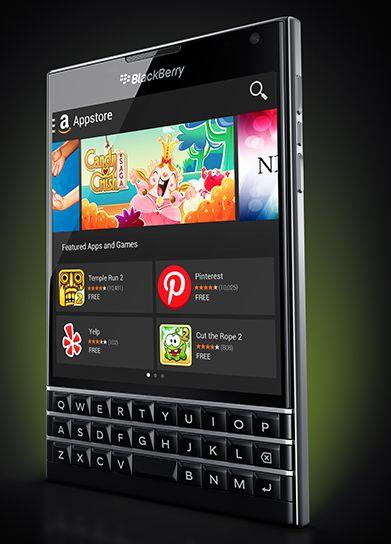 Image: Blackberry Passport. Photograph: Courtesy, BlackBerry
Earlier attempts at beating five-inch smartphones at their game did not work out too well for BlackBerry.
User-friendlier and even relevant to office-work, iPhone and all its other challengers, had made the going tough for the Ontario, Canada-based company.
But it hunkered down for a restructuring under its Chief Executive Officer, John Chen. It is now ready with smartphones that will reiterate what Chen wants the brand to become.
It will launch the Passport in India on Monday for a price estimated to be around Rs 40,000.
Image: BlackBerry Z3. Photograph: Courtesy, BlackBerry
In a few months time, it would also launch the awaited BlackBerry Classic which is expected to resemble its signature Bold model, updated with a new mobile device management system - the BlackBerry Enterprise Service 12 (BES12).
Its last launch was the rectangular Z3, which was meant to reel in volumes. According to independent research agency, IDC, Blackberry's volume share was a mere 0.5 per cent in January-March, 2014, down from 2.9 per cent in 2013.
The company claimed that in the first month of the Z3's launch (June-July), it had shipped 30,000 units to India alone, signs of a healthy volume growth.
However, even then, the Z3 was not geared to play in the segment that in India is now being defined by fully-loaded smartphones selling anywhere between Rs 6,000 and Rs 15,000.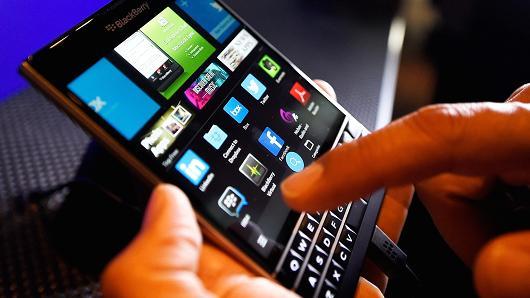 Image: Blackberry Passport. Photograph: Aaroon Harris/Reuters
BlackBerry maintains that it wants to target not the lower-end of the market but mid- to high-end users. Passport would be strictly for the creme de la creme of power users - whom the company calls power professionals.
While it had drawn flak for the pricing of its previous high-end model - the full touchscreen Z10 - the Passport, it hopes would find takers for reinforcing BlackBerry's legacy that is still alive in India.
BlackBerry Managing Director Sunil Lalvani says, "In markets like India, there are still loyalists of the BlackBerry operating system and its QWERTY keypad."
But in order to appeal to the corporate user, BlackBerry has been working towards rebuilding their confidence with more than just the promise of the BB OS and a keypad.
The Passport itself has some nifty productivity features, though whether they gel well with ease of use for the Indian buyer or not will be revealed once the sets are up for sale.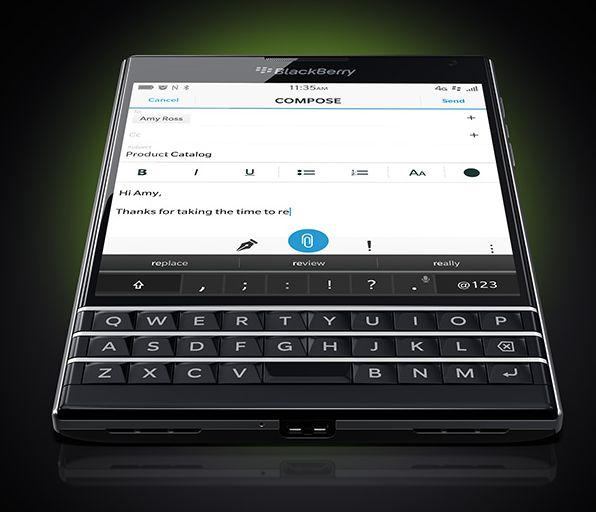 Image: BlackBerry Passport. Photograph: Courtesy, BlackBerry
For the suits The square Passport has a 4.5-inch screen with a 1:1 aspect ratio, unlike the usual 5-inch (4:3) screens of touchscreen phones. It promises the same screen space as that of a five-incher but with an aspect ratio that makes document-reading much more easy.
From emails, web-pages, e-books to spreadsheets, the screen fits these the way a desktop screen would, requiring less scrolling or frantic tilts to read in landscape mode.
Though, as a user points out, reading a Twitter feed might pose a challenge because of the very shape.
Then again, even though the BlackBerry OS has divided the user interface into an enterprise and a personal partition, Passport might not be talking as intently to the heavy social-media user, as it would to someone who is data-hungry when it comes to enterprise applications (apps) and document work.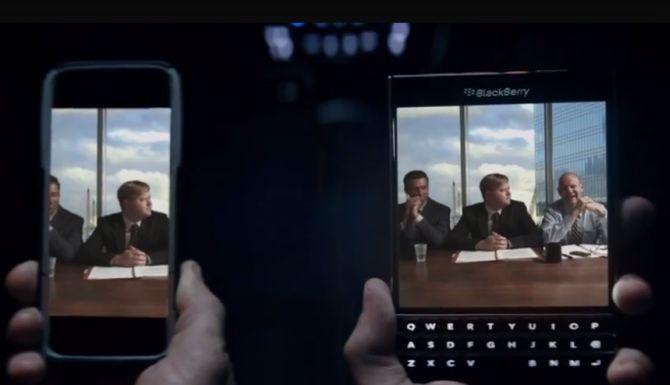 Image: Blackberry Passport. Photograph: Courtesy, BlackBerry
The Passport has a 3,450mAh battery, promising 30 hours of mixed use, and a fast Snapdragon 3-GB RAM, faster than many of the phones in its price range.
The productivity cause is furthered by the Passport's tactile keypad which harks back to one of BlackBerry's most popular feature but makes it double as a trackpad too.
By running a finger over the keypad, the user can navigate the screen, without blocking what she is viewing. The voice-assistant and intuitive text search are other features which Lalvani says would aid productivity.
The odd-shaped Passport has to be held with both hands, similar to how one would wield a tablet.
The team at BlackBerry says the productivity features were weaved in after feedback from potential users who mentioned how unwieldy it got juggling a tab for document-viewing and a smartphone for receiving calls.
The Passport will be targeted at power users such as financial analysts, doctors, C-suite members, lawyers, with locally-developed enterprise apps that would make it easier for them to view reams of e-documents, spreadsheets and even MRIs. The rendering on the screen is such that the documents match the offline view as closely as possible.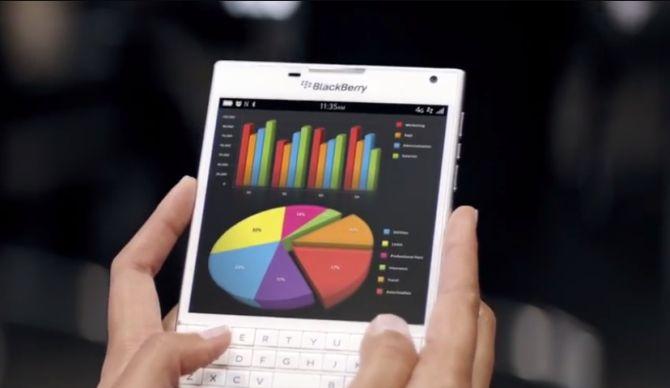 Image: BlackBerry Passport. Photograph: Courtesy, BlackBerry
Service over devices While BlackBerry will be kept busy this year with more device launches, their share in its overall revenue has gone below half.
In the second quarter results of 2014-15, devices accounted for 46 per cent of the revenue, 46 per cent were from services and 8 per cent from software and other revenue.
The company posted smaller-than-expected quarterly loss, though revenue fell by 40 per cent compared to last year.
Chen is refocusing the company more on software and services to turn around BlackBerry. Its BES10 platform hinges on device management and data security to put enterprises who use the servers, at ease with letting employees bring their Android, Windows and iPhone devices, besides BlackBerry phones, to work.
This quarter, it claims that 25 per cent of its new customers came from rival mobile device management systems.
In India, there are 1,000 BES10 servers so far (that could have up to 30,000 users).
Globally, the number of licences has increased three-fold to 3.4 million.
The new strategy will show results in 2015, Chen has claimed. As for devices, whether enshrining what has been done over the last 15 years will work for BlackBerry's brand image or not will be tested now with the Passport, and then the Classic.