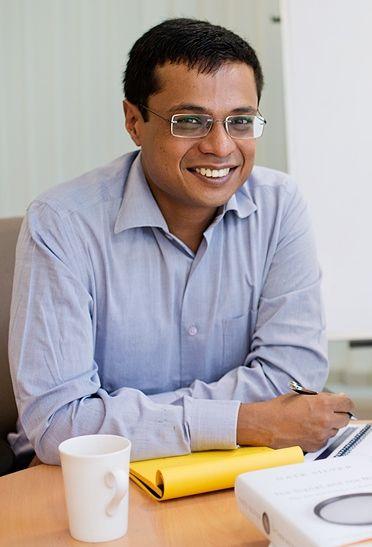 Sachin Bansal, co-founder and chief executive of Flipkart. Photograph: Mylittlefinger/Wikimedia Commons
As Amazon founder and chief executive Jeff Bezos makes his first visit to India ahead of the festive season, Bangalore is loaded with about forty hoardings of Flipkart, six on the way from the airport and one close to Amazon's office, though none makes a direct reference to Bezos or Amazon.
"This time, it'll be a Diwali sale like never before," says a Flipkart online ad-campaign video, viral on the internet.
It all started with Flipkart and Amazon trying to outdo each other - after Flipkart announced $1-billion fund-raising in July, Amazon was quick to respond with a $2-billion investment announcement. Now, the fight has turned into a brand war.
Sachin Bansal, co-founder and chief executive of Flipkart, said Bezos's visit to India was a sign of Amazon's nervousness about the Indian e-commerce market.
"It seems they (Amazon) are worried about the whole place. They are putting all efforts here, as India is the next frontier (in e-commerce), after China," he said speaking on the sidelines of a global mobile internet conference on Friday.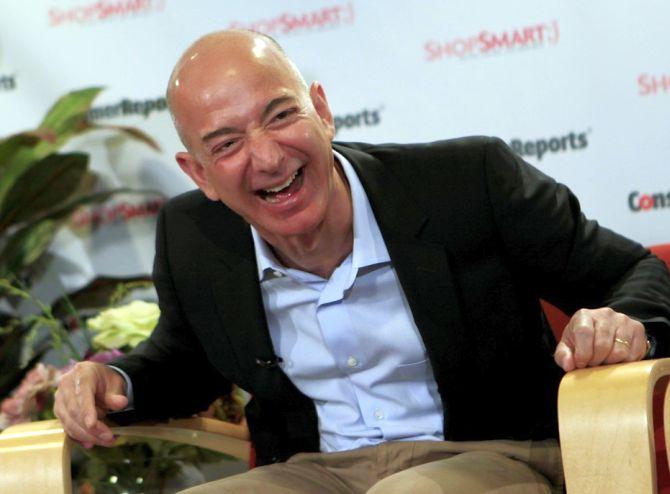 Amazon.com President, Chief Executive and Chairman Jeffrey Bezos. Photograph: Mike Segar/Reuters
The sector is abuzz with rumours of Flipkart running an ad campaign called 'Welcome Mr Bezos', under which the company has advertised on strategic locations to catch the attention of the Amazon chief. But sources within the ad campaign team argue otherwise.
"It is incorrect to pitch Flipkart's ad campaign against Bezos's visit. Preparations for this campaign had started at least two months ago. At that time, no one was aware of the visit. It's not like a cola war, as everyone is making it out to be," said a Flipkart official directly involved with the campaign.
Flipkart works with two advertising and marketing agencies - Lowe Lintas & Partners and Happy Creative Services (India) Pvt Ltd. while Flipkart's annual advertising budget is about Rs 75 crore (Rs 750 million), while Amazon India plans to spend Rs 100-150 crore (Rs 1 - 1.5 billion) on advertising in 2014-15, according to estimates. So far, both have pursued an omni-channel advertising strategy, with active campaigns across television, newspapers and online media.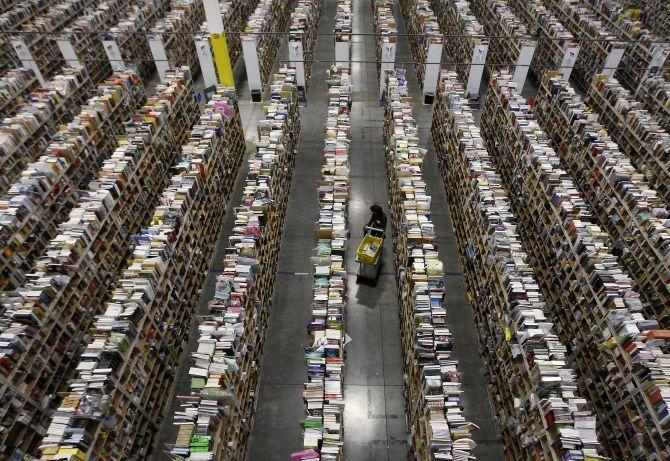 Amazon warehouse. Photograph: Reuters
"None of the ad-campaigns designed by Flipkart are triggered by what Amazon is dong. We have never had Flipkart tell us it wants to replicate something Amazon has done," said an official at one of the ad agencies working with Flipkart.
Another competitor in the e-commerce space, Snapdeal, views Bezos's visit in a more optimistic light.
"This reaffirms our belief in the growth story of Indian e-commerce. The competition will help the market to grow," said Sandeep Komaravelly, vice-president (marketing), Snapdeal.
Sources within the company say ahead of Diwali, the e-commerce firm is gearing to tackle competition with more exclusive launches and tie-ups with various brands.
Experts say recent developments show the e-commerce space has moved forward from valuation games. "Earlier, aggressive branding was also about fetching higher valuations for e-commerce companies.