Forbes said Premji, 70, who has a net worth of $17.4 billion, is among Asia's most generous tycoons, having given away more than $4 billion of his fortune.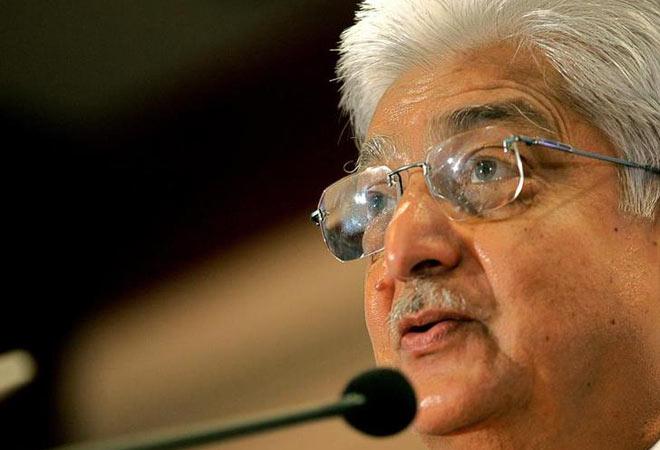 Image: Wipro chairman Azim Premji. Photograph: Reuters
Wipro Chairman Azim Premji and HCL founder Shiv Nadar are the only two Indian tycoons in the top 20 richest people in the world of technology, according to an inaugural list by Forbes that has been topped by Microsoft co-founder Bill Gates.
Premji is ranked 13th on Forbes' first ever list of '100 Richest People In Tech', followed by Nadar on the 14th spot.
Two Indian-origin technology czars Romesh Wadhwani and Bharat Desai are also in the list.
Forbes said Premji, 70, who has a net worth of $17.4 billion, is among Asia's most generous tycoons, having given away more than $4 billion of his fortune.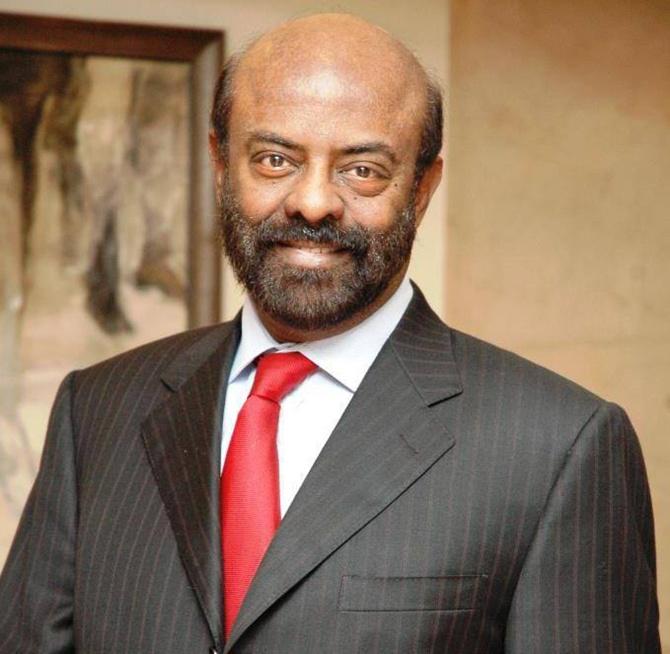 Image: Shiv Nadar. Photograph:

Rediff Archives
Nadar has a net worth of $14.4 billion and gets bulk of his wealth from software services outfit HCL Technologies.
Wadhwani is ranked 73rd on the list with a $2.8-billion net worth.
The 67-year-old IIT-alumnus is CEO and Chairman of Symphony Technology Group, a collection of 20 companies spanning big data, analytics and software with combined annual revenue of $3 billion.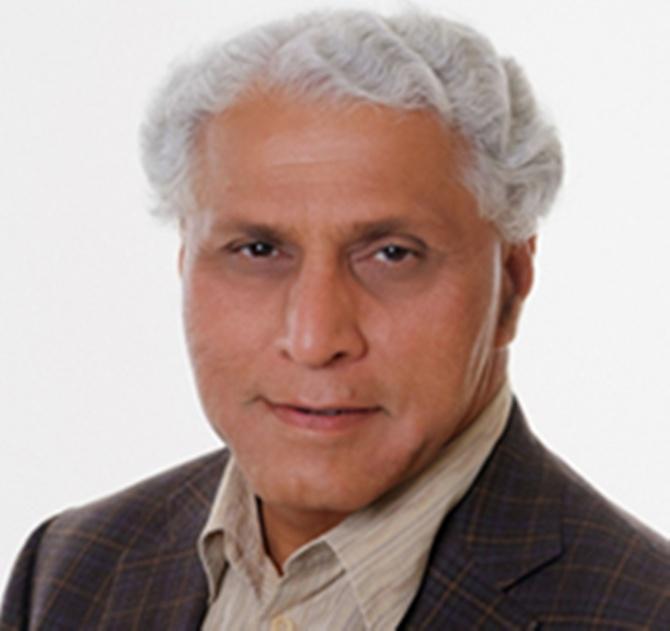 Image: Romesh Wadhwani. Photograph: Rediff Archives

In July 2015, he announced plans to commit up to $1 billion to the Wadhwani Foundations to fund entrepreneurship in India; he did not provide a timetable for the funding. Desai and family have been ranked 82nd with a net worth of $2.5 billion.
The 62-year-old and his wife Neerja founded IT consulting and outsourcing company Syntel in 1980 out of their apartment in Michigan.
American billionaires dominate the list occupying 51 slots. Tech barons from Asia made a strong showing as well, with 33 people hailing from that region.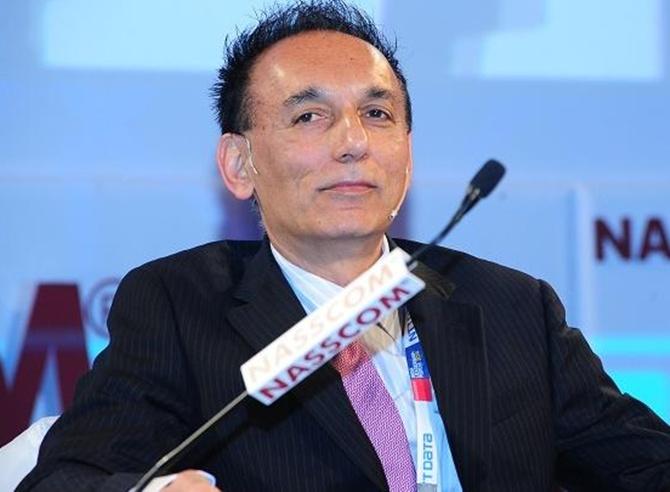 Image: Bharat Desai. Photograph: Kind courtesy, Syntel
Eight people from Europe made the cut -- a minimum net worth $2 billion -- as did two from West Asia and one from Latin America.
Forty of the 100 live in California. Gates, who's the world's richest man, ranks number one among tech tycoons, with a net worth of $79.6 billion.
Number two on the list is Ellison with a net worth estimated at $50 billion.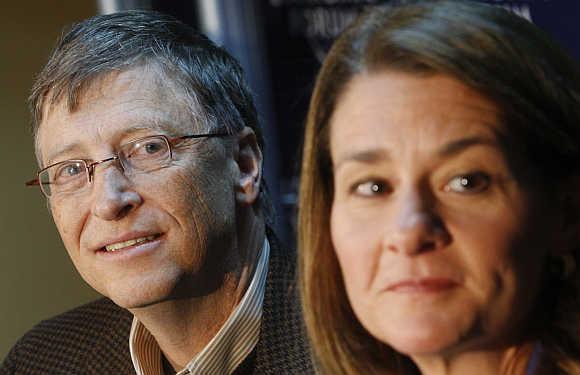 Image: Bill Gates with his wife Melinda. Photograph: Arnd Wiegmann/Reuters
Ellison ceded the CEO spot at Oracle last year to two co-CEOs, Safra Catz and Mark Hurd, but still serves as Oracle's chairman and chief technology officer.
Oracle is finding it harder to grow as a company; revenues for the year that ended in May were down slightly from the previous year to $38.2 billion, Forbes said.
The third richest on the list is Jeff Bezos, whose net worth shot up dramatically in July after Amazon.com surprised analysts and reported a rare profit for its second quarter.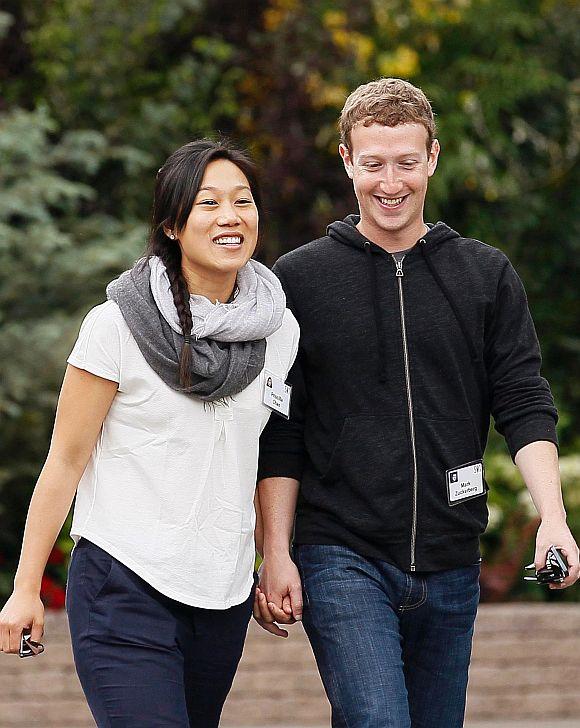 Image: Facebook CEO Mark Zuckerberg walks with his wife Priscilla Chan. Photograph: Rick Wilking/Reuters

The list includes Facebook co-founder Mark Zuckerberg at rank 4, followed by Google co-founder Larry Page at 5, Alibaba chief Jack Ma (7), Google's Executive Chairman Eric Schmidt (20), Uber CEO Travis Kalanick (35) and Square CEO Jack Dorsey (92). In total, the world's 100 richest tech billionaires are worth $ 842.9 billion.
The list has only seven women, the wealthiest of whom is Laurene Powell Jobs, the widow of Apple's late chief Steve Jobs, with an estimated net worth of $21.4 billion.
The average age of the group is 53, which is a decade younger than the average age of all billionaires; 15 of the 100 are under age 40.
© Copyright 2022 PTI. All rights reserved. Republication or redistribution of PTI content, including by framing or similar means, is expressly prohibited without the prior written consent.