Indian billionaires do not believe in sitting on their wealth. They'd rather go out and a buy a plane or two, or an expensive car, or maybe a horse. Here's a look at the lifestyles and interests of the rich and famous...
In the saddle
Naveen Jindal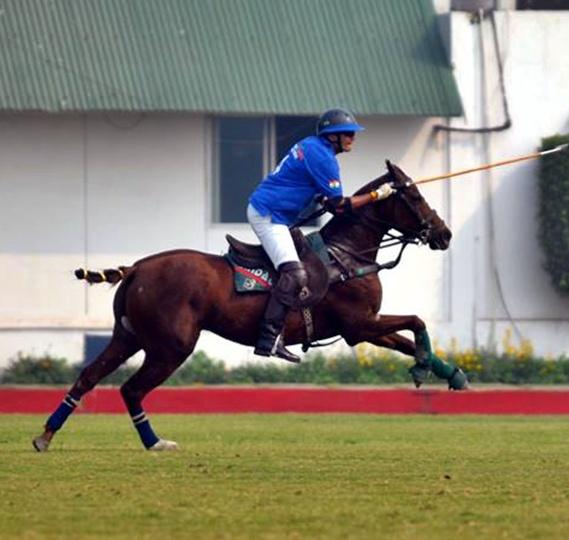 Image: Naveen Jindal got his first horse when he turned six. Photograph, courtesy: Naveen Jindal/Facebook
Industrialist-politician Naveen Jindal got his first horse when he turned six.

It was a birthday present from his father, steel magnate O P Jindal. With that began his long love affair with horses, so much so that in the 1980s he bought a sprawling 30-acre farm off the Noida Expressway near Delhi to pursue his passion.
The Jindal Farms, as it is called, has polo grounds, stables and a country house. It also has a shooting range, but that's hardly used these days.
A national record holder in skeet shooting, Jindal's interest in shooting was also triggered by his father who had gifted him his first rifle.
At least two days in a week, Jindal is at his farm by 7 in the morning. He's a stickler for punctuality. "And he's an early riser; he's up by 5.30 am," says someone who knows him.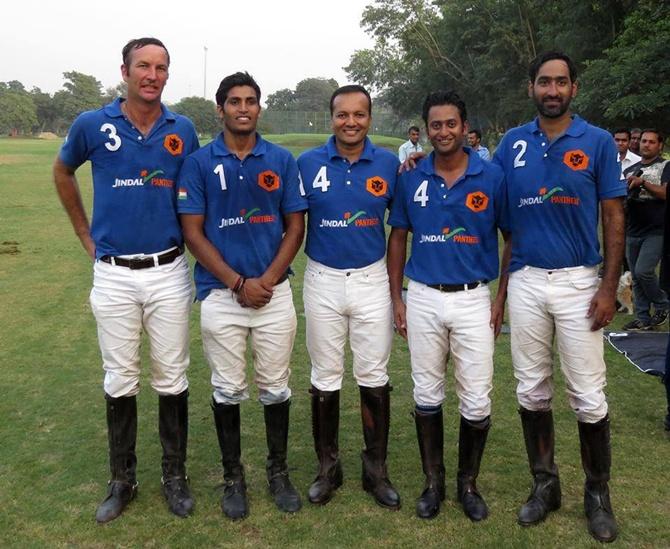 Image: Jindal is the captain of his polo team, Jindal Panthers. Photograph, courtesy: Naveen Jindal/Facebook
The morning is spent riding and taking stock of his horses and their upkeep to ensure that they are in peak condition.
His website says that he has "40 select ponies and horses". Some say the number has gone up to 80 now. Each of these horses has been handpicked by Jindal, mostly from Australia and the United Kingdom, though there is also an exotic one from Argentina.
This one is the Falabella, one of the smallest horse breeds in the world. A Falabella is a miniature horse and seldom stands taller than eight hands, or 32.81 inches. Tiny it is, but it is considered a horse and not a pony.
Riding requires a high level of fitness, particularly to prevent back injuries. Jindal, who is the captain of his polo team, Jindal Panthers, is well aware of this.
According to a recent article in Forbes India, before saddling up, Jindal goes for a jog and does some stretching under the supervision of his Spanish trainer, Marc Gastin, whom he met in Bolivia where he had mining interests.
According to the article, he ensures that while riding, he has his special watch and arm band on that record his vital statistics, based on which his exercise regime is modulated.
(Written by Veenu Sandhu)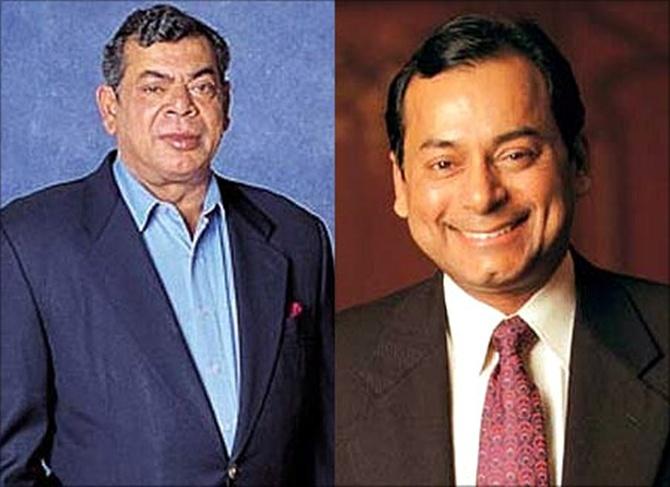 Image: Shashi (L)and Ravi Ruia .
High-flying brothers
Shashi and Ravi Ruia
Their Essar House in Mahalaxmi, Mumbai, was reportedly the first corporate office in the country to have a helipad.

While functional, the landing area is said to be mostly dormant now. The last time it was used was during a test sometime around 1995. Shashi and Ravi Ruia, the group's controlling family men, are known to have a Bell 430 helicopter in their fleet.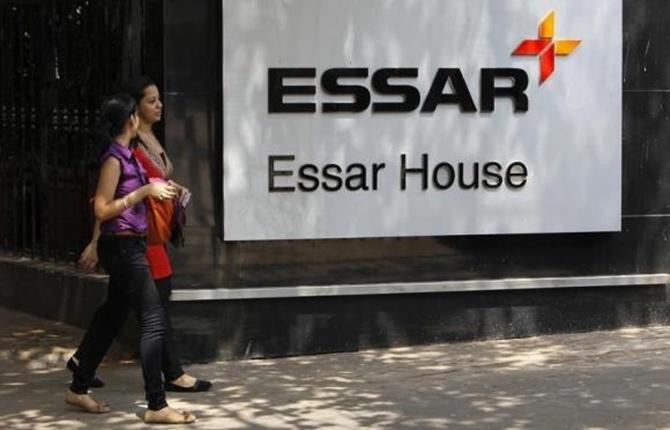 It is said that they love to vacation in the south of France and their hobbies include fishing. Although reports say they have private prawn farms in Gujarat, which grow export-quality crustaceans, a spokesperson for the Essar Group denies this.
The Ruia brothers, as a practice, do not to like to share too many details about their personal assets and interests.

Though the company spokesperson does not confirm this, the family is reported to own a yacht, Sunrays, which, according to some reports, is a 280 feet teal-and-white recreational boat that can host 16 guests.

It is said to have VIP suites, guest cabins and one owners' suite, with interiors featuring hand-carved doors and rare finishes like mother of pearl and suede.

(By Ranjita Ganesan)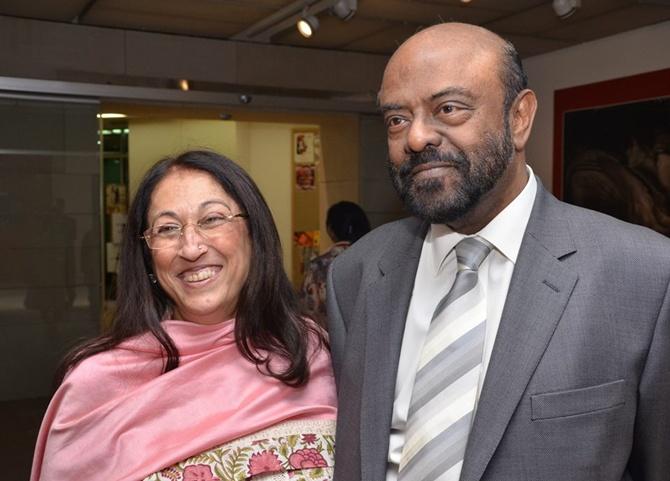 Image: Kiran and Shiv Nadar. Photograph, courtesy: Kiran Nadar/Facebook
The collectors
Kiran and Shiv Nadar
HCL chief Shiv Nadar's home in Delhi is a veritable art museum. M F Husain's most iconic works, Yatra and Ganga, form part of his collection as does Rameshwar Broota's monochromatic work, Runners.
His wife, Kiran, is credited with having given direction to his collecting style. Her tryst with art started post-marriage in the 1980s at an amateurish level, when she started doing up their house.

This interest evolved further because of her interactions with Husain when she commissioned artworks for her home. During their travels to art venues across the world, the couple began to pick up artworks that were considered unconventional for that time.
There is an amusing story behind their purchase of Broota's Runners, a work depicting a nude male torso.

Kiran Nadar saw it at the Triveni art gallery in Delhi and urged her husband to view it. So they both came in their Fiat and had the same reaction to the work. They decided to take it home and test the waters.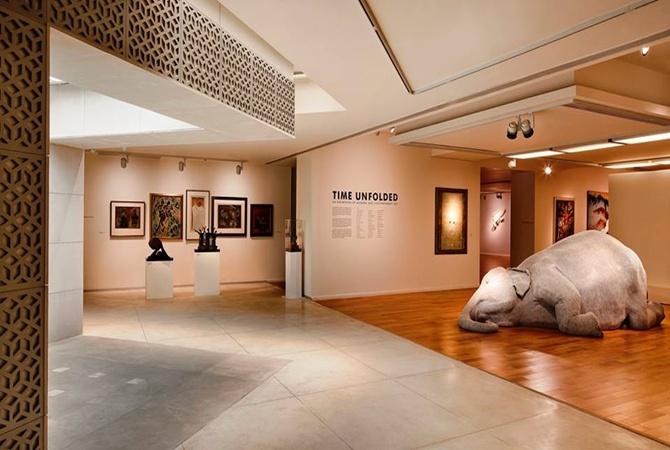 Image: Kiran Nadar Museum of Art . Photograph, courtesy: Kiran Nadar/Facebook
It was considered a bit of a scandalous purchase, especially to be put within view of her mother-in-law and daughter. Surprisingly, there was no negative reaction back home. And it is believed that's when the couple's urge to continue on collecting got stronger.
It was in 2002 when they realised that there were only these many paintings that could be put up on the walls of their home. So the couple decided to do something more significant with the collection.

Kiran Nadar came up the idea of creating India's first private museum of art - the Kiran Nadar Museum of Art with facilities in Saket in New Delhi and Noida.

While the contemporary works are displayed at the Saket establishment, the modern masters from her personal selection are being shown at the Noida facility.

The collection at the museums include Subodh Gupta's Line of Control, Vivan Sundaram's Memorial, Kaavad: Ayodhya - Mirage by Gulammohammed Sheikh, Navjot Altaf's Lacuna in Testimony, Untitled by Tyeb Mehta and Summer Night by Gaganendranath Tagore.
(By Avantika Bhuyan)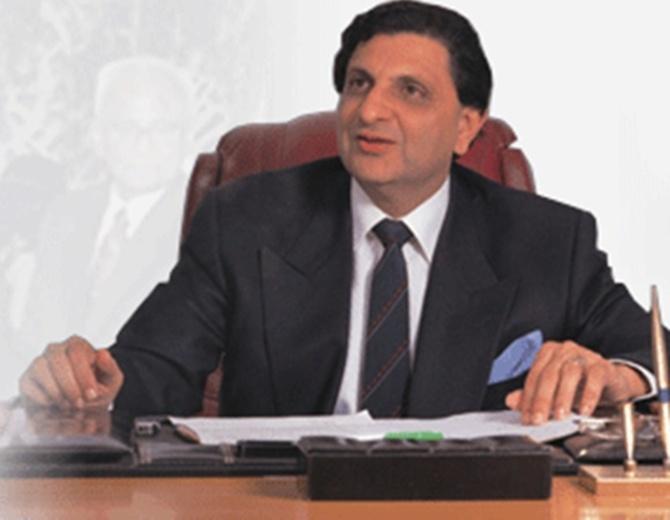 Hot wheels
Cyrus Poonawala
The Poonawallas, founders of the Serum Institute and owners of the Poonawalla stud farms, have a large collection of vintage and luxury cars.

The family declined a request to share details but the vehicles, by some accounts tallying more than 50, often make outings during special events and exhibitions.

Recently, they participated in the Parx Super Car Show and Mercedes-Benz's classic car rally in Mumbai.
Cyrus Poonawalla has been interested in cars from an early age, having built a prototype sports vehicle on the lines of the Jaguar D-Type as a 20-year-old.

He reportedly even considered commercial production of the car but decided against it because of the heavy investment it would require.
According to a The New York Times report by Amelia Gentleman - which described Cyrus's nephew, Yohan, as a "modern maharaja" - the family has at least eight Rolls-Royces, a Lamborghini, a BMW and a Porsche.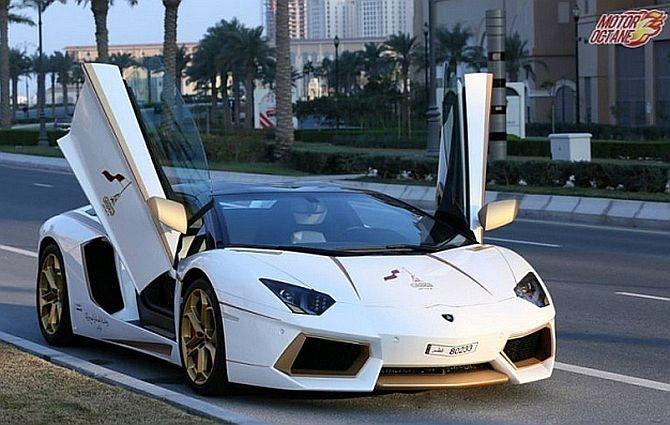 Some cars feature personalisations like the letter 'P' incorporated inside and outside, telephones, televisions and built-in umbrellas. Recently, Yohan had a car specially modified in the form of a batmobile.

The machine took 10 months to build, says Faisal Nensey of Modcar Trendz, Mumbai, which took up the project. "It was the client's dream request," he says. "We copied the original design used in (Christopher Nolan's) movies." The car used as a base for this was the new Mercedes-Benz S 350.

The family's Pune residence is reported to have several garages and a small army of drivers, some of whom have taken special driving lessons with the Rolls-Royce staff. The collection also includes a 1949 Bentley Mark VI and a 1937 Rolls-Royce Phantom.
The family is also widely recognised for horse racing and breeding. As of last year, its stud farm had bred 338 all-India Classic winners, including winners of nine Indian derbies and 68 Indian Classics, according to their website.

The farm itself has won 12 'Champion Breeders' awards. Its 388 home-breds earn stakes in excess of Rs 10 lakh, says the site.

The family raises young stock at a unit in Hadapsar, while its breeding division is at Theur, about 10 km and 24 km from Pune, respectively.
(By Ranjita Ganesan)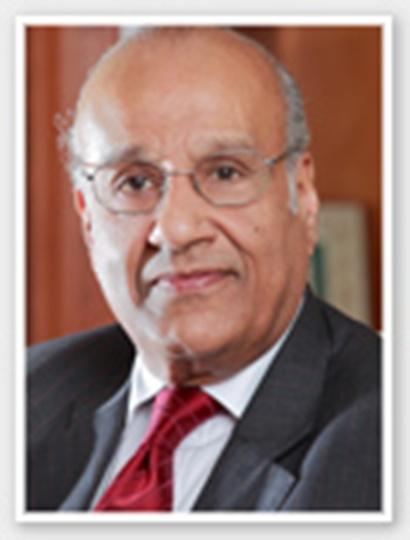 Eye for art
Saroj Poddar
He is the poster boy of acquisition strategies. But there is another side to Saroj Poddar, the chief of the Zuari group who is currently in the midst of a fierce takeover battle for Mangalore Chemicals and Fertilizers.

He is also an avid art collector as is evident from a visit to Poddar Niket, his expansive bungalow in an upscale locality of Kolkata.

"Contemporary modern art is my genre and I have around 100 of these works," says Poddar. "I picked up the love for paintings from my family; my brother Bimal Poddar is a serious collector," he says.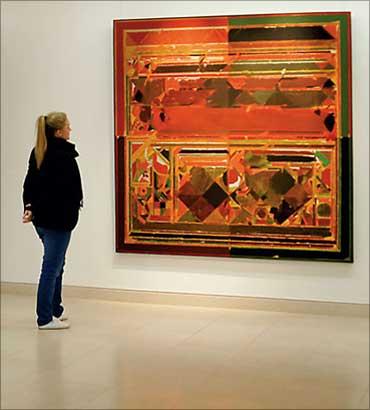 Image: S H Raza paintings are one of Poddar's favourites. Photograph, courtesy: Christie's.
In his drawing room, the first thing that greets you is a Jamini Roy, followed by a beautiful S H Raza.

Covering a major portion of the drawing room wall is a landscape portrait by N S Bendre, a painter from the Indore school of art. Most of Poddar's collections are direct purchases and not through auctions.
He also owns masterpieces by Anjolie Ela Menon, Gopal Ghosh, Thota Vaikuntam and Bikash Bhattacharjee. Of his private trove, Poddar says, rather modestly, "I am not a collector; I buy whatever appeals to my eyes."
His house in New Delhi's New Friends Colony too is packed with artworks, including sculptures. But buying paintings is one thing, maintaining them is another. Does he have a curator? "Most of the works I have are oil paintings and my family is enough to take care of them," he says stressing on the word "family".

The love for good art has been passed on to Akshay, Poddar's son who is in charge of the group's real estate business. "Akshay has also developed a taste for good art," says the soft-spoken strategist.

(By Arindam Majumder)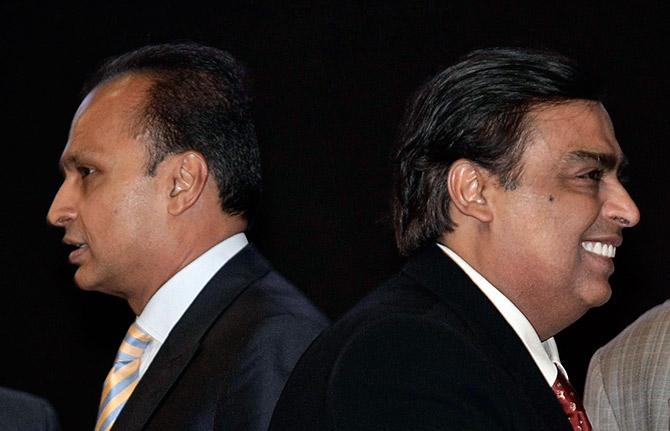 Image: Mukesh Ambani (R) and Anil Ambani. Photograph: Amit Dave/Reuters
Breaking the sound barrier
Mukesh Ambani & Anil Ambani
What's the sure shot sign of having gained entry to The Billionaire Club? Owning a private jet, of course.

For corporate leaders who need to fly across continents, there's nothing better than the Gulfstream G550.

Steel baron Lakshmi Mittal owns one, as does Kumar Mangalam Birla. The G550 can fly up to 18 passengers for 6,750 nautical miles nonstop.

This swanky jet, powered by two Rolls-Royce engines and capable of operating out of short-field, high-altitude airports, can fly without a break for more than 12 hours.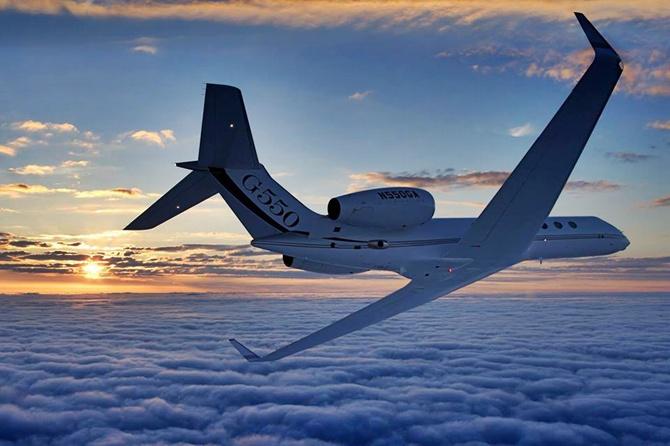 Image: G550 can fly up to 18 passengers. Photograph, courtesy: Gulfstream
It comes with an "Elite Interior" option as part of which passengers can control the lighting, temperature and entertainment options.
There is also the Boeing Business Jet 2. At about $70 million, it is one of the most expensive jets in the world. And who can afford it better than Mukesh Ambani, India's richest billionaire.

Armed with nine auxiliary fuel tanks, the jet is ideal for long corporate missions. But why be satisfied with one jet when you can own a fleet?

Ambani also owns a Falcon 900EX jet and a custom-fitted Airbus A319 that is mostly used for trips with the family.
Younger brother Anil too is part of the jetsetters club and prefers to cruise the skies in his Global 5000 jet. It is said that other owners of this brand of aircraft from the Bombardier stable are Sajjan Jindal and Rahul Bajaj.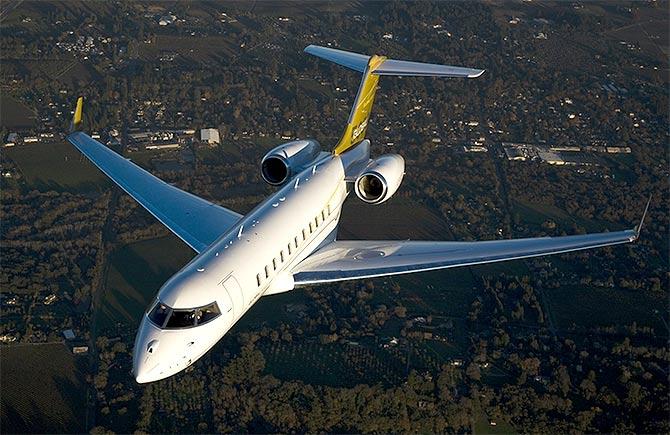 Image: Bombardier Global 5000 jet. Photograph, courtesy: Bombardier
This jet is said to have the speed and range to fly from Paris to Chicago or Berlin to Washington about an hour faster than its competitors.

With three independently controlled temperature zones, it places entertainment and office tools at your fingertips. Anil Ambani's other aircraft include a Falcon 2000 and a Falcon 7X.
And then there is the Gulfstream IV, which can fly up to 16 passengers. Atul Punj, chairman, Punj Lloyd, is one of the high-flying owners of this jet.

It has a seven-channel Honeywell satellite communications system to handle simultaneous phone and modem transmissions.
What such stylish jets to their name, what more could billionaires want to up their cool quotient? A flying carpet, perhaps.
(By Avantika Bhuyan)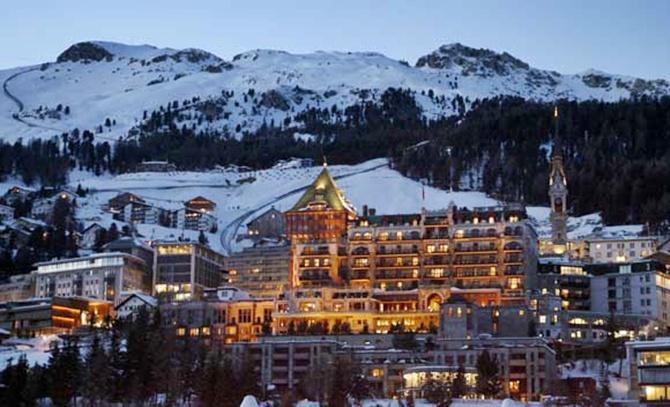 Image: St Moritz has been the winter playground of aristocrats. Photograph: Reuters
Lakshmi Niwas Mittal, Kumar Mangalam Birla & Rahul Bajaj
Fancy holidayers
St Moritz, the oldest and perhaps the grandest of Switzerland's ski resorts, has been the winter playground of aristocrats, businessmen, actors and fashionistas from across the world since 1864.

It isn't any wonder then that St Moritz has emerged as the favourite holiday destination of Indian billionaires as well.
Kumar Mangalam Birla holidays there as does Rahul Bajaj.
According to Travelandleisure.com, Lakshmi Mittal built what is said to be the most expensive villa in town.
During the season, the St Moritz airport is home to hosts of private jets ferrying the rich and famous. One of the best places for billionaire sightings is the Via Serlas lined with high fashion boutiques such as Chanel, Gucci, Bvlgari, Chopard and Pucci.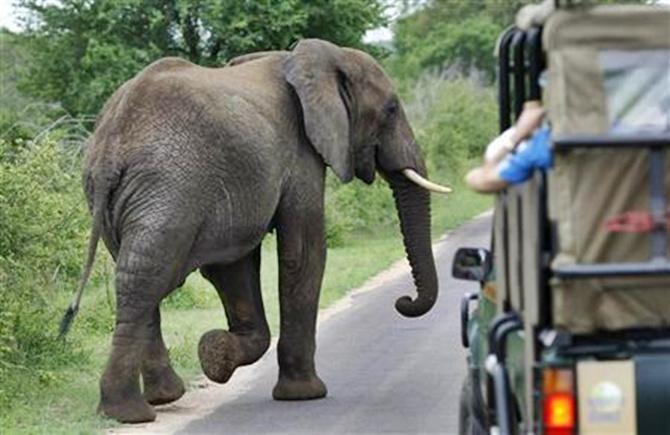 Image: An elephant walks past a car filled with tourists in South Africa's Kruger National Park.. Photograph: Mike Hutchings/Reuters
Kruger National Park in South Africa has also emerged as a popular destination with corporate leaders. It is reported that Mukesh Ambani vacationed there with his family in 2000 and then again in 2010.
For those like Ambani, who prefer privacy while experiencing the intimacy of the wild, there are luxurious private lodges in the area. These are exclusive lodges with 20-22 rooms and offer close encounters with the big cat, rhinos, elephants and wild buffaloes.
Around the corner is Singita, a private game reserve with two lodges in the Sabi Sand Reserve that offers a combination of eco-friendly activities and luxurious accommodation.
This is one of the preferred holiday destinations of Adi Godrej, with the sun-kissed Amalfi coast coming a close second.
Then there are others who wish to unwind with all the urban comforts at their disposal. Vijaypat Singhania of Raymond's likes to holiday in London where he owns a plush house.

When he is not setting world records [his second record was racing around the world in his turboprop Cessna, as part of which he beat his competitor by 32 minutes in 1994, states Harmonyindia.org], he loves to cook up a feast during his time off in London.
(By Avantika Bhuyan)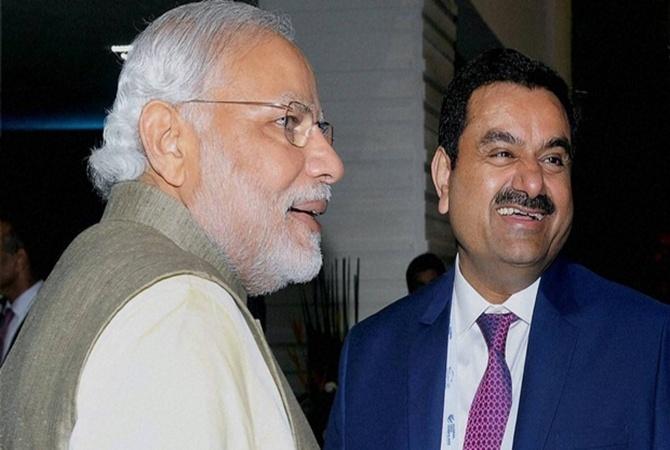 Image: Prime Minister Narendra Modi with industrialist Gautam Adani at the Mahatma Mandir premises in Gandhinagar. Photograph: PTI
Scooter to Ferrari
Gautam Adani
Gautam Adani, the 52-year-old shy billionaire who lives in his sprawling bungalow off the Sarkhej-Gandhinagar highway in Ahmedabad, comes from a Gujarati Jain family of textile traders.
He grew up in the modest Ratanpole area of the walled city where people still remember him riding his grey Bajaj Super scooter in the 1980s.

His first car was a Maruti 800. Today, he is the proud owner of a fleet of luxury cars, which includes BMWs and stretch limousines, but his favourite, people close to him say, is his red Ferrari.
His house, they say, has a helipad and his fleet includes three helicopters, three Bombardier and Beechcraft planes with a seating capacity of eight, 37 and 50, respectively.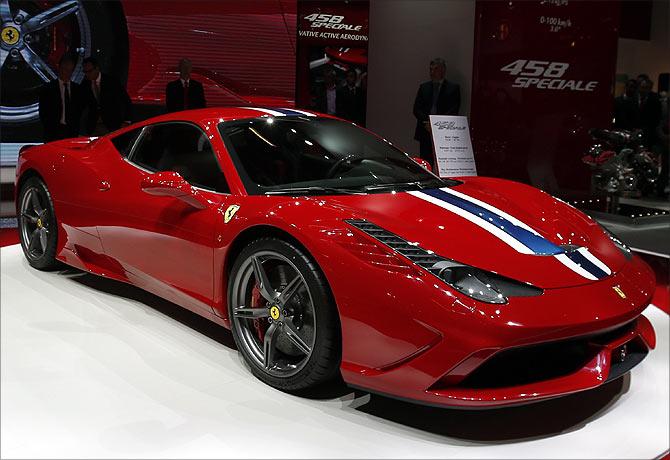 Adani had planned to use his helicopters to fly to the Ahmedabad airport to avoid the city traffic. Insiders, however, say that he mostly drives to the airport because the high-tension wires near his home do not allow flying.
The billionaire has been quoted as saying that personal wealth is just a number and that money does not drive him.

The story goes that his father-in-law had almost rejected him as a groom for his daughter, Preeti (who is a dentist), until an astute astrologer advised the old man that this "boy" would one day "float in riches".
Adani enjoys strolling in the manicured lawns of his bungalow. He is seldom seen at the city's posh clubs that are a stone's throw away from his house. "He hardly comes for a jog or to the gym, or for that matter, even to socialise," says a club regular.
(By Sohini Das)