The group needs to rustle up Rs 5,000 crore in cash and an equal amount in bank guarantees to secure the release of its chief, Subrata Roy
Image: Sahara group chairman Subrata Roy (C) with his face smeared in ink thrown by an unidentified man upon his arrival at the Supreme Court in New Delhi. Photograph: Reuters
Sahara Shahar, the sprawling estate at the heart of Lucknow, wears a deserted look.
The complex, which has in the past played host to top politicians, corporate leaders and film stars during ceremonies and parties, is missing its most famous resident: Subrata Roy, the chief of the Sahara India Parivar.
Exactly a year ago, the Supreme Court sent Roy to Delhi's Tihar jail after Sahara India Real Estate Corp and Sahara Housing Invest Corp failed to refund Rs 24,029 crore (Rs 240.29 billion) to those who had invested in their bonds.

The companies claimed that they had repaid most investors directly, but that didn't cut ice with the apex court.
At that time, nobody had imagined Roy would not be able to secure bail even after one year.

During the lengthy legal battle with the Securities and Exchange Board of India (Sebi), the Sahara group had claimed that the market value of its assets was over Rs 1.5 lakh crore, which was more than enough to cover any potential claims by the group's investors.

So, when the Supreme Court fixed Rs 5,000 crore (Rs 50 billion) in cash and an equal amount in bank guarantee as the bail condition, few thought arranging the money would be a problem.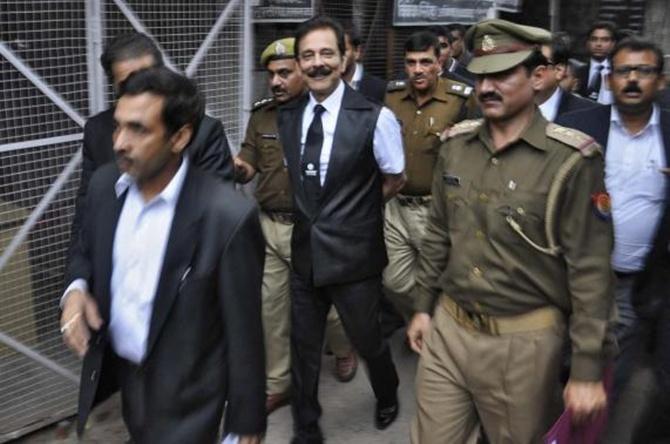 Image: Subrata Roy is escorted by police to a court in Lucknow. Photograph: Reuters
Roy's incarceration, the longest for any corporate leader since Ramakrishna Dalmia's two-year sentence six decades ago, has affected Sahara's business.

Employees contacted by Business Standard say their salaries haven't been on time. "There have been delays in paying salaries in the past few months," a Sahara spokesperson conceded.
Last week, Sebi cancelled the portfolio management licence of Sahara's asset management division, Sahara Asset Management Company, because it did not meet its 'fit and proper' norms. Days before that, the Allahabad High Court asked Sebi to probe Sahara Q Shop, the group's retail venture.
Sahara's large pool of agents, close to a million at its peak, is also shrinking.

A multi-state cooperative society, Sahara India Credit Cooperative Society, floated by Sahara employees, seems to be the only arm of the group that's remained unscathed.

This society today has 9.2 million members and has deposits of over Rs 36,000 crore (Rs 360 billion).

It also owns 42 per cent of Aamby Valley, the group's top-end township in Maharashtra, which is sought to be leveraged for Roy's release.
In addition, Sahara has interests in real estate but the sector itself is going through a serious downturn.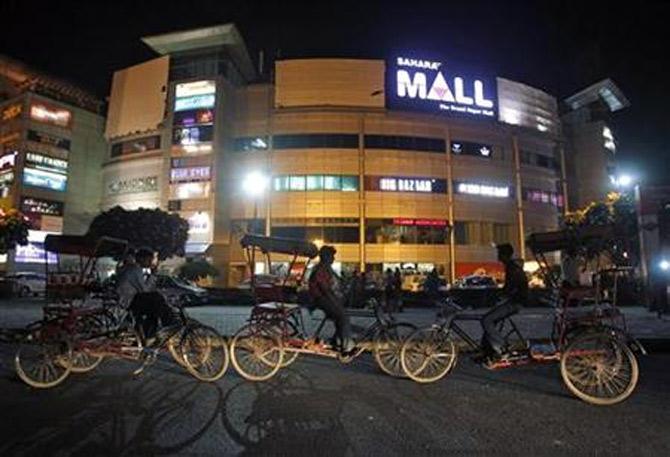 Image: Sahara Mall wears a deserted look now. Photograph: Reuters
The group's mall in Lucknow's central business district of Hazratganj, called Sahara Gunj, wears a deserted look. Its food court has also been closed.
Apart from Sebi and RBI, the income-tax department and the Enforcement Directorate, which looks into violations of the Foreign Exchange Management Act, are keeping a close watch on the developments in the Supreme Court. The income-tax department and RBI have already impleaded themselves in the case.
Roy's son, Seemanto, and senior group executives such as OP Srivastava are not seen in the court rooms as frequently as before. The strategic and day-to-day operations of the group are being looked after by a group of senior officials, the spokesperson said.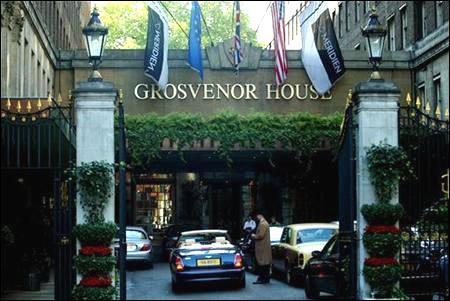 Image: Grosvenor House for sale. Photograph: Reuters
Raising funds
The group began its long journey of raising the bail amount by first getting the court permission to sell about nine land parcels within India.

In July, the group moved the court again to raise money from its overseas properties, which included hotels in London (Grosvenor House) and New York (Plaza and Dream Downtown) which it had bought between 2010 and 2012.

On Tuesday, international reports said the Grosvenor House was put on sale by the Bank of China after Sahara group defaulted on payments.
Citing independent reports that valued these assets at $1.72 billion, the group sought Roy's release to conclude the negotiations.

The court refused to alter the original conditions of bail, but it allowed an unprecedented special business facility inside the Tihar complex from where Roy could conduct the talks.
From an air-conditioned conference room, Roy could communicate with prospective buyers through video-conferencing.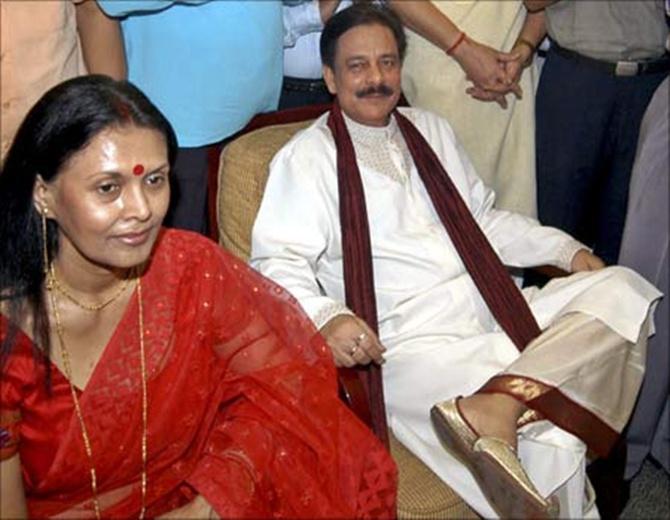 Image: Subroto Roy with his wife Swapna Roy in happier times. Photograph: Reuters
Lawyers had quoted the time zone differences between potential buyers in North America to ensure that Roy got to spend the nights at this special facility.
Through August and September, Roy was said to be considering various offers. Some international news reports talked of interest even from the Sultan of Brunei. But as nothing concrete emerged, Roy was moved back to his cell by the end of September.
Sebi, meanwhile, reported to the court that it had received enquiries from investors such as M&G Real Estate, an arm of UK Prudential, Madison Capital and Oakdene that they were cold-shouldered by Sahara.

Some Indian entities such as the Poonawalla group had also bid unsuccessfully. Sahara in turn said it was not convinced of the 'creditworthiness' of some prospective buyers.
In early December, the group had also sewn up the sale of its local land parcels for a sum of Rs 2,700 crore 9Rs 27 billion).

The buyers had undertaken to pay the money in installments and submitted post-dated cheques extending till May 2015.
A more concrete proposal in the form of a syndicated loan emerged towards the end of 2014: Miami-based Mirach Capital Group offered a $1.05 billion debt-cum-equity package that would solve all of Roy's problems.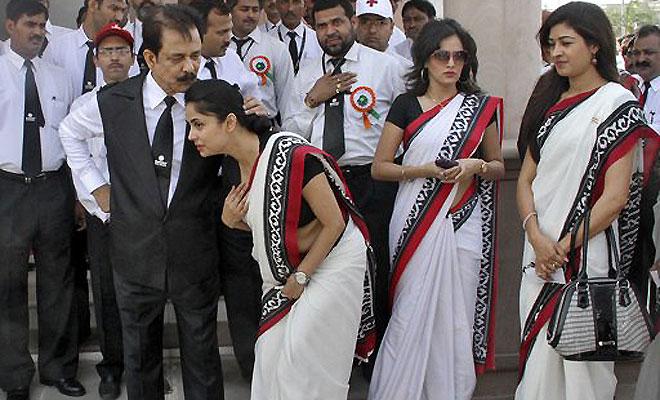 Image: Sahara staff have high hopes. Photograph: Reuters
However, the amicus curiae raised the concern that the loan may attract provisions of the Foreign Exchange Management Act. As the court asked Sahara to seek RBI clearance, the deal collapsed amid allegations of fraud and forgery.
In the latest hearing, Sahara proposed that it was ready to raise funds from Aamby Valley, its most valuable asset which is estimated to be worth Rs 38,000 crore (Rs 380 billion).

When asked by Business Standard what plans it has for AambyValley, a Sahara spokesperson said: "As we are already having Hon'ble Supreme Court's permission to raise debts through mortgage, we are exploring this option too."
The spokesperson refused to give further details about the options the group is evaluating, stating, "As we are bound by the non-disclosure agreements we have entered into with various parties, we are not in a position to answer this question currently."

However, he expressed hope of Roy's release soon.
"As far as the release of Shri Subrata Roy Sahara ji is concerned, we have full faith that he will be released soon."