Backed by Nandan Nilekani and impact fund Lok Capital, Drishti, an affordable eye care chain has lit up the lives of scores of people in rural areas, finds Nirmalya Behera.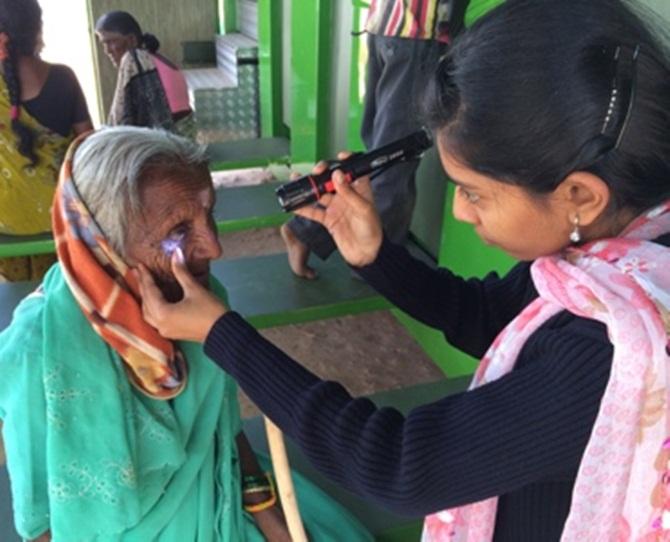 IMAGE: Dristi's focus is to bring affordable high-quality eye care.
Photographs kind courtesy: Dristi
Sometime in October 2014, Anandacharya, a chronic diabetic with a vision impairment, walked into Drishti vision centre in Bagepalli, an idyllic rural town of 28,000 people in Chikkaballapur district of Karnataka.
Bagepalli had no ophthalmologist and Dristhi was his only hope.
After preliminary consultations, Anandacharya, suffering from diabetic retinopathy, was transferred to Drishti's base hospital 70 km away, where timely treatment restored his vision.
Like him, Drishti, an affordable eye care chain in the state, has lit up the lives of scores of people in rural areas.
The start-up has attracted the attention of many, including Infosys co-founder Nandan Nilekani, who recently pledged funds to it.
"After about 18 years in the information technology industry, I and Anjali (wife) were looking to work in areas that deliver social impact. We wanted our venture to be sustainable and scalable. We visited Aravind eye hospital in Madurai and were influenced by their model. We decided to start Drishti to achieve a similar impact in Karnataka and other places," says Kiran Anandampillai, founder and chief executive officer.
A telecom engineer, worked as a volunteer for the Aadhar project with Nilekani.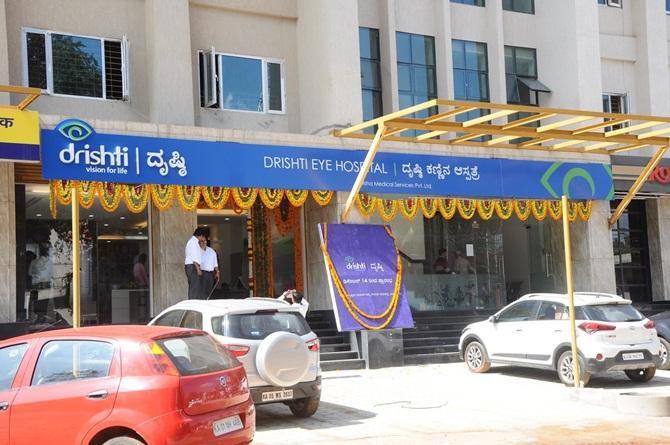 The opportunity
Data from the National Programme for Control of Blindness (NPCB) shows one per cent of India's population has avoidable blindness.
The major chunk of this population lives in semi-urban and rural India. This is where Drishti wants to play a pivotal role.
"Our focus is to bring affordable high-quality eye care. We intend to serve the whole pyramid with a special focus on economically backward people," said Anandampillai.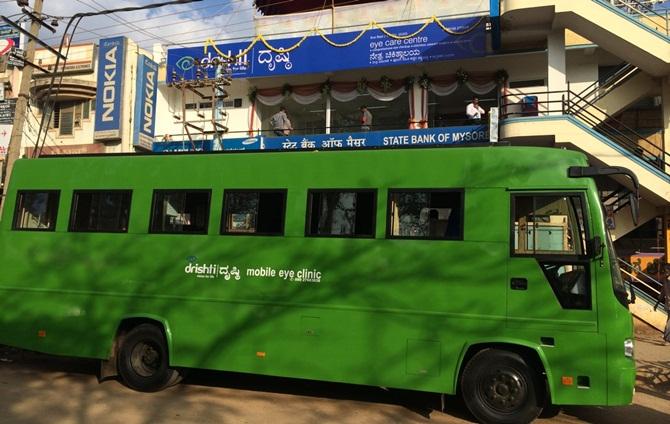 Business model
Drishti's hub-and-spoke model employs community health workers to screen people from door to door. Mobile eye clinics then visit villages to treat patients.
The requiring detailed evaluation are transported to Drishti's district hospitals.
Drishti also delivers services to patients through telemedicine-based vision centres in small towns and areas where specialists can't go.
These centres help reach people at taluks with populations of 15,000-50,000.
The centres focus on primary eye care where treatment requires medicine or spectacles. Patients needing surgical or specialist care are referred to the district hospitals.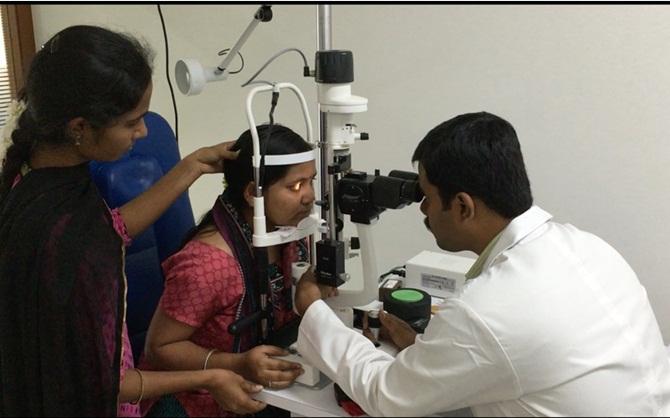 "Drishti's model is self-sustaining, scalable and replicable. In every million ppopulation in India, about 30 per cent require some form of eye care and the bulk of them require glasses," says Anandampillai, who was also a founding member of OnMobile, a company spun out of Infosys.
While surgery and spectacles contribute 40 per cent each to Drishti's revenue, medicines and consultation fees contribute 15 per cent and five per cent, respectively. About 70 per cent of the patients pay in cash and the balance comes from social insurance schemes.
"Drishti has a differentiated model and ventures into areas other players find it difficult to go. In the eye care market in India, all the major players are fighting over the urban market. We saw an opportunity to invest with an individual who was keen to create something new at the ground level," said Aditya Sharma, director, Lok Capital, which has invested in Drishti.
Sharma said it would not be difficult for Drishti to replicate the model in other states.
Drishti received seed funding from Lok Capital in 2012.
In June, Nilekani invested an undisclosed amount in Drishti in a Series-A round of funding.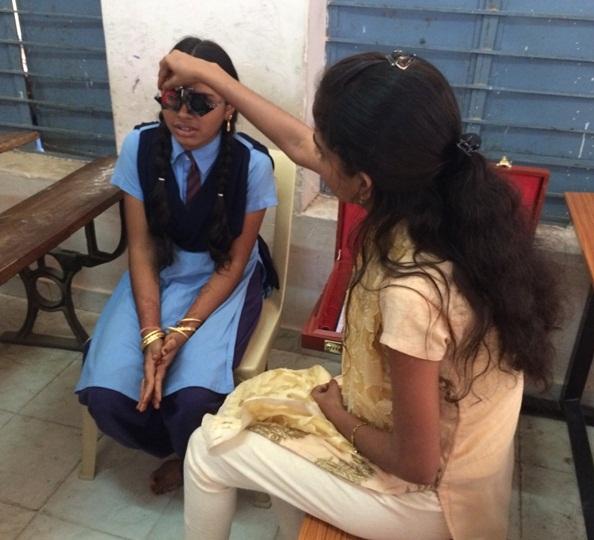 Expansion plans
Drishti operates in four districts of Karnataka - Bengaluru Rural, Chikkaballapur, Ramanagar and Chitradurga - with three hospitals, three vision centres and two mobile eye clinics.
With the fresh infusion of funds, Drishti is looking to set up six to ten vision centres in each district where it has presence, start services in six other districts in Karnataka, and meet its working capital requirements.
It aims to break even in 2017-18 and wants to treat 120,000 patients by March 2017 and over a million patients every year within the next five years.
"We plan to be among the top five organised players in this segment by 2020," says Anandampillai.
FACT BOX
Area of business: Affordable eye care
Area of operations: 4 districts of Karnataka
Infrastructure: 3 hospitals, 3 vision centres
Treated: 75,878 patients since 2012-13
Target: 120,000 patients by 2017-18
Investors: Lok Capital and Nandan Nilekani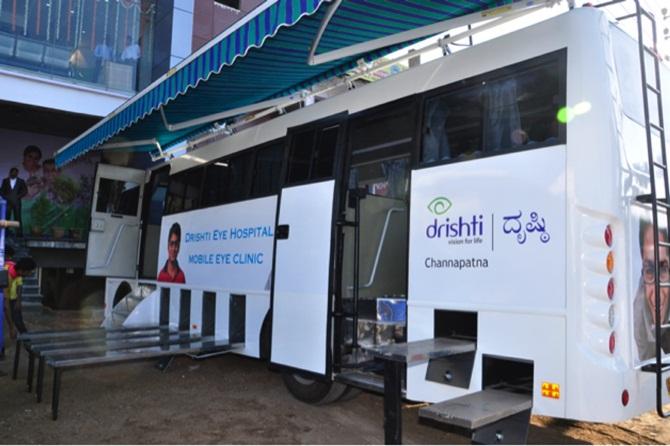 EXPERT TAKE:
Eye care was one of the first single specialities to really take off in India, a country that has one of the highest cataract prevalence rates globally.
The emergence was originally driven by welfare-oriented eye care organisations like Aravind Eye Care and Sankara Nethralaya.
With the industry maturing, private operators came out of the woodwork. Prominent among them were Dr Agarwal's Eye-Q, ASG, Maxivision and Vasan Healthcare.
Drishti is an organisation which, works at the grassroot-level to implement quality eye care.
Its model is more intensive, with initial consultations and treatment at the doorstep, removing the impediment of travel.
This reduces the slippage of patients between the initial health care camps and actual treatment at the main hub.
While Drishti's model is focused on semi-urban and rural towns, the volume this model can generate makes it economically viable.
Using community health groups allows the company to reduce its customer acquisition costs, which in turn make its services affordable for poor patients.
Prashant Jain is director, o3 Capital.