With Sundar Pichai becoming the CEO of Google, India has one more reason to cheer its prowess in the global IT sector.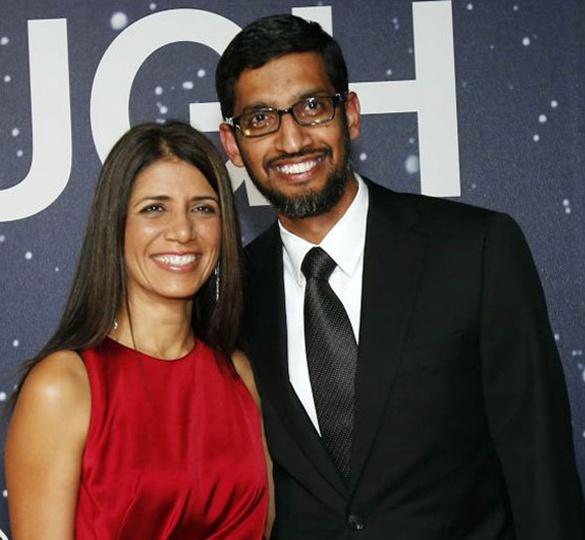 Image: Sundar Pichai with wife Anjali. Photograph: Stephen Lam/Reuters
The technology sector has been the biggest platform for Indians to showcase their talent and capabilities. Good education, technical expertise, ability to work in difficult situations and managerial skills are helping Indians achieve great strides in the global arena.

Interestingly, Sundar Pichai has joined the big league of 12 Indian origin persons holding top posts at global corporations with collective turnover of about $400 billion.
There are more Indian CEOs than any other nationality after Americans in S&P 500 companies, finds a study by Egon Zehnder.
Time magazine once termed CEOs as India's leading 'export' and said that the subcontinent could be 'the ideal training ground for global bosses'.
Take a look at the Indians who head top IT companies…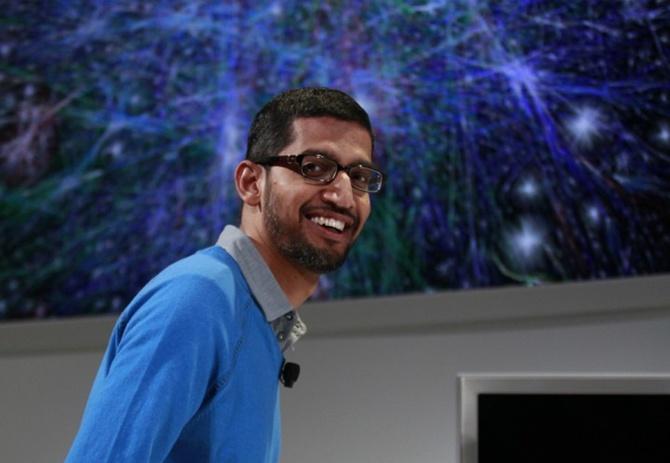 Image: Sundar Pichai has seen a meteoric rise in his career . Photograph: Reuters
Sundar Pichai
CEO, Google
"I feel very fortunate to have someone as talented as him to run the slightly slimmed down Google and this frees up time for me to continue to scale our aspirations. I have been spending quite a bit of time with Sundar, helping him and the company in any way I can, and I will of course continue to do that," Larry Page, Co-founder Google said in a blog post about Sundar Pichai after appointing him as Google's CEO.
As CEO of Google, the soft-spoken 43-year-old Pichai will head core tech projects like Google search engine, ads, maps, apps, YouTube and Android system.
"Pichai has really stepped up since October of last year, when he took on product and engineering responsibility for our internet businesses. Sergey and I have been super excited about his progress and dedication to the company", Page said.

Page added that Pichai will continue to stretch boundaries and ensure that Google in its new form "can continue to make big strides on our core mission to organise the world's information".
A topper in Metallurgical Engineering, from IIT Kharagpur, Pichai has seen a meteoric rise in his career from holding significant posts in Google to becoming its CEO.

After joining Google in 2004, Pichai led the product management and innovation efforts for key products including Google Chrome and Chrome OS and Google Drive.

Pichai , who is from Tamil Nadu, worked in engineering and product management at Applied Materials and at McKinsey & Company before he joined Google.
Pichai is hailed for building a great team and outstanding products that gives a lead over other companies.
He holds an MS from Stanford University and an MBA from the Wharton School of the University of Pennsylvania.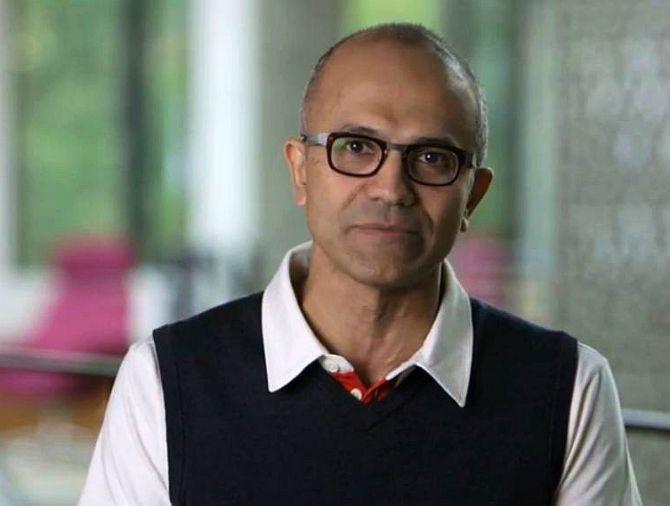 Satya Nadella
CEO, Microsoft
One of the biggest success stories of an Indian in the technology space comes from Microsoft CEO Satya Nadella.
After working for two decades, Nadella made history by being the first Indian to head the world's biggest software company.
The highest paid executive in the United States, Nadella himself admitted that heading Microsoft was 'beyond his dreams'.
"After joining Microsoft in 1992, Nadella quickly became known within the company as a leader who could span a breadth of technologies and businesses to transform some of Microsoft's biggest product offerings," according to Microsoft.
One of the most influential technology wizards of our time, Forbes magazine recently ranked Nadella among the world's 72 most powerful people.
Nadella, who hails from Hyderabad, holds a bachelor's degree in engineering in electronics and communication from Manipal Institute of Technology.
Nadella did his Masters in Computer Science from the University of Wisconsin, Milwaukee and an MBA from the University of Chicago Booth School of Business.
Nadella was a member of the technology staff at Sun Microsystems before he joined Microsoft.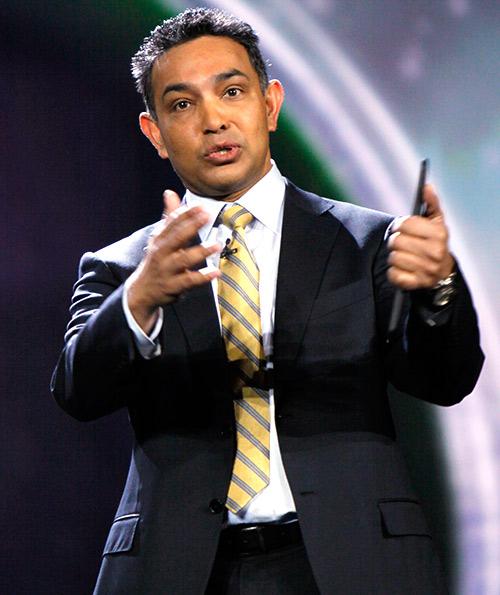 Image: Image: Sanjay Jha. Photograph: Rick Wilking/Reuters
Sanjay Kumar Jha
CEO, Global Foundries

Sanjay Kumar Jha who hails from Bihar is now the CEO of Global Foundries, the world's first full-service semiconductor foundry.
One of the highest-paid Indian executives in the US, he was earlier the chief executive officer of Motorola's mobile devices business.
Prior to this, he served as the chief operating officer at Qualcomm.
He has a PhD in electronics engineering from University of Strathclyde, Scotland.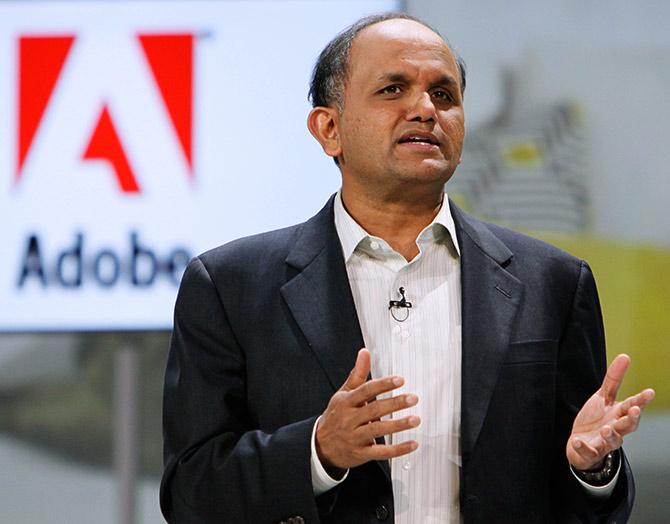 Image: Adobe CEO Shantanu Narayen. Photograph: Rick Wilking/Reuters
Shantanu Narayen
CEO, Adobe

Shantanu Narayen who's from Hyderabad heads one of the world's leading software companies, Adobe.
Nine years after joining Adobe, Narayen was appointed as CEO in 2007.
One of world's top paid tech CEOs, he is lauded for his leadership qualities, technology insight and operational proficiency, which helped Adobe expand its products portfolio.
Narayen holds an electronics engineering degree from Osmania University, MBA from the University of California, Berkeley, and Masters in computer science from Bowling Green State University, Ohio.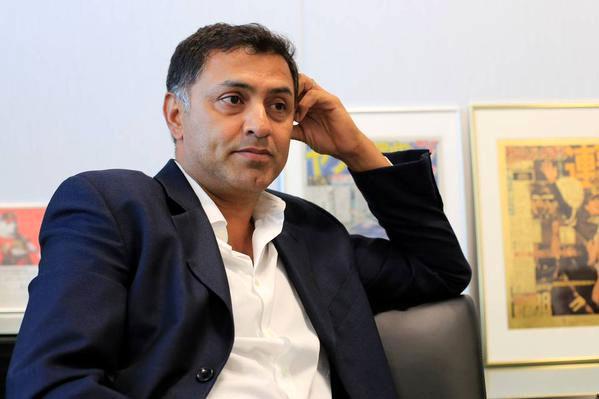 Nikesh Arora
CEO, SoftBank Internet and Media Inc
Nikesh Arora, one of Google's most high profile employees quit last year to join as vice chairman of SoftBank Corp and CEO of SoftBank Internet and Media Inc.
As CEO of SIMI, he is responsible for overseeing Internet, telecommunications, media and global investment activities.
Hailed for his financial and strategic acumen, Nikesh is also likely to be the successor to Softbank's chairman and CEO, Masayoshi Son.
Before joining Google, Nikesh was a telecom analyst at Putnam Investments. He then went on to create his own mobile data start-up in 2000.
Nikesh who graduated as an Electrical Engineer from IIT-BHU, has an MBA from Northeastern University, a Masters degree in Finance from Boston College and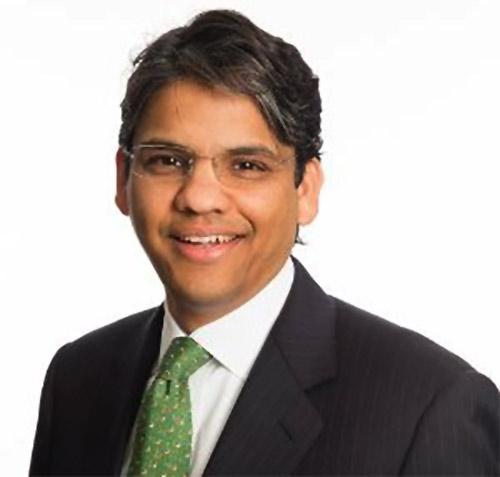 Image: Francisco D'Souza. Photograph, courtesy: Cognizant
Francisco D'Souza
CEO, Cognizant
One of the youngest CEOs in the IT industry, 46-year-old Francisco D'Souza joined Cognizant as a co-founder in 1994, the year it was started as a division of The Dun & Bradstreet Corporation.
He took over as CEO of the company when he was just 38 years old.
Considered one of the best CEOs, Francisco D'Souza has nearly 25 years of experience in the information technology industry.
Francisco, who hails from Goa, is a member of the Board of Directors of General Electric Company.
He serves on the Board of Trustees of Carnegie Mellon University, the Board of Trustees of The New York Hall of Science and the Board of Trustees of the US India Business Council.
He received his Bachelor's degree in Business Administration from the University of East Asia and his MBA from Carnegie-Mellon University.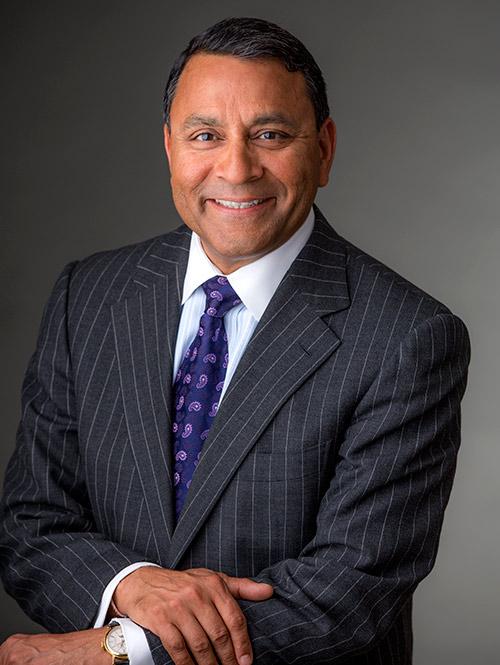 Image: Dinesh C Paliwal. Photograph, courtesy: Harman International
Dinesh Paliwal
CEO, Harman International
Dinesh Paliwal has been the chairman of Harman International, a leading provider of premium audio and infotainment systems for the automotive, consumer and professional markets since 2007.
As CEO and chairman of Harman International, Dinesh Paliwal transformed Harman International into a customer-centric and innovation-oriented company.
Dinesh who is from Agra, was instrumental in building a diverse board and strong leadership team, expanding the company's business in high growth markets.
He did his BE from the Indian Institute of Technology, Roorkee; MS in Applied Science and Engineering and MBA in Finance from MiamiUniversity (Oxford, Ohio).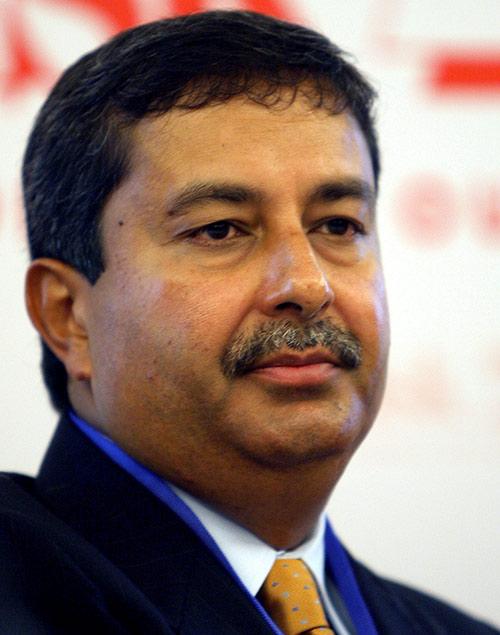 Image: Sanjay Mehrotra. Photograph: Vijay Mathur/Reuters
Sanjay Mehrotra
CEO, SanDisk Corporation

Sanjay Mehrotra is co-founder, president and chief executive officer of SanDisk Corporation, a global leader in flash memory storage solutions.
Earlier, Mehrotra served as SanDisk's president and chief operating officer starting in 2006.
Under his leadership, the company expanded its focus to include solid state drive (SSD) solutions for the enterprise, as well as new growth strategies for the mobile and client computing segments.
Mehrotra received his Bachelor's and Master's degrees in Electrical Engineering and Computer Sciences from the University of California, Berkeley, and is a graduate of the Stanford Graduate School of Business Executive Program (SEP).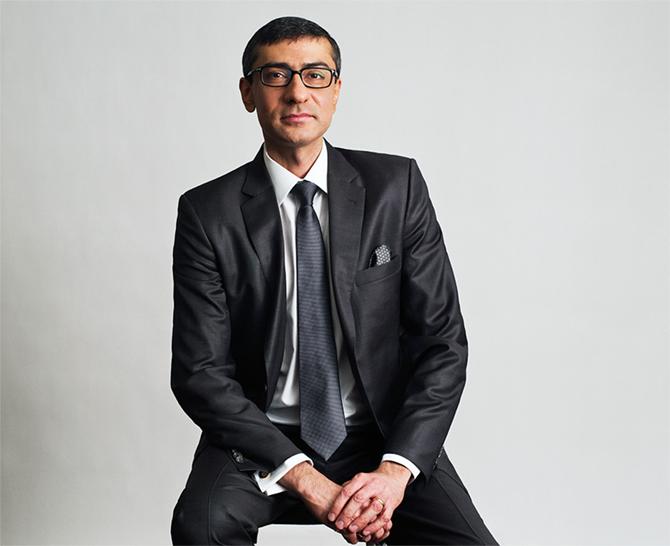 Image: Rajeev Suri. Photograph, courtesy: Nokia
Rajeev Suri
President and Chief Executive Officer, Nokia
With over 25 years of international experience, Rajeev Suri has an ability to generate growth and offer technologies that have a positive impact on people's lives.

His expertise lies in mobile networks, big data analytics, cloud computing and Internet business models.

As CEO of Nokia Solutions and Networks, he was responsible for turning around the company from significant losses to a strong and robust one.

In his earlier roles as head of the global services unit and APAC region, he played a key role in ensuring strong growth and profitability.
Rajeev has a Bachelor of Engineering (Electronics and Communications) from Manipal Institute of Technology, India.

Born in India in 1967, he is a Singaporean citizen and is based in Espoo, Finland.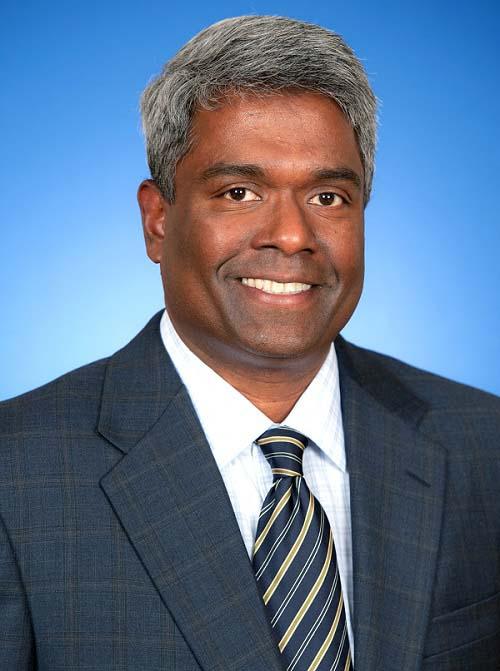 Image: George Kurian. Photograph, courtesy: NetApp
George Kurian
Chief Executive Officer, NetApp
US-based computer storage and data management company NetApp also has an Indian at the helm.

George Kurian who joined the company in 2011, where he was responsible for the solutions portfolio and joint partner technology integration. He was appointed as CEO in June 2015.
Earlier, as executive vice president of Product Operations, George was responsible for the strategy and development of NetApp's product and solutions portfolio.

He was also in charge of the product roadmap and engineering execution for the Data ONTAP operating system, the one of the most widely deployed branded storage operating system.
Prior to joining NetApp, George was vice president and general manager of the Application Networking and Switching Technology Group at Cisco Systems.

He has also worked with Akamai Technologies, McKinsey & Company and Oracle Corporation.

Incidentally, his twin brother Thomas Kurian is president at Oracle.

George did his schooling at St Joseph's Boys High School, Bengaluru. After that he joined IIT Madras. But he left IIT to pursue a degree in electrical engineering from Princeton University and a master's degree in business administration from Stanford University.
MORE STORIES ON SUNDAR!