Fast cars, marathons, golfing and shooting - nothing stops these high-power tycoons from pursuing their passion.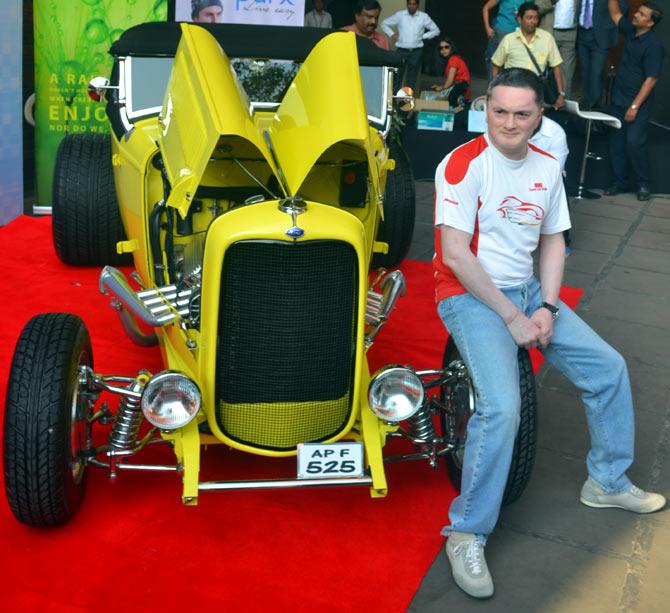 Image: Adventure is ingrained deep in the DNA of Gautam Singhania.
Gautam Singhania
Chairman and managing director, Raymond
The year 2015 saw Gautam Singhania finish an emphatic second in the 2015 Coppa Shell Championship.

Driving for Kessel Racing in his first Ferrari Challenge, Singhania earned 10 podium positions, including an impressive second place finish in the Budapest leg.

Singhania was the only Indian to compete in the Challenge.
His coach, Andrea Montermini, a former F1 driver and current GT driver, likes to describe Singhania as a "racing enthusiast who likes to push the boundaries."
Adventure, in a lot of ways, is ingrained deep in the DNA of Singhania.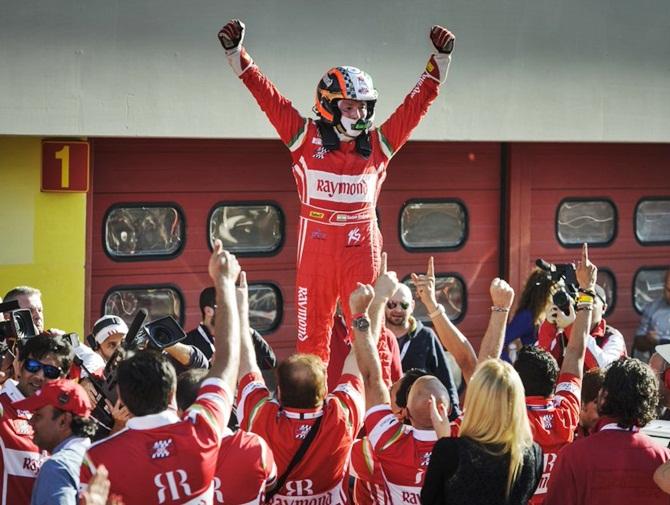 Image: Speed, he says, is an intrinsic part of life. Photograph, courtesy: Gautam Singhania/Twitter
In 2005, his father became the first man to fly in a hot air balloon to a height of 68,986 ft above sea level, shattering the previous world record of 64,997 feet.
He found a mention in the Guinness Book of Records for his effort.
Singhania spends his weekends driving his swanky fleet of cars at his farmhouse in Alibaug.
Speed, he says, is an intrinsic part of life. And, he hasn't limited himself to just cars.
The 50-year-old also owns a Bombardier Challenger 604 business jet and three helicopters.
He has a penchant for sailing too. He owns four speedboats named after the James Bond movies Octopussy, Goldfinger, Thunderball and Golden Eye.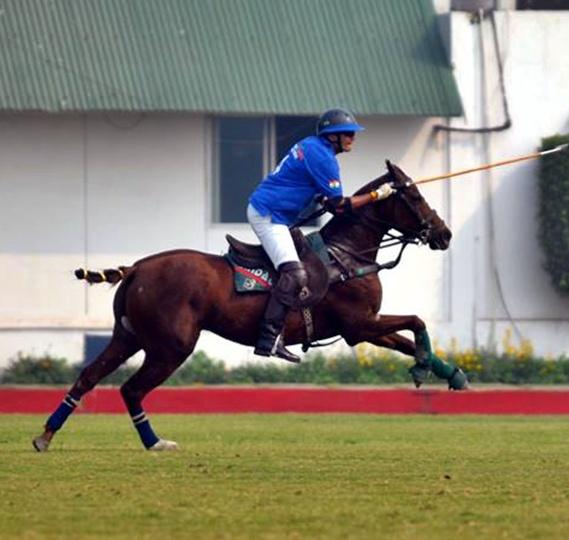 Image: Naveen Jindal's sporting journey started at the age of six. Photograph, courtesy: Naveen Jindal/Facebook
Naveen Jindal
Chairman, Jindal steel & Power
Naveen Jindal's sporting journey started at the age of six when his father gifted him a horse on his birthday.
Jindal started taking riding lessons soon after, later founding the Jindal Steel & Power polo team that became one of the pillars of the Indian polo circuit.
Under him, the team has won several tournaments, with Jindal's dazzling performances leading the way.
His passion for the sport is evident from his sprawling 30-acre farm, where 40 select ponies and horses are trained by professionals and kept in peak condition.
His other major sporting passion is shooting, another sport that he picked up from his father. The sport, which entails quick reflexes and decision making, soon became second nature to him.
Image: Naveen Jindal is a former national record holder in skeet shooting. Photograph, courtesy: Naveen Jindal's website
The 45-year-old is a former national record holder in skeet shooting.
He led the Indian team to a silver medal in the South Asian Federation Games in Pakistan in 2004. He also holds the distinction of representing India at the Busan Asian Games in 2002.
Currently, he is helping nurture young shooting talents as president of the Chhattisgarh Pradesh Rifle Association.
He says that he wants to pass on his passion to other youngsters, and help India unearth several more world-class shooters.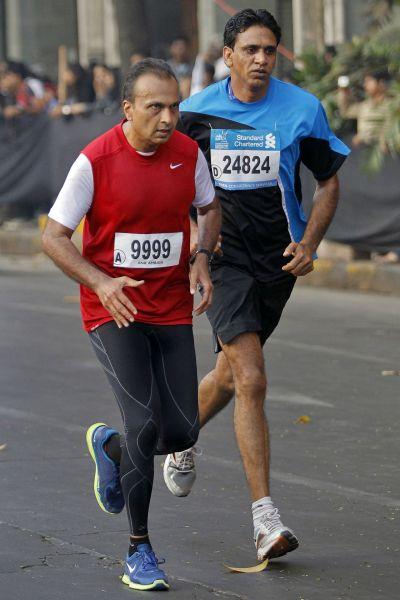 Image: Anil Ambani with other participants in the Mumbai Marathon.
Photograph: Sherwin Crasto/Reuters.
Anil Ambani
Chairman, Reliance Group
Mickey Mehta, trainer and holistic fitness guru, describes Ambani as the fittest business magnate in the world.
Ambani, who only little over a decade ago was appallingly overweight, can now easily run a marathon.
In fact, in the last few years, he has been a constant feature at all major long-distance running events in the country.
Despite his busy schedule, it is remarkable how Ambani has transformed himself into a runner who can easily thwart long distances.
At 5 am every morning, even as most of Mumbai is asleep, Ambani is out on the streets, putting himself through the paces.
He runs an astounding 18 km every day - that is more than what some seasoned marathoners put in on a daily basis.
Mehta says that he has never seen somebody with the zeal and commitment of Ambani.
"He wants to get to the top in the shortest time possible. Never have I seen someone so hard-working, and enthusiastic about fitness," he says. Ambani's inspiration is former US president George W Bush, who made it a point to run whenever he found the time.
A few years ago, the 56-year-old took up yoga to improve his running times. His next target is to win a marathon.
The pace at which he's going, that may not be such a distant reality.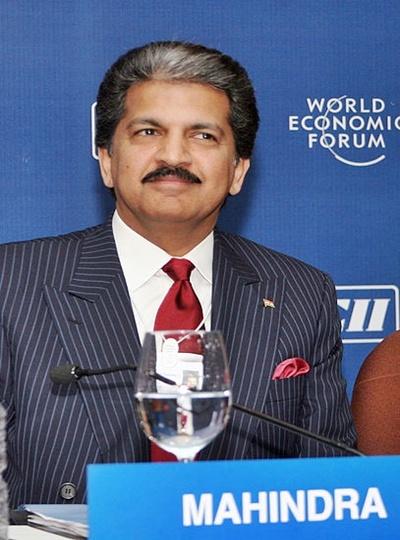 Image: Mahindra has a state-of-the-art gym at home and works with a personal trainer. Photograph, courtesy: WEF/Wikimedia Commons
Anand Mahindra
Chairman and managing director, Mahindra & Mahindra
Anand Mahindra does not like to talk about his fitness regime too much.
But the 60-year-old rarely gives major running events a miss, having competed in the Mumbai marathon for a number of years now.
He likes to keep his fitness schedule under wraps, but is extremely meticulous in his preparation.
He follows a strict diet and undergoes intense training in the run-up to a marathon.
Mahindra has a state-of-the-art gym at home and works with a personal trainer.
Before the Mumbai marathon two years ago, Mahindra participated in Stepathlon - a unique, pedometer-based , mass participation event that seeks to promote fitness in the corporate world.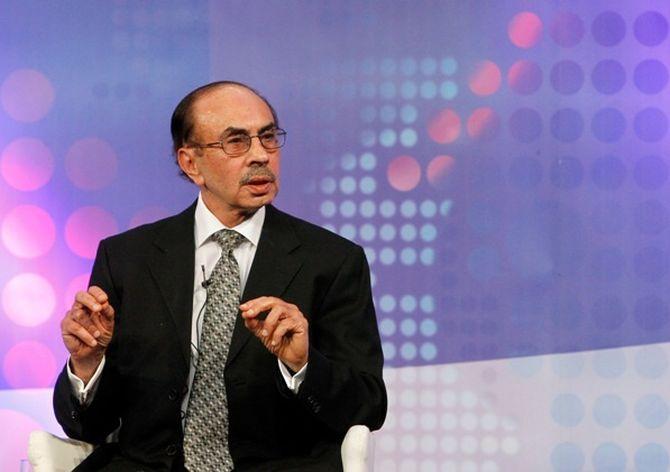 Adi Godrej
Chairman, Godrej Group
Adi Godrej is not your traditional sportsman. Mainstream sports such as cricket and football seldom excite him.
Instead, Godrej, who will turn 74 this year, has a proclivity for adventure sports; a wide variety that includes wind surfing and water skiing.
He says that his ultimate high has been paragliding. On other occasions, he likes to play a game of bridge.
Never an indoor person, Godrej has embarked on treks and safaris in Africa, and gone yachting in the Indian Ocean with his wife.
In 2002, Godrej completed the traditional 54-km Hindu pilgrimage around Mount Kailash in Tibet, a stupendous feat for a man his age.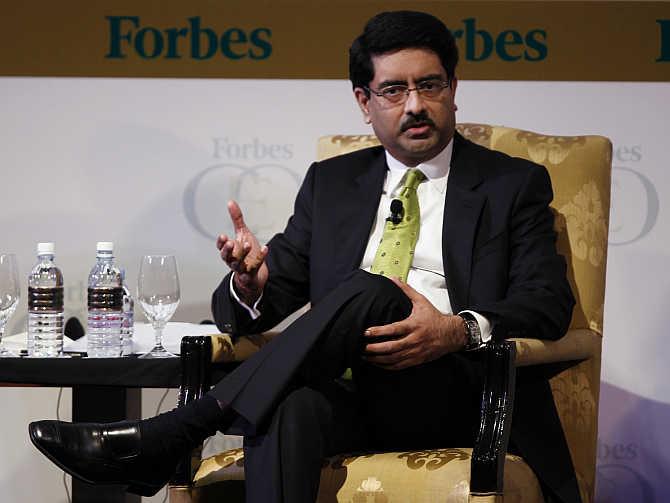 Image: Kumar Mangalam starts his day with a session of yoga at 7:30 every morning. Photograph: Reuters
Kumar Mangalam Birla
Chairman, Aditya Birla Group
"Working with Kumar Mangalam Birla is a stirring experience. Every day he surprises you with something new," says Mickey Mehta.

Birla does not train himself for marathons; instead, he likes to focus on the holistic aspect of fitness.

He starts his day with a session of yoga at 7:30 every morning. "His training is not very intense, he likes to keep it simple," says Mehta.
Birla has run marathons in the past, including the Mumbai marathon last month, but Mehta explains that has never been the focus.
"Fitness doesn't only include exercise. There are other things to take care of as well. Birla understands that better than most people."
Birla is known to spend a couple of hours at his lavish house's gym in Mumbai every day.

His mother, Rajashree, is also a fitness enthusiast, working out for at least an hour every morning.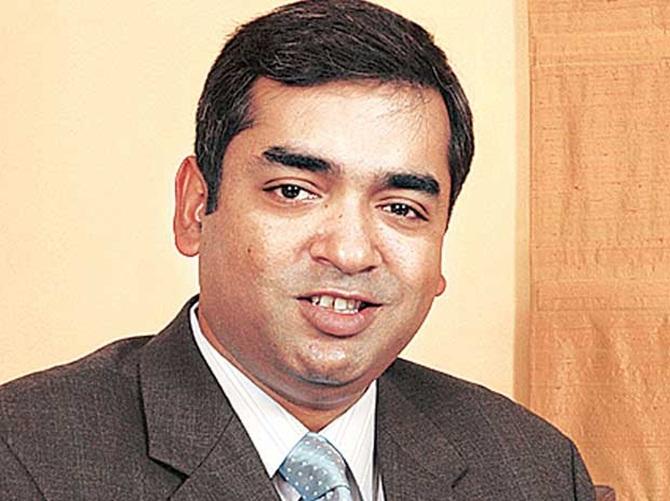 Image: Ashish Bharat Ram is one of the top corporate golfers in the country. Photograph, courtesy: Business Standard
Ashish Bharat Ram
Managing director, SRF
There is nothing more that comes naturally to Ashish Bharat Ram than the sport of golf.

His grandfather, Lala Bharat Ram, was played a telling role in setting up the Delhi Golf Club and promoting the sport in the city.

Ashish Bharat Ram is one of the top corporate golfers in the country, having also had the privilege of playing alongside Tiger Woods once.
He says that he endured a tough phase in his golfing career a couple of years back, but is now up to speed.
"Golf is like that. You can have a really tough time. I went back to the drawing board and just focused on the basics. Now I'm playing well," he says. His brother, Kartik, is more than a handy golfer too, having played with the likes of Justin Rose and Gary Player in the past.
A keen watcher of the game as well, Ashish Bharat Ram likes to go on golfing vacations - Thailand being one of his favourite destinations.
Apart from watching the top guys, he likes to shoot a round or two of his own.
In the past, he has put his game to test at Pattaya's picturesque Siam Plantations and Dubai's Jumeira Estates.